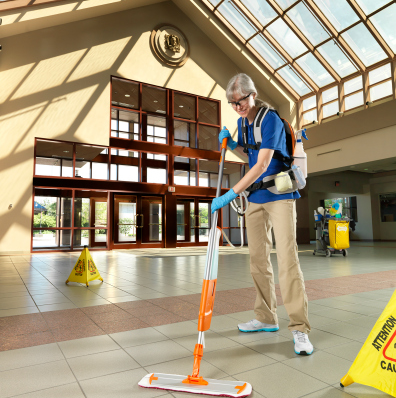 Impact Products LLC has grown over the past 53 years, but its employees' attitude towards their customers remains the same, CEO Terry Neal says. "They do whatever it takes to make sure the customer gets what they need in a timely fashion," he asserts.
Based in Toledo, Ohio, Impact manufactures janitorial and sanitation products including mop buckets and ringers, soap dispensers, wastebaskets, bottles and spray nozzles, urinal screens and odor control products. "It's really a wide variety of cleaning accessory products," Neal says.
The company started operations in 1963 as a manufacturer of cleaning chemicals and accessories. But when its founders decided to split the firm in two, one pursued chemical manufacturing, while the other took Impact in its current direction, Neal says.
Today, the company is a division of S.P. Richards Co., a Genuine Parts corporation, and serves distributors across the country. "We sell to jan-san, foodservice, industrial and office products distributors and wholesalers," he says, noting that Impact's sales exceeded $100 million last year. "There isn't another company like Impact."
He adds that major corporations recognize the company's contributions to their industries. "One in particular is the United States' largest user of cleaning products, American Building Maintenance (ABM)," Neal says. "A couple of years ago, they named us as the manufacturer of the year."
Growing Strong
Impact has grown in recent years through acquisitions such as the purchase of Malt Industries Inc., based in Purvis, Miss. "They're in the protective apparel business," Neal describes.
Impact has no plans to change Malt's business. "We'll continue to operate them in Mississippi, and use their facilities to ship some of our products in the South, as well," he states.
The company also recently purchased selected assets from Dynasol, a contract molder in the foodservice industry. "That [purchase] helped us get deeper in the foodservice industry," Neal says. "It allowed us to move some of that tooling to the Toledo area into the local molders that are here."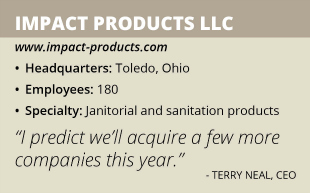 When reviewing potential acquisitions, Impact looks for firms that can benefit it without it needing to venture outside its comfort zone. "Malt brought us 500 unique distributors that we did not sell to in the past," Neal explains. "Those were the kind of things we were looking for. We're also staying focused on North America."
Staying Focused
Impact's focus on manufacturing quality has earned it ISO 9001 certification. "We're very proud of that," Neal declares. "We have to make sure we keep up with the quality standards and quality processes." Impact also utilizes processes such as 5S.
Clients expect this of Impact, Neal says. "[They] are constantly demanding we maintain a high level of quality throughout [our] process, [including] the order entry cycle and the delivery cycle," he says. "Those are the main metrics that we stay focused on."
Regular employee training also helps the company avoid accidents in its manufacturing process, Neal says. "We're very safety conscious here," he says.
"Every month, we're doing safety training as well as personal assessments," he says. "Training and education is very important to us."
The company also has focused on inventory with a vendor-managed inventory system with several of its suppliers. "We're also constantly forecasting," Neal says. "That's a very difficult task to do with the ebbs and flows of business."
Feeling Valued
Neal is a longtime veteran of Impact who joined the company as its sales manager in 1996. Two decades later, he is proud of how the company has grown and maintained its staff.
"We have almost no turnover in the company, especially in the management team," he says. "Even the middle management sees a lot of opportunity in this company.
"A lot of people go to work every day for specific reasons," Neal says. "People want to go to work in a place they really enjoy and where they feel really valued. I think they do feel valued when come to work here every day."
Neal sees more growth ahead for Impact with the support of its parent company, S.P. Richards Co., a Genuine Parts corporation. "I can see us just continuing to acquire companies and expanding our operations in Toledo," he says. "We're also in a very good market right now. I think we have a very positive future here."