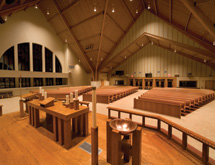 Imperial Woodworks has focused on producing the highest-quality church furniture and church pews since 1960. Serving churches around the country, the company's products include pews, church chairs, pulpits, communion tables, chancel furniture, tithe boxes and other custom wood furniture items. But as times have changed, Imperial Woodworks has sought out new opportunities to stand alongside its service to churches.
"We've started doing a lot of business in the public sector, such as providing furniture for courtrooms," President Steve Smith says. "We have increased the expansion of our business in other markets as our original market has shrunk."
Today, Imperial Woodworks has 70 people at its main factory, a 120,000-square-foot facility in Waco, Texas, that was built in 1999 and expanded in 2004. Smith says family owned Imperial Woodworks lives its faith through its business, and as an ESOP has an obligation to its people. As a faith-based business, the company sets a high bar for how it operates.
The company has invested in the facility so it is state-of-the-art and outfitted with equipment such as CNC routers and computerized machines for accurate cutting, sanding, shaping, planing and finishing. "In the last four or five years, we've invested a lot into CNC equipment and bought a laser for custom etching on Plexiglas and wood," Smith says. "We've also invested in some routers, because we will spend money to help ourselves be better."
The Worship World
Through the decades that Imperial Woodworks has been in operation, it has been able to serve during several periods of church growth whenever small evangelical denominations needed items like pews, pulpits and communion tables. Although they were not big jobs, there have at times been many of them. Now, much of the church business the company sees is tied to churches' construction of multipurpose facilities or mega churches in need of theater seats.
To help it continue to stand out in the church market, the company has expanded its ability to manufacture radial pew seating. A radial pew layout has a circular design, and only a few companies today in the United States make it.
"We invested in a custom-designed piece of clamping equipment because we needed to be able to make radial parts   in a continuous length up to 24 feet," Smith says. "The equipment reduces the amount of labor needed and allows us to do radial work more efficiently and profitably."
The company has also developed some exclusive products for the Catholic market, which still uses primarily pew seating. Imperial Woodworks sees the Catholic churches as a corner of the worship market where it can grow some business.
In addition, the company has strengthened its place in the church furnishings market through acquisition. In 2003, it purchased the assets of Modesto, Calif.'s Overholtzer Church Furnishings. The company followed that up in 2007 when it acquired Trinity Furniture Manufacturing of Temple, Texas. Then Imperial Woodworks acquired Superior Fiberglass in Jacksonville, Texas, last December.
"As we've been challenged to maintain revenue, we have made some purchases to help us," Smith says. "The investments enabled us to acquire some business and dealer contacts we didn't have. When things slow down, it isn't acceptable to lose revenue. You need to be able to act and react, and acquisitions have been a beneficial tool for us."
Expanded Options
Although the church business continues to define Imperial Woodworks, the company recognizes that the market has been shrinking because there are fewer new church developments. That means the company has had to work harder to get its products in front of more potential customers.
One obvious venue is courtrooms. Thus far, the largest single contract it has fulfilled in that arena was a $500,000 courtroom project in San Bernardino, Calif., to provide new furniture for 15 to 20 venues.
"The vast majority of public work projects are projects that we have to bid on," Smith says. "But we are trying to work closely with architects so they will want to work with us when those jobs come up. Also, because we are one of the top companies in our industry, we can meet the insurance requirements, liability coverage and the ability to be bondable that the public sector demands."
The purchase of Superior Fiberglass also gives Imperial Woodworks a leg up outside of the worship market. Although Superior Fiberglass manufactures baptisteries, steeples, cupolas and wall crosses, it also serves commercial markets.
Ultimately, Imperial Woodworks has a long history and a strong name buoyed by its success in serving churches for more than 50 years. As the company looks ahead for success inside and outside of the worship industry, it sees the high cost of doing business and expanding government regulations as some of the major challenges it must overcome.
"A lot of what is happening with government regulation is ending up on the back of small business," Smith says. "We have broadened our industry scope and products base to help maintain revenue and continue to grow the company."