In 2018, Gibson Brands filed for bankruptcy – now it's on a brave new path 
If you've picked up a guitar at some point in your life, then you know Gibson. If you haven't so much as looked at a guitar, then let's face it: you probably still know Gibson. Chuck Berry, Bob Marley, Jimmy Page, Slash, B.B. King, and the late Jeff Beck – all these musical pioneers and more picked Gibson as their guitar sound creator of choice.
Why? Superior craftmanship, iconic sound, and innovative design. Simple.
As Beck once remarked about the Gibson Les Paul, itself named after another musical maestro: "It had a deep powerful sound, and you could use it to imitate just about anything – a violin, sax, cello, even a sitar."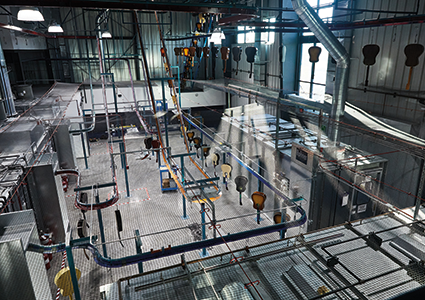 Behind such an instrument is an American manufacturer that started over one hundred years ago in Kalamazoo, Michigan: Gibson Brands (Gibson). Now based out of Nashville, Tennessee, the local guitar maker has turned into a global behemoth, with a range of other recognizable music brands in its growing portfolio, including Epiphone, Kramer, Steinberger, MESA/Boogie and KRK.
Gibson's Chief Operations Officer, Jeremy Freckleton, also has a history worth telling. His career has always centered on manufacturing. "I was always interested in how stuff was made from an young age," he tells us. "Coming to Gibson feels like I've gone back to the beginning. I started as an engineer in textiles where we were taking naturally grown material like cotton to make what our customers wanted. Now, rather than cotton, it's mahogany, spruce, birch and rosewood that we transform into amazing, iconic instruments. It takes the same intentionality and process control to 'tame' wood."
After textiles, a stint in automotive and then more than a decade with high-end global manufacturers of consumer products, Jeremy joined Gibson in 2019 to lead its operations and supply chain teams. He brought with him the value of culture on employee engagement, the breadth of automation and continuous improvement methods that enable world-class quality and the experience to transform supply chain into a competitive advantage.
Investing in people 
As he details, it was a once-in-a-lifetime opportunity. "From the outside, I knew fans still had an emotional attachment to Gibson. When I realized that the core of Gibson was intact and the vision was to rebuild it into the company, leader and iconic instrument maker that it could be (and should have been all along), I was in.
"Buying any Gibson product should be an amazing out-of-the-box experience. There is more than a century of history that we are building upon – some of it Golden, some of it Norlin. (Gibson historians will understand this reference)," he continues. "I remind the team that our legacy is built on quality. Data and external feedback tells us that we're now making the best product we've ever made, but our goal is for our fans to tell us that Gibson's instruments are the best in the industry."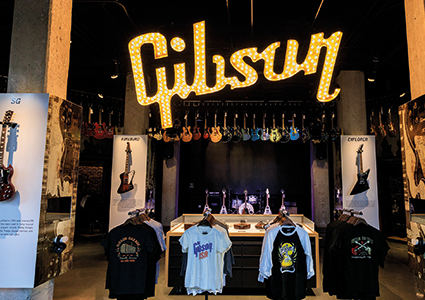 To do that, Jeremy says the company is continuing to strengthen its capabilities by investing in the right balance of both technology and people. "Gibson is built upon the shoulders of people that came before us," he goes on. "A great example of this intentionality since we last spoke is our facility expansion in Bozeman, Montana, which makes Gibson's acoustic guitar. Being the first substantial expansion in the last 20 years, we considered it just as much for our employees as we did for technology. The space has a new break room, training center, parking, offices – we even took a daycare to the final stages. The expanded facility has been embraced by our team because they understand how much they matter in the context of the investment.
"We've also recently kicked off a recognition program for our employees, part of our broad Rockstar Experience program. We started by celebrating twelve employees who have been with the company more than 40 years, then to forty people with more than 30 years of experience and continuing all the way down to those with one year," Jeremy adds. "Each employee is honored and recognized for their specific contributions to the overall success of Gibson. It's a great reminder that a career can be built here.
"We give experienced employees new opportunities to train the next generation or transform processes – improving the work we do every day so that our amps, guitars and service exceed expectations. We want to tap into their expert knowledge to maintain the right balance of craftmanship and new methods. It's all part of the modern Gibson Way of Working."
Undoubtedly, though, Gibson is already a modern American success story. From blues to rock and roll, many legendary musicians testify to that fact; it's hard to even picture Chuck Berry without his cherry red Gibson ES-355 in hand or B.B. King without his much-loved Lucille, the iconic black ES-330 or -355.
Now more than ever, Jeremy tells us, Gibson is embracing that history with open arms while staying authentic to its core.  With its latest introductions of the MESA/Boogie Mark VII, opening the Pickup Shop, perfectly recreating Kirk Hammett's Greeny in the Custom Shop, or launching the first-in-industry Certified Vintage program, there is something for every brand enthusiast wanting a slice of the musical history pie.
A new path 
Harnessing that capability, Gibson also offers a comprehensive repair and restoration service to its customers – they'll send you a self-addressed box to ship your guitar and loan you another while yours is being worked on, allowing you to keep on playing. The teams in Montana and Nashville are experts in their field and will take a Gibson ax all the way back to the wood, re-staining it and painting it so that it comes back to its owner looking brand new. (The same is also true of the amp service with the team in Petaluma, CA.)
But that's only if you're after a factory original aesthetic. Some want to see the patina, the unique beauty of an aged neck; and Gibson's team knows this. Therefore, it might be as simple as building an exact replica of the original pickup or finding the same tuning key, while keeping the natural aging of that specific guitar. Each guitar, whether new or restored, is then logged with its craftmanship details and serial number in a digital database.
So, where does Gibson go from here? As Jeremy recalls, when the company emerged from bankruptcy in 2018, many competitors offered their support, knowing that the industry was only as strong as the best brands and the competition that drives others to improve their craft today and innovate for tomorrow.
Emerging from that era like the proverbial phoenix, Gibson now finds itself on a new path – one that Jeremy neatly summarizes for us: "Our vision continues to become the most relevant, the most played, and the most loved music brands in the world.  It reveals itself when the casual strummer is inspired to create their sound from one of our instruments. It reveals itself through the ongoing transformation of our craft and supply chain where customers are at the center of what we do."