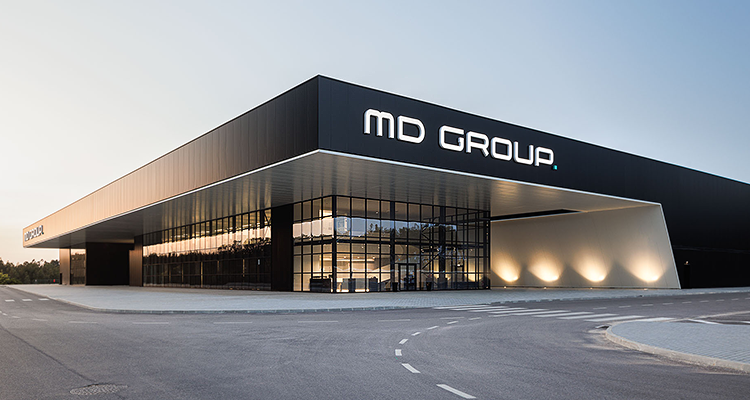 In a volatile market, MD Group demonstrates how leading technology and great people can ignite growth 
MD Group came to life 34 years ago as an engineering company in Leiria, Portugal. Although it started out as a mold project engineering management company, it quickly evolved into a mold manufacturing business, and, as a state-of-the-art lighting provider, it has remained focused on delivering industry-leading solutions.
In 1998, MD Fast-tooling, now known as MD Moldes, was established, adding manufacturing to the design and development of injection molds. At the same time, MD Group developed its plastics injection tryouts unit, MD Plastics.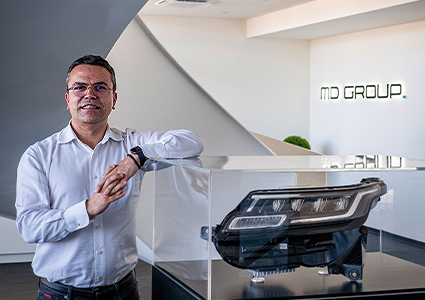 Over 20 years later, in 2016, a new MD Plastics plant was built, with 10,000 square meters of production area, which introduced the best production practices such as Lean manufacturing and visual management. Industry 4.0 technologies and methods were also integrated, in addition to innovative technology to improve efficiency.
The following year, Alantra Private Equity joined MD Group as the largest shareholder, reinforcing the company's commitment to growth and its technological upgrade. More recently, the company decided to invest in an ambitious project, Campus MD, and, in 2021, integrated new headquarters and MD Moldes new plant.
The most recent addition is the establishment of MD Plastics North America, in Mexico, which includes its own operations, plus a robust and capable Mexican partner in Querétaro. Staffed by very experienced MD Team members, this facility is focusing on a full ambient lighting car set that was designed with an OEM. Commencing production this year, MD believes the Mexican branch has great potential for development.
Bruno Machado, MD Group's Chief Commercial Officer, shares his thoughts regarding the company's success as well the operation that brings the automotive lighting mold subsidiaries together. "MD currently has a team of 500 with a turnover of 55 million euros in 2022, 24 million from MD Plastics and 31 million from MD Moldes.
"Our focus is lighting products – interior and exterior. In addition, we supply tools and plastic components for other automotive product lines. The group qualifies as a world reference for providing engineering solutions to the automotive lighting industry, and maintaining this position challenges the team to keep innovating and 'lighting the future'."
Extensive expertise
Bruno himself has quite an impressive resumé, as is expected considering his level of seniority. "I graduated in polymer engineering from the University of Minho and concluded an Executive MBA in Porto Business School in 2009.
"I started as a CAE engineer at CIE Automotive. Within CIE, I played several engineering roles in research and development, and program management. I moved to an American company, Key Plastics, where I had the chance to work on marketing and sales, on a national level. In 2016, I became European Sales Director for that same company. When Key Plastics merged with Mecaplast, a French company, the new company became Novares and my role turned into BU Business Development Director, giving me the opportunity to act on a global level. In March 2019, I started my job at MD Group as Chief Commercial Officer, having the chance to be part of a very exciting challenge to help move MD Group to the next level," he shares.
Investing in success
Ever since, MD Group has continued to strengthen its portfolio. Subsequently, the business has worked with some well-known brands; Tesla, Land Rover, Bugatti, and Porsche to name a few. To ensure its high quality, Bruno outlines that the business prioritizes lasting partnerships. "MD Group is part of the Global Automotive Supply Base. Our commitment is to be a relevant engineering solutions provider and long-term strategic supplier.
"We are frequently approached by our top customers to carry out different and disruptive projects, some of which do not exist in this market. The business strategy is oriented by close cooperation with partners and customers, who are some of the largest manufacturers in the automotive sector that have research and development departments of their own. Our disruptive technologies and innovations are obviously emerging, and quality standards are high, but we are a brilliant team with years of expertise."
On the topic of his team, Bruno shares that people are indeed the distinguishing factor over at MD Group. "We invest in the success of our team, while also investing in infrastructure and equipment. The automotive business is a unique and challenging market. We see a future full of opportunities, and the markets we're in will continue to grow according to all projections.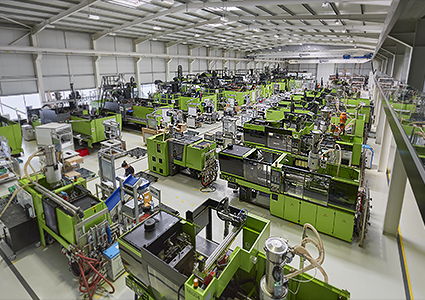 "We believe that our team is the power behind our exceptional results in terms of growth, as well as reputation in the marketplace. Passion, commitment, expertise, and customer orientation are intrinsic characteristics of our team.
"Our partners have played an important role in our success ever since Manuel Domingues founded the company. With their commitment and loyalty, we've maintained a robust support network throughout our history."
Innovative solutions
Regarding the infrastructure side of the operations, Bruno is keen to highlight the importance of micro-machining, an aspect closely linked to the automotive lighting industry, and a segment that has received significant investment from the company. "Often referred to as nanotechnology, it involves highly technological equipment, allowing the definition of microstructures that cannot be obtained from conventional machining processes. We were pioneers in Portugal by introducing this kind of technology and investing in specific training for our team in the US. The technology was implemented at MD Moldes in 2019, representing a one-million-dollar investment in equipment. It was a fast-learning process, but it brought greater autonomy and efficiency to the company."
MD Group's plan is to focus on demanding and competitive market niches that allow it to position itself among the best European suppliers and develop innovative and high-value products. "Companies must focus on products where they are exceptional, to be able to compete in a global market, and therefore acquire market share. 'Do it right the first time, assuring quality and price.' That's what we believe in at MD Group.
"At MD Plastics, we are also always investing in new technologies and processes to deliver turnkey solutions developed in-house, from R&D to product delivery. We keep challenging our teams for innovative solutions in the global market, providing engineering solutions to our customers, increasing the automation of processes, with 100 percent automatic inspection and dimensional control."
Ensuring MD Group has the right team and technology, as well as the best partners, will set it in good stead to grow within its marketplace. When Bruno brings his thoughts to a close, he highlights that MD Group's path ahead looks bright. "Our growth plan is based on a strategic roadmap that has drivers and actions that will allow us to hit a planned goal.
"Through new projects already awarded, technologies that are currently being verticalized, and global footprint expansion, we believe MD Group is on the right track.
"The integration of new technologies offers more design flexibility, increased effectiveness, and efficiency, and represents opportunities for the automotive industry. Therefore, as our motto indicates, we see MD Group 'Lighting the Future' well beyond the next five years."
www.mdgroup-global.com/