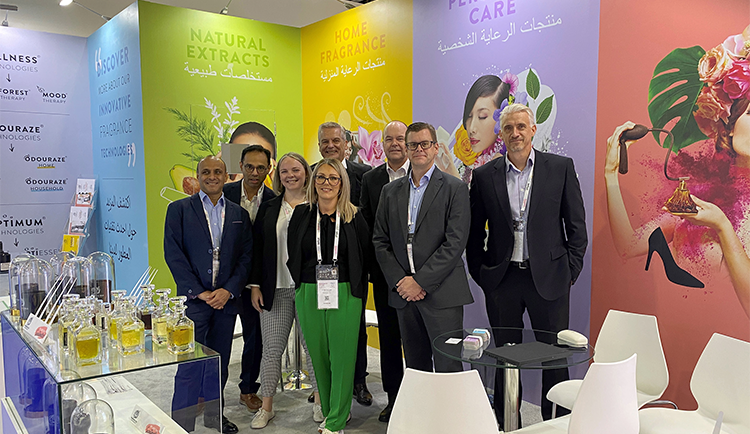 In taking 2022's international troubles in its stride, Fragrance Oils has learned, developed and come out stronger
In sitting down with Manufacturing Today for the first time since 2021, Andy Stedman, Scentmaker and Head of Fragrance, draws an immediate comparison to the new challenges Fragrance Oils (FO) is currently facing. "When we last spoke the company was overcoming some internal hurdles, but throughout 2022, we've predominantly been battling factors in the external environment, mostly relating to the global economy. There has been a stark rise in pressures surrounding the cost and procurement of raw materials, energy and freight prices, and the temporarily shrunken markets across the globe.
"Looking back over our 55th year, which we celebrated chiefly inhouse with a competition among our creative teams and talented scentmakers, I'm proud to say that, regardless, we still have plenty of strong growth stories. These are particularly based in our African and South East Asian markets, but closer to home, the last twelve months have really given us a chance to focus on our strategy. In September, we launched a new range of technologies that I'm excited to discuss, which will be a big part of what we're promoting going forwards. All in all, we have continued to be in a good strong position for further progression."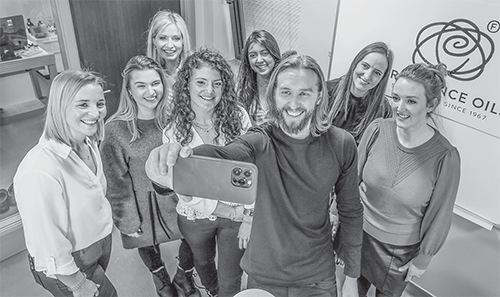 FO was founded as Northern Aromatics Ltd in 1967 and has remained based in the Manchester area ever since. The company is supported by one of the largest fragrance houses in the world and prides itself on combining a collaborative approach with its years of industry experience in the delivery of bespoke fragrances. The six key areas in which the business operates are personal care, home fragrance, fine fragrances, household care, fabric care, and natural extracts; all of which are manufactured in small and larger batches and distributed across 80 countries. In 2019, the organization was acquired by Givaudan, the Swiss multinational manufacturer of flavors, fragrances and active cosmetic ingredients, and since this acquisition, the business has gone from strength-to-strength.
"As a result, we have spent the last couple of years developing a greater understanding of the ways in which we can utilize being part of Givaudan to our advantage, as an independent company. In terms of operations, considering that we're a single-site manufacturer based in the UK, previously one of our biggest challenges was meeting international shipping deadlines. So, over the last 12 months, we have started to use Givaudan's regional facilities to supply our customers in China and South East Asia directly. This has hugely improved our position in the area and has cut our previous shipping times of four-to-six weeks, down to three-to-five days, enabling us to be far more competitive within those markets.
The science of self-care
"In a similar vein," Andy continues, "we launched a couple of new developments in September, which are focused around two key areas. The first is all about wellbeing, and through using patented Givaudan technology, we have created fragrances that can enhance a number of emotional mindsets. These can help to make you feel happy, invigorated, relaxed or even help you to sleep better. Having something that is scientifically proven, in a market that is so keen on self-care, is a huge opportunity for us. The second area is called Odouraze, and is designed around the control of malodours. We believe that throughout the pandemic, everyone naturally spent more time at home, and as a result, is now more aware of the different background smells in their homes. Our new range will offer specific solutions to consumers in tackling these issues."
In 2021, FO undertook a rebranding exercise to redefine the brand proposition, building on the customer focus of the company and driving our vision for success. The exercise involved defining the new company mantra: "We're better together", alongside titling all the employees as scentmakers. Often within the industry, perfumers are highlighted as the fragrance developers, however, the business wanted to reword this traditional, career-specific title so that it could be applied to every member of staff.
"We wanted to make sure that every employee is recognized in our creative process, so everyone now carries the title scentmaker," Andy explains. "It's really to highlight how, within the team, each individual has an impact on our overall outcome. The new mantra doesn't only apply to the way in which we work with customers, but how we work together with our colleagues as well. As a result, we have created the fundamentals of a cohesive working environment that encourages everyone to flourish in their own way."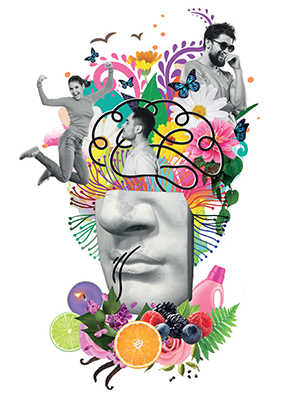 When it comes to ingredients, FO uses a combination of natural and synthetic components, and blending the two together in the right way is crucial for the creation of fragrances. Additionally, the business supplies a collection of over 300 natural extracts to meet the ingredient claims of specific products, such as: contains Aloe Vera or Cucumber extract.
"Our process of innovation is split into two sections," continues Andy. "The first is the result of the creativity of our development teams, and the inspiration they draw from trends within the market, fashion, colors or even music. Their ideas will then typically contain 20-to-70 of our 900 plus available ingredients. The second stream focuses on the technology capabilities, opportunities and R&D that being part of the Givaudan group has presented us with, as mentioned previously."
Future growth
Last year granted Andy the first opportunity, post-pandemic, to attend two of the industry's foremost trade shows: Beauty World in Dubai and In-Cosmetics in Paris. "It was really good to reconnect with suppliers and customers after losing the opportunity for a couple of years," Andy says. "It was great to be a part of the industry-wide, positive mentality again and to be reminded of the international interest in fragrance. We know that our products have an impact on consumers, and despite the global economic challenges, I still feel we're in an excellent position to be able to grow in the future. This kind of event also reminds you of exactly the level of competition out there and, especially for me, as head of the company, it reminds you that complacency just won't fly.
"In five years' time," he concludes, "I would like to be able to say that we have fully implemented our strategic plan set out in 2021. I hope from a sales and revenue perspective that we will be significantly larger and have strengthened our position not only in the UK, but also in the Middle East, Africa, South East Asia, and both Latin and North America. Our ongoing ambition is to collaborate with our customers to support them in every way we can. Through this, we will continue to offer our employees an exciting workplace and the sense that they're contributing towards something that really counts."
www.fragrance-oils.com