In-Vision was born from almost a century of expertise in projection
The history of In-Vision stretches back to the 1980s, and is rooted in the findings of its predecessor, Eumig. This former, Austrian-based world leader established the path that the organization has developed into a highway, across a number of optics-centered industries.
"Back in its day, Eumig was a leader in the production of analog projection technologies, specifically those associated with Super 8 film," opens Florian Zangerl, CEO. "Unfortunately, it underestimated the extent of the digitalization movement that was swooping through the industry at the time, and had to close its doors in 1981.
"However, two of the company's employees carried their knowledge of optics and optical manufacturing forward, and used them as the foundation to establish In-Vision around 20 years later.
"Although its primary focus was to develop and manufacture cinema lenses, in 2014 In-Vision became a design house partner of Texas Instruments, the only producer of Digital Mirror Devices (DMD), also known as DLP Chips, in the world," he continues.
"In layman's terms, these are simply chips that are covered with millions of micro mirrors, which are used in every modern projection system today. If you wish to develop equipment around these chipsets, you must be certified by Texas Instruments, an accreditation In-Vision earned with its experience of working in the cinematics industry."
 Speed and precision
The founders settled on building entire projection units as a secondary pillar for the business. However, in wanting to avoid creating further competition for their cinematics customers, they searched for another application. This was when they discovered additive manufacturing in the form of what was then called rapid prototyping, which we know today as 3D printing.
"In-Vision started working with a promising startup company," Florian goes on, "and helped it to develop its first projection system for 3D printers.
"Following on from this, the business began to manufacture shelf protectors as well. Today, we turn over around €19 million, with 60 percent being generated by our UV light projectors segment, of which two-thirds are applied in 3D printing technologies."
At its core, In-Vision offers engineering and manufacturing services from its Guntramsdorf location, not too far from Vienna. The company's size facilitates a balance in speed and precision.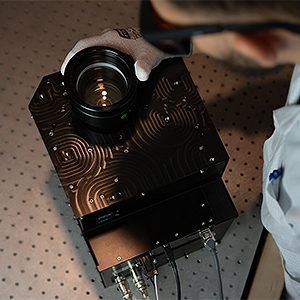 This enables the provision of small-to-medium sized batches of customized solutions for members of the additive manufacturing, bioengineering, maskless lithography, metrology, and research industries, across five continents.
In-Vision's portfolio ranges from high-end projection lenses to the world's most powerful DLP-based light engine. "The key difference between our products is defined by optical specifications," explains Christof Hieger, CTO.
"Their differing values are influenced by the optical paths that we develop using the DLP chips, depending on the applications in which they will be used," he adds. "Our R&D department houses three engineering teams: optics, electronics, and design.
"But everything always starts with the chipsets and the necessary specifications. So, we develop everything in house and produce the first prototypes onsite, which are then run past our process engineering and quality control departments."
"In terms of the key principles behind 3D printing," says Florian, "you have a projector that sits below a resin tank filled with a polymer liquid, and a build platform above that.
"The build platform starts immediately above the tank and is raised in increments of micrometers, as you expose each layer of the generated item to UV light. The resin reacts with UV, and changes its state from liquid to solid, which is known as static exposure.
"Now, we are currently developing a projector, by the name of Pandia, that is capable of dynamic exposure, which involves the projector itself scrolling over the image plane and steadily exposing light at the same time.
"With this, you are able to develop far larger building areas, which opens up a whole world of new applications. This product is not only capable of 3D printing, but can also be used in maskless lithography practices for the printed circuit board industry."
 Championing diversity
When Florian and Christoph took over the management of In-Vision, they quickly noted a lack of diversity within the team. This is something that they have tackled since the beginning of 2021, and their success can be measured by the range of nationalities that the company's workforce now employs.
"We are always keen to recruit new employees from overseas," Florian continues, "and can fully support relocation to Austria. To be frank, it's not a hard sell.
"We're situated close to Vienna, which is a beautiful city, and the general surroundings and pace of life are incredibly desirable. Our workforce covers a broad set of disciplines, and everybody employed comes from the highest caliber.
"Even the simplest of positions with In-Vision require a great deal of experience and expertise within its surrounding field."
As talk turns to the future, Florian considers the organization's potential path: "I would like to be telling you that over the next five years we have successfully maintained our position as a world market leader for projection systems for industrial use.
"Furthermore, I hope that we will continue to follow our current paths of working, in creating the most advantageous and reliable products possible for our customers, and manufacturing them in Europe."