Safe waste disposal
Capable of developing unrivalled incinerators, Inciner8 grew substantially in 2017. This year, the company continues to target new market sectors where it can apply its versatile manufacturing skills
A variety of significant events have happened at Inciner8 since we last featured the thermal treatment solutions and incinerator specialist in 2017. The Southport-based company has been working hard to develop new and optimise its existing products, while also dipping its toes in new market sectors. As a result of this energetic approach, Inciner8 saw a 33 per cent growth in turnover last year. Managing Director, Tony Dodson reviews the most recent highlights for the company.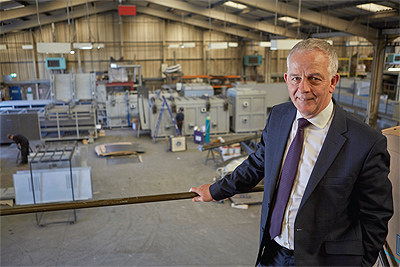 "Almost all of the products on our range have seen improvements in the past 12 months, including the introduction of new medical incinerators, one of which is our largest unit with a capacity of 1000 kilos per hour. The latter now enables high-volume, large-scale destruction of waste through auto-loading systems," Tony points out. The incinerator in question is a true benchmark for the business, as it boasts a size that is twice as big as the capacity Inciner8's competitors can achieve. Tony explains how the manufacturer managed to create such a machine. "Every Inciner8 product is the result of us applying combustion science, mechanical engineering, and state-of-the-art manufacturing. This ensures that the critical incineration processes and the inherent chemistry that occurs, are understood and completely managed. The key variables in any incineration process rely on formulae, which determine values such as calorific value and mass balance that are also influenced by techniques, process, and load capacities. Therefore, the new product – utilising our combustion science knowledge and the new autoloader technology, achieved the 1000 kilos per hour capacity.
"Growth has been evident in the larger models we sell worldwide," Tony observes, "but I would say that we have specific customer groups and well-defined sectors for the different products we offer, which allows us to market and engage successfully with many prospective buyers globally, and increasingly, in the UK." The confirmation of his words comes in the fact that as of 2018, Inciner8 has sold its products to over 170 countries around the world. "We have hit a purple patch, with products, marketing, and sales all combining well to improve the sales lead quality and the ensuing conversions. In fact, we have rebranded and rigorously marketed our core values, products, and major benefits as a business. It was the first step of a commercial process that is set to ramp up over the years," he enthuses.
Having scaled its sales up, Inciner8 also looked into adopting a supportive after sales approach, in order to strengthen the ties with its customers. "We are developing a sophisticated after sales service, and this will remain a focus for the company in the years to come, because it is a key part of our proposition. Combining this with the high-quality technical advice and consultation we provide in the buying process, has already laid a solid foundation for the business looking ahead," Tony believes.
Inciner8 has continuously been exploring new sectors to position itself within. The latest example of this is the development of two new products for the pet cremation market – a fast growing area for the organisation. Tony introduces the machines to us: "They are dual-chamber units that utilise a hot hearth technology. The pet cremation process is very sensitive and requires stringent and precise procedures, so we also placed significant emphasis on safety and ease of operation. We deliberately sought the advice of key industry bodies that welcomed our open approach and are keen to work with us on new product development. We are currently in the first stage of rigorous testing for the pet cremation machine. We spent much of the product development time in constructive dialogue with some of the key organisations in the sector to ensure that our offering will be fit for purpose."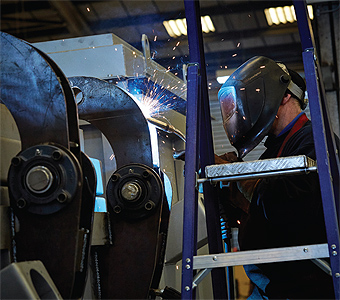 Tony also reveals that Inciner8 has begun to identify new opportunities in the waste-to-energy sector. "Projects of this kind are proving very popular, especially on a smaller-scale, where waste companies have discovered a key area of revenue, by generating heat and electricity from waste incineration. These projects are initially consultative before moving into their installation and implementation phases. Waste-to-energy definitely offers an exciting window of opportunity and we have already successfully initiated partnerships and ventures that will maximise our value in this sector during 2018.
"We have also enjoyed continued success providing our solutions to humanitarian and aid organisations," Tony remarks, adding that working in this area feels like a more special mission for Inciner8, as the business genuinely believes in the role it plays in improving lives around the world. "We have already demonstrated that we can deliver on every level in the aid and humanitarian sectors, and we regard them as areas of huge potential for the company."
As Inciner8 is going through a period of significant growth, the company had to fine-tune its internal structure to make its operation yet more efficient. "We formed a new Management Team last year that gelled really well. I am happy to say that I see a sense of realistic optimism and strong ambition among staff. At the moment, we are not only achieving excellent results, but have also reached the status of a healthy business, and I am convinced that both are indispensable ingredients for a long-term success. Naturally, we will continue to push ourselves hard, in order to improve our processes and establish critical standards across the whole business, in alignment with our growth targets," Tony expresses his delight with the way Inciner8 is navigating its way towards even bigger success.
Finally, he takes the time to praise the 'Britishness' of the supplier network the company has established, and the strength of Inciner8's team. "Even though we perform and deliver to a demanding global customer base, we have developed a high-quality range of hand-picked suppliers, the majority of which are UK-based. We also employ a predominantly local workforce that has created a team of competent experts in a very niche market. It is great to work with a close-knit team, each and every member of which adds huge value to the company's growth objectives."
Inciner8
Products: Medical, animal, and general waste incinerators; pollution control and waste-to-energy systems