The heat is on
Inciner8 has developed a strong global reputation for its superior product portfolio of incinerators for all applications in the waste management industry
Formed in 2004 by Founder and Chairman Vincent Ferguson, Inciner8 swiftly generated demand from the animal by product, medical and general municipal waste streams. "Inciner8 manufactures waste incinerators for animal waste, medical waste and industrial/ general waste. We also manufacture waste to energy equipment. I set the business up after leaving a livestock equipment company with the original plan of selling incinerators to livestock farmers for fallen stock. The business quickly developed over the years into the medical waste sector
and latterly into general and small municipal waste. We have been lucky enough to supply the likes of the British FCO, American Government and military, United Nations and Red Cross to name a few governments and aid organisations we have worked with," begins Vincent.
"We pride ourselves on being one of the few incinerator manufacturers that carry a large stock of finished product; this gives us a competitive advantage. Furthermore, in 2012 we invested in a new manufacturing plant when we acquired a sheet metal business in Southport; this strategic development has doubled our output," he continues.
Having supplied 172 countries across the globe, the company is established in Africa, Eastern Europe, South America, India and Russia and is growing its presence in areas such as North America, the UK and China. An integral part of this impressive growth is Inciner8's impeccable track record for supplying high quality standard models as well as a bespoke service for specialist markets and requirements, which thus ensures it can fully cater for the needs of clients in this growing industry.
On top of this, the company realises the importance of environmental awareness in waste management operations and strives to understand deliver the best possible solutions based on each country's regulations and standards; a commitment that has been enhanced recently through its range of products that deliver an extensive range of pollution control systems and heat recovery options.
Proud of its ongoing success and the strong reputation of its brand, Inciner8 believes new product development and listening to customers will further enhance its position on a global stage. "We have recently developed the world's first fully mobile human crematorium," says Vincent. "This is primarily for aid organisations as and when the need arises. We are also releasing our first Waste to Energy (WTE) incinerator that produces electricity and hot water; this will be the first of its kind on small/medium scale incinerators. This innovative solution was developed through strategic partnerships and uses a patented low energy machine. Most solutions are large scale and static, whereas our latest model can be completely containerised for quick setup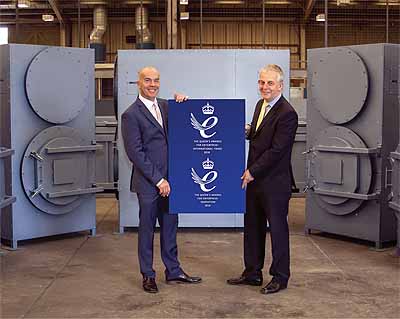 and operation around the world."
Outside of the funeral industry, human incineration is performed through the utilisation of mobile cremation units; designed to burn a human body in 60-90 minutes, these faster cremation cycles and the 'hot hearth' design can help save on fuel in situations where it may be necessary to perform more than one cremation a day. Self-contained and easy-to-move, the mobile cremation units have been designed to work in remote areas and are ideal for disease control thanks to their 700 litre fuel tank, hydraulic door operator, liquid retention still and ash collection drawer. Due to the reasons of their deployment, these mobile incinerator units offer a safe and dignified cremation process for victims of disease, war or famine.
Meanwhile, with China recently announcing it is to build 300 WTE sites in the country over the next few years, Inciner8 has been working closely with strategic partners to develop a range of relevant solutions for those who run and manage waste incineration programmes.
In recognition of Inciner8's exports and innovation, the company won the Queen's Award in 2016 for the second time. Discussing this award, Vincent comments: "This is the second time we have won the Queen's Award and I firmly believe that winning the award raises our game and creates better visibility. I am also convinced that it plays an even greater role in the international market as our Royal Family is held in high esteem… in fact, there has been a number of occasions where overseas visitors have had their photograph taken next to our Queen's Award Certificate."
With boosted visibility in a growing global market, Inciner8 will continue to build on its brand through the delivery of good customer service and support while also consistently developing systems and products that meet the needs of its broad client base. "The market is always challenging, but one thing that doesn't change is the continuous increase in waste generated around the world. Our biggest ambition and challenge is to produce systems with zero emission technology. However, looking at the next 12 months our goal is to focus on the release of our first WTE incinerator as well as the cremation systems. Over the next five years, meanwhile, we will not only continue to develop WTE systems and lower emission technology, but will also aim to establish offices in two strategic locations: the US and Asia," concludes Vincent.
Inciner8
Products: Incinerators