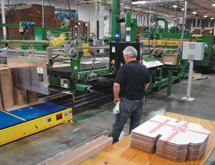 Independent II may have started its corrugated and packaging business in June 2006, but it has a much longer legacy than that. The company was founded by CEO Neil MacDonald and is led by a group that includes many individuals who worked together for a company called Independent Container. MacDonald also founded that company in 1981 before he sold it in 1997.
In the nearly 10 years that followed, MacDonald says that, "a lot of former employees and longtime customers would tell me that there was still an opportunity for me to get back into the business. In 2006, they pulled me out of retirement to start Independent II."
Total Solutions
Independent II's ties to the corrugated industry in the Louisville, Ky., area extend back even further because of MacDonald's experience. His career began with a company called Independent Box Makers prior to forming his first company, Independent Container. MacDonald says the secret to success comes down to the independent nature of the company.
"As an independent, we've been able to position ourselves against the competition because we can build programs to suit the needs and specifications of customers," he says. "Many competitors are controlled by national marketing strategies and can't react as quickly. We can adjust rapidly to customer needs and develop programs that make us competitive in terms of total service, and not just on the price of one item alone."
It is that total solution capability that has allowed the company to devise programs for customers that can help them save money. It also has led to fairly fast growth for Independent II over the last six years.
"We have one location, a 150,000-square-foot manufacturing and warehouse space, and 75 full-time employees in Louisville," MacDonald says. "Our sales have grown to more than $20 million last year, and we should reach about $24 million in 2012."
The company serves a customer base located within a roughly 100-mile radius of Louisville, which MacDonald says is the norm for the corrugated industry. The market has changed dramatically since Mac­Donald's career began. The area was a major manufacturing hub in the 1960s and 1970s. The area was a large producer of appliances and also had a significant amount of activity in everything from alcohol and tobacco to aluminum and meat processing.
Prepared for Change
Today, much of that customer base has dissipated. The tobacco industry is gone; appliance activity is a fraction of what it once was. But in its place are new opportunities for a corrugated and packaging company like Inde­pendent II. For example, UPS placed one of its largest global hubs in Louisville, which has attracted many distribution centers to the area.
"A lot of repackaging happens around Louisville," MacDonald says. "Products may not be manufactured here, but many products are distributed from here. Our sales focus and equipment needs have changed and adjusted to go after that market."
Another aspect of the industry that has changed is what customers are looking for from a company like Independent II. In the past, customers were looking for a simple brown box, perhaps with one- or two-color printing on it. Now, many customers want shelf-ready products.
"Now the large box stores don't want to go through the unpacking process," MacDonald says. "They want a box that is a certain size and can fit on a shelf with multicolor print, because the box helps sell the product. We have geared our manufacturing and design efforts to introduce shelf-ready products to our customer base."
Because of changes in the market, Independent II has made many internal improvements to ensure optimal performance. The company spent about $1.5 million in 2011 to add and upgrade equipment, which was its largest capital investment program since starting business in 2006.
In the last year, the company added two rotary die cutters to its plant, one new and one used. One is capable of  two-color printing, while the other has three-color print capability. MacDonald also says equipment suppliers have improved at making printing plates, and Independent II has upgraded its equipment to ensure it has the ability to handle new inks and new plates.
"The investments give us better solid coverage and printability that is very detailed," he says.
Now that the company has made improvements to equipment itself, the focus for 2012 will be on training to make sure employees are on top of technical challenges and know how to best run the equipment. MacDonald thinks more investments in equipment will come after 2012 as new equipment comes into the market.
Independent II is taking advantage of the experience of its founder and leadership team, carving out its own space in a niche market and staying competitive by building on relationships. The company can offer value to customers that prefer dealing with locally owned companies where decision-makers are easy to reach.
"We don't look for large national contracts," MacDonald says. "We seek out people who want to be served based on total cost and service, not just the price of a box."