Pakistan's industrial motor
Established in 1989 as a joint venture between the House of Habib, Toyota Motor Corporation and Toyota Tsusho Corporation, Indus Motor Company (IMC) has sold more than 750,000 vehicles in its 27 years of production, and is currently overseeing a number of local community projects CEO Ali Asghar Jamali neatly summarises the history of Indus Motor Company (IMC): "It was established in 1989, as a joint venture between the House of Habib, one of the biggest financial centres in Pakistan and the Toyota Motor Corporation and Toyota Tsusho
Corporation. That is when the production of IMC's Flagship brand, Corolla, began. Today, IMC produces a number of other vehicles as well." Beyond the manufacture of the Hilux and the Fortuner, IMC also boasts a facility in Port Qasim Authority that manufactures 240 vehicles a day, employs over 3000 people, and is responsible for one and a half per cent of the total tax paid in Pakistan.
In his current role, Ali is tasked with overseeing the future of the company: "My biggest role is to make IMC a stronger unit. At the moment, my focus is on future leadership and succession, ensuring a sustainable business in the long term."
While he prepares for the long-term, in the short-term a lot of companies are benefiting from an upturn in the Pakistani economy: "The Pakistani market is growing at around five to six per cent, so there is a real feel-good factor in the country at the moment. New projects such as the China- Pakistan Economic Corridor (CPEC) are making headway, and politically the condition has been more stable in the last four or five years. All of these factors coming together have driven growth in the automobile market."
Ali believes that IMC has a couple of advantages over its competitors: "The automobile industry requires a lot of manpower as well as extensive training, which has been a big part of the organisation over the last 25 years or so," he explains. There are already steps being taken to capitalise on the current positive economic atmosphere and to increase the level of productivity: "An expansion phase will be coming into play in early 2018, further increasing our capabilities."
There is a culture of optimism within the group, an aspect that Ali believes gives the people that work for IMC an excellent platform to build upon: "When choosing someone to join the team, it is the attitude that counts. At the plant, there is a level of standardisation that involves doing tasks repeatedly, so how someone approaches this is of the highest importance." This desire for maintaining the right attitude also extends to working with suppliers and dealerships: "It is about working as a family. There is a special professional bond, and IMC values this very highly."
Each vehicle in the range has been designed to meet certain specific customer requirements: "The Corolla has been created with Pakistani roads in consideration, which is why it is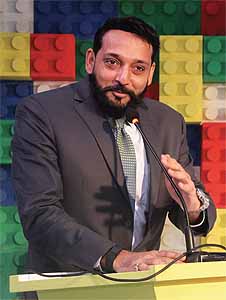 popularfor urban and off-road usage. The after-sales service is also a big advantage, as there are spare parts available in centres all over Pakistan," Ali states. He goes on to detail the advantages of another model, the Hilux: "All our vehicles offer safety and durability. With this vehicle, it is low maintenance, and it is often used by paramilitary forces, as it is great for covering desert and mountain terrain."
The same level of care is applied to looking after the people producing these vehicles, something that everyone is expected to be vigilant about and play a part in: "You won't see anyone in the plant walking and talking with a mobile phone in their hand, or with hands in pockets, it is about covering the minute details that protect people. This is the utmost priority. For example, even if a senior executive visits the factory floor, he/she is still given the security briefing. It doesn't matter if someone is a manager or a tea boy, if the policy is violated, the same actions are taken," he exclaims.
There is also a move towards maintaining sustainability, both in terms of the environment and through benefiting the community: "All standards and procedures are properly followed, and this has to be taken seriously. Over one per cent of profits are donated to health, education and other socially beneficial projects, as well as a technical school that offers vocational training," Ali reiterates.
At present, the company is preparing to
urther develop in anticipation of changes in the economy: "Everything has to be approved by sponsors, so what happens depends on what is decided at that level. At present, 60-65,000 units should be produced in the next three years, though with our current capacity this can increase to as much as 100,000. At the moment, Pakistan is a seller's market that is close to becoming a buyer's market, so it is vital to be prepared," Ali predicts.
He is excited about the future, both for the country of Pakistan and for IMC: "There are a lot of challenges that need to be circumvented, so my role is about preparing the team for that. There is a lot of investment coming in, both in terms of the country and the industry itself, and we are preparing for what is to come in the future. Whatever happens, we want to maintain our strength and keep our leadership in the local market." It is a bold ambition, but one that IMC can definitely drive towards.
Indus Motor Company
Product: Producer of Toyota vehicles in Pakistan