Towards the future with confidence
Indus Motor Company Limited (IMC) manufactures and markets Toyota brand vehicles in Pakistan
Pakistan is a very attractive market with the prospects of foreign investment in every business sector. There is substantial proximity to an array of markets because of the country's strategic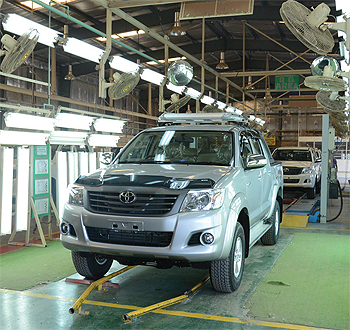 location especially to the whole of Western China, Central Asia and the Middle East. This also opens the gate to foreign investors, as they are attracted to an open economy, a proficient human resource base and a low-cost environment to manufacture for Pakistan's exports and local consumption.
The House of Habib has been a pioneering business concern since the independence of Pakistan and to date it is a fundamental part of the country's economy. The group has a vast business spread with several vertical businesses in finance, automobiles, manufacturing, retail, oil and gas, IT, and education. Habib Metropolitan Bank, Habib Bank AG Zurich, Indus Motor Company, Agri Auto Industries Ltd., Shabbir Tiles and Ceramics, Makro Habib Limited, Inclusive Energy Ltd. and Noble Computer services are amongst the several firms that the group handles.
Indus Motor Company (IMC) was incorporated in 1989 as a joint venture between the House of Habib of Pakistan, the Toyota Motor Corporation and Toyota Tsusho Corporation of Japan. IMC started with a competitive edge with an abundance of strengths, expertise and investments that helped it develop in multidimensional ways within a short span of time. Today, Indus Motor Company has its own experience and name in the local arena, having excelled in the manufacture, assembly, distribution and import of Toyota vehicles, along with spare parts and accessories in Pakistan.
Located on a 105 acre site at Port Qasim, Karachi, the success of IMC has been supported by its manufacturing facility and its strong network of 41 independent 3S dealerships. In over 26 years of its history, Indus Motor Company has sold over a staggering 600,000 completely built up (CBU) and completely knocked down (CKD) vehicles. This remarkable figure has been due to its expanding scale of production – the company started with a manufacturing base of 20 vehicles per day in 1993, moving up to a prominent 240 units per day.
The bestselling products that Indus Motor Company manufactures include several variants of its flagship brand Toyota Corolla in the passenger cars category, Hilux in the light commercial vehicles segment as well as the Fortuner in the SUV category (Sports utility vehicle).
IMC recently launched new models of Hilux Revo and Fortuner, which have been received with open arms in the local market. In addition, there are several more projects in the pipeline that the IMC is excited about.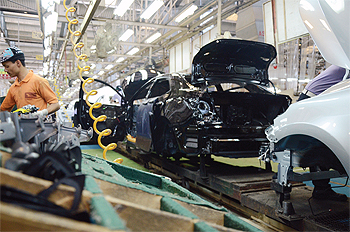 Indus Motor Company is the authorised distributor of these brands in Pakistan. IMC has also initiated the Toyota Sure program with the primary focus on providing certified used car buyers and thereby tapping a potentially new market. Toyota Sure works to facilitate sales, purchase and even exchange of any used car with a brand new Toyota vehicle.
Indus Motor Company thrives on the Japanese system of management, the Toyota Way that has been integrated into its managerial system. The concept of Kaizen has been adopted with its unique way of thinking and spreading to the entire group of companies. The two pillars of Kaizen are continuous enhancement and respect for people, which are the key values of the group, overall. The company consistently invests heavily in training its 2300 plus workforce, which includes all team members and management employees.
Fulfilling commitments is another area, which has been extremely stressed upon and a lot has been learnt from the Japanese. The collaboration between the House of Habib and Toyota has really helped in developing business avenues of the group that are not Toyota-related.
IMC has been in the Pakistan market for a long time and knows its market very well. Though there is a lot of existing competition and with the auto policy of the Pakistan government changed, more foreign brands will be entering the market; Toyota captured the market very well and continues to be among the most preferred brands of the industry in the automobile market.
Indus Motor Company
Products: Automotives