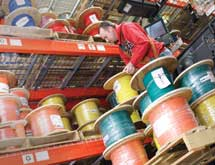 Industrial Electric Wire and Cable
Industrial Electric Wire and Cable (IEWC) – a forward moving company – has transformed itself. Primarily a domestic stocking distributor of wire and cable at the start of 2000 with offices in Milwaukee; Cleveland; Greenville, S.C., Dallas; and Phoenix – the company says it "wired itself for success" and became an industry favorite. Throughout the last decade, initiatives began to push the company to the next level of sustainable growth by reorganizing its sales teams to include integrated inside support staff and dedicated feet on the street in every major market in North America.
By the end of 2009, the company had international locations in Toronto and Montreal; Aguascalientes, Mexico; Frankfurt, Germany; and Suzhou, China. However, the decade came to a staggering halt with the worst recession since the Great Depression. Now, in 2010, IEWC is looking to come back stronger than ever.
"The recession of 2008 to 2009 hit the world hard, it hit our industry hard and it hit us hard," CEO & President David Nestingen laments. "We hit it hard right back. We have a long range vision to be the premier global supplier of wire, cable and wire management products and we are determined to succeed."
As the outlook for 2010 and beyond becomes increasingly optimistic, IEWC has bolstered its locations worldwide and increased its service offerings to support the growth of the industry.
Three new distribution centers have been added in Hong Kong; Bristol, England; and San Francisco. Expansions of existing distribution centers took place in Boston; Dallas; and Germany. "As we expand, we want to remain consistent in our sales activities," Chief Commercial Officer Paul Bryant states. "We've augmented our already high customer service levels by adding sales center managers at each location. The sales center managers create a dedicated team responsible for maintaining the highest levels of customer service in each location."
New service offerings include FABTECH™ – the company's ability to provide an engineered solution to support customer specifications at lower total costs – and an updated CARS® platform, which is the industry favorite in shop floor reorder technology. IEWC is also expanding into new product lines, offering a complete solution of wire management products for OEMs and sub-assemblers, including ties, tubing, identification products, sleeving, connectors and the like.
IEWC Extends Coverage in the United States
In 2008, IEWC acquired Control Master Products (CMP) of San Francisco – a UL and CSA certified stocking distributor of wire, cable and wire management products serving the local market. "Establishing a local distribution center in Northern California has been part of the company's longer range vision for growth within the United States," Bryant says. "Securing the assets of an existing distributor will help to accelerate IEWC's strong commitment to expand its service offering nationally."
This new distribution center services customers across Northern California and into the Pacific Northwest. IEWC also expanded its Dallas distribution center and sales office to extend service to customers in the southern United States and the Maquiladoras of Mexico. The new LEED-certified distribution center demonstrates IEWC's continued commitment to sustainable business practices.
In the Rest of the World …
High activity in Europe, Middle East and Africa (EMEA) led IEWC to construct a new building in Frankfurt, Germany. The new eco-friendly building serves as the headquarters for IEWC's activities in the European Union and nearby regions.
"IEWC has several well-defined growth targets for expansion in Europe," John Dew, vice president of corporate accounts and international sales, says. "Our former facility in Germany was at capacity and expanding into our larger facility was necessary to support the growth."
Also on the EMEA front, IEWC increased its footprint in the United Kingdom. In late 2009, the company acquired 100 percent of C3 Ltd. (C3) of Weston-super-Mare, United Kingdom. C3 has the same service offerings as IEWC's other facilities and provides the necessary infrastructure to expand its business in the United Kingdom and Ireland.
Further expansions in the Asia-Pacific market – such as IEWC's new Hong Kong Free Trade Zone location – allow IEWC to offer its customers an additional Asian stocking location and greater flexibility to transact in U.S. dollars. "We selected Hong Kong as a free trade zone due to its central position and gateway access to the rest of Asia," Vice President of Asia Pacific Sales Jim Wojan states. "IEWC is now able to provide same-day and next-day shipments to our customers with the lowest total cost solution in the market."
Bolstered Service Offerings
"By extending our coverage, we've extended our service offerings," Bryant states.
IEWC offers many services to the customer's specification. They include scheduled orders, electronic data interchange and advance shipping notices, custom labels and bar codes, custom packaging, striping and dyeing of wire, wire printing and etching, twisting of wire, wire drum packing, and UL- and CSA-approved re-spooling.
Differentiating itself from the competition, IEWC also offers a number of more unique service offerings. IEWC's long running shop floor reorder service, customer automated replenishment system (CARS®), received an upgrade to second-generation technology. CARS®  was first introduced in the early 1990s and quickly set the industry standard.  Using portable data collection terminals to scan specially formatted labels, customers are able to standardize their order process for materials they need.
"IEWC's Customer Automated Replenishment System™ (CARS™) simplifies the task of reordering materials from the shop floor," Vice President of North American Sales Mike O'Donnell says.  "The updated technology makes the solution even easier and more accessible to small and large businesses alike."
Customer Needs, IEWC Solutions
A new service offering known as FABTECH™ leverages IEWC's accumulated knowledge and expertise in the area of wire, cable and wire management product applications to help specify the best, most cost-effective solution for any project. "The primary goal of FABTECH™ is to create a truly engineered solution the customer favors while providing the lowest applied cost," says Jim Fitzpatrick, senior application specialist. "The end-use environment must be evaluated to determine the physical, mechanical and electrical performance needs of the material. Factors such as chemical resistance, flexing cycles, abrasion resistance and temperature range must be taken into consideration."
"It provides a distinctly satisfying customer experience," Bryant adds. "From its inception, IEWC's employee-owners lived and breathed product knowledge. This is an extension of that understanding. Our company continues to push for new and innovative ways to apply technology throughout the supply chain that includes our upstream association with manufacturers."
New Products
Identifying the needs of the marketplace, IEWC added a full line of wire management products. Championed by Mark Christie, vice president of wire management products, IEWC is committed to expanding its product offerings in this market in support of a fully integrated solution.
Since June 2008, Christie has been working to increase awareness upstream and downstream with suppliers and customers about the expanded IEWC service offering.
Community – Giving Back
IEWC takes pride in giving back to where it came from – the communities in which it works. Evidence of this can be found in the company's commitment to Habitat for Humanity, where employees have come together to help build houses for families in need.
"In expanding globally, it's great to offer our services in new parts of the world – especially from a community perspective," Human Resource Director Erica Roberts confides. "We aren't just selling wire, cable and wire management products – we're volunteering our head, heart and hands by way of the personal time our employee owners give back to the communities in which we work."
With the first decade of the new millennium come and gone, IEWC continues to lead in the industry – taking the high road to innovation and customer service.
"The company's strong commitment to continuous im­provement is a driving force that keeps the transformation real for everyone – and we're looking to the future with great anticipation," Bryant says.
"We are a customer-driven, solution-focused organization. When it comes to wire, cable and wire management products, we've got [clients] covered."