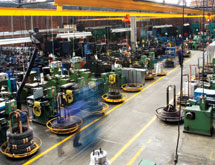 "We actually have 100 percent control of our manufacturing process," says Joel Kaslewicz, national sales manager of Indux, which produces fastening solutions such as rivets, grease fittings, grommets and eyelets. Kaslewicz's statement is a rare thing to hear these days, but given the company's location and chosen industry, it's a very necessary distinction to have.
From 1956 to the early '90s, Indux's foothold in the Mexican and Central American fastener business remained largely unchallenged. The Mexico-based operation formed harmonious joint ventures with others in the business such as Chicago Rivet & Machine Co., Spirol, Stocko, Tecalemit, Anderton, Kwik-Way and Sagitta, gleaning knowledge from these best-in-class companies to add specialty services and capabilities. However, the competition from foreign manufacturers came in full force during the late '90s.
"When the border for Mexico opened, imports from Asia increased drastically, which made our market substantially more competitive," says Nikolaus Ehrensberger, director of sales and third generation owner within the company. "And then in the early 2000s, many U.S. manufacturers began moving operations to Asia and along went their supplier requirements.
"Suddenly, Mexico was competing against the whole world," Ehrensberger adds. "We had to improve our service. We had to improve our product. We had to become more competitive price-wise and that's what we have done over the last decade."
While Indux expanded, it remained committed to a fully integrated approach, adding to its capabilities with engineering, tooling, plating and heat treatment to round out a list of core processes, including wire cold forming, sheet metal stamping, and machining. Its newest process, zinc injection molding, initially focused on manufacturing intricate products for the fashion industry, but is rapidly finding a place in industrial applications.
"Complete integration of our processes really is Indux's strength," Kaslewicz says. "It's been the philosophy of the company since inception and it's the core of our value offering. Because of what's changing in the economic climate, we expect to see greater success moving forward. Our expansion into new processes is dictated by the needs of our customers. As we expand into new capabilities we continue structuring operations to maintain control and flexibility.
"Historically growth has been investment driven by joint ventures," Kaslewicz adds. "Today expansion is capital equipment and trained personnel. Whether spent on new finishes, new materials, or new value capabilities, such as heat treating, we are driven to develop new processes in house."
Management Moves
As the company brings in more processes, it also adopts better techniques to manage those processes. Last year, the company received ISO/TS 16949 certification, signaling to customers the level of quality the company maintains.
Another key change was moving toward lean manufacturing and restructuring the company to operate by product line versus processes – which is how it was structured previously. "[In the new structure] we have reduced our working inventory," Ehrensberger says. "We have been able to further improve the quality of our products and we have reduced the number of personnel on the operation side, which has made us more efficient and cost effective, as well."
It also has reduced lead-time by investing in tooling capabilities. The company's tooling engineers design, manufacture, and maintain tools specifically for Indux's internal processes and the product installation needs of its customers. Through the same controlled cost model of production, they are able to provide highly cost effective tooling to support new projects.
The turnkey processes along with new management techniques have spawned tighter control of lead times, quality and costs, as well as providing greater flexibility. And though the push to more quickly develop these capabilities was prompted by offshore competition, a new trend of manufacture re-shoring has put the company in a viable position to serve those returning to North America and the United States in particular.
Home Support
"Reshoring of manufacturing is a continuing trend we feel is here to stay," Kaslewicz says. "Certainly with greater value for some products more than for others, but there is clearly a benefit for localized manufacturing. Considering so many businesses supporting OEM componentry abandoned their markets here in the U.S. when production moved to Asia – as the United States is now seeing a shortage of qualified manufacturing talent – there is also a trend for shortage of localized supply and engineering support.
"Fortunately for us, and partially due to NAFTA, manufacturing has remained strong in Mexico over the past few decades, particularly in appliance, HVAC and automotive," Kaslewicz continues. "This has us, as well as other Mexican suppliers, in a great position to support OEM producers in the United States."
Most of these producers are calling for specialty parts. Indux's portfolio still consists of standard fastening solutions; however, its customers in industrial markets – specifically transportation – are calling for custom-made components rather than traditional stock items.
"Now what we're doing the most is not the standard stock product, but the specialty products custom-made for each user's specific application" Ehrensberger says. "For these products there is a component of engineering, of service, and of providing the whole solution as a supplier. That's where we can add the most value to our customers."
Because it is a fully integrated manufacturer, Indux has the flexibility to create these custom-made, and as Ehrensberger explains, essentially new products on a regular basis and assist customers to market. It continuously invests in the machinery that will allow it to maintain this strength.
In addition to the new zinc injection machines, the company recently purchased additional cold heading equipment from Europe that will expand and provide new capabilities. This past summer they added additional automated quality inspection machinery for high-speed control.
"These investments follow the trend that we've recognized our value to be more on specialty components and we're expanding our capabilities toward that type of product," Kaslewicz says. "The equipment we are bringing onto the floor is more advanced and flexible. We'll be putting in more automated processes to maintain the demands of our new TS certification and controls moving forward."
Most of these investments will go toward the company's 130,000-square-foot Mexico City plant, which is its main site and where the majority of its engineered and custom-made products originate. It also operates two facilities in central and northern Mexico in El Marques, Queretaro, and Monterrey, Nuevo Leon.
Investments such as these allow the third-generation family company to continue serving its Mexican and Central American clients with the quality it's known for while spreading services north as manufacturing re-energizes in the United States.
"We successfully serve multinational businesses with manufacturing facilities in Mexico, along with their U.S.-based operations," Kaslewicz explains. "We are committed to growing our position in the United States – especially with the localization emphasis here in North America – and want to share this value with U.S. businesses.
"With our history and expansion, we are sitting in a very unique position to do that immediately."