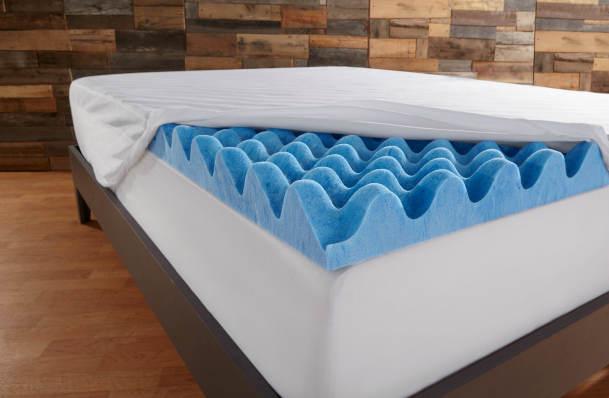 There are a lot of ways to measure a successful merger. Some might look at revenue while others put a priority on marketshare. At Innocor Inc., the company thinks about its formation from the merger of two smaller flexible foam manufacturers in terms of its internal operation as well as the external.
One of the biggest testaments to that successful transition is that employees no longer refer to the legacy companies from which Innocor was born, according to President and CEO Carol Eicher. When the merger occurred in 2014, the new company wanted to be seen as the combination of two great companies – Sleep Innovations and Flexible Foam Products – and leadership believed a new name would reinforce that idea both with customers and employees. "We didn't want either one of our employee groups to feel one had acquired the other," Eicher explains.
The merger came about after private equity firm Sun Capital acquired both Sleep Innovations and Flexible Foam Products. The foam market is an attractive space with strong growth opportunity and Sun Capital realized combining the two foam manufacturers would create a larger infrastructure with more resources to drive innovation and sales. The foam market had already seen extensive restructuring in recent years. Mattress companies Seta and Simmons have had a common ownership since 2009, Tempur-Pedic and Sealy Corp. merged to form Tempur Sealy in 2013, and retailer Mattress Firm completed a takeover of competitor Sleepy's earlier this year.
Eicher joined Innocor in May 2014 shortly after the merger began. Since that time, she says the newly combined company has exceeded its promise and become one of the largest foam manufacturers in the United States and one of the biggest players in the foam mattress market. "We've actually been able to drive the core messaging of our company, which is our size and our national ability to serve our customers, with the ability to bring innovation to multiple nodes in the value chain," Eicher explains.
Innocor's operations are split between two divisions. Innocor Comfort is the bedding products arm of the company that retains the Sleep Innovations brand and provides products for retailers. Innocor Foam Technologies is a purveyor of foam materials for OEMs that create bedding and furniture among other applications. Eicher says that having a sizable presence in both the B2B and B2C markets supports Innocor's strategy around innovation and go-to market.
The company has 23 manufacturing and distribution facilities in the United States and is vertically integrated. That network of facilities is positioned across the country so that Innocor can be close to its customers, helping it to grow as the demand for foam rises.
Eicher says a significant amount of Innocor's growth can be attributed to bringing new products to retailers and the company's proximity to customers. "This is a manufacturing company and our ability to meet our customers' needs and to do that better than anybody else is clearly a differentiator for us," she explains.
As a manufacturing company, Innocor strives to stay ahead of the latest production trends. When Sun Capital created the company, the new leadership, including Eicher, developed Innocor's own version of a continuous improvement mindset based on Six Sigma principles. From those standard procedures, Eicher says Innocor created a common platform for operating excellence to ensure consistency and quality. All of the company's facilities are now in various stages of implementing continuous improvement programs.
Leading on Innovation
Innovation and new products are how Innocor remains a leader in the flexible foam market. One of the driving forces of that innovation is the company's relationship with its suppliers. Many of the chemical companies Innocor buys from are billion-dollar businesses with countless customers. Despite that volume, the size of Innocor's market means the foam producer is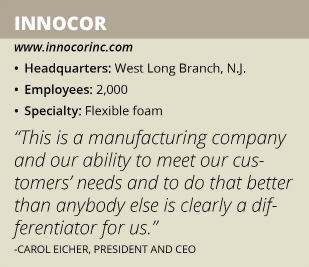 often among the largest customers for those suppliers.
Chemical manufacturers tend to be much larger than Innocor and have to develop products that fit a wide range of industries and applications. That requires large investments in innovation and capabilities.
Innocor's customers rely on the company to delieve innovative products. Because of the close ties Innocor has developed with its suppliers, the company can leverage the vast innovation engines of those chemical manufacturers to develop products that are unique to itself. Further, Innocor has extensive market research it can use to help direct the fundamental material science used to make foam products, allowing it to solve consumer problems and fulfill demand. Eicher says that development process enables the company to bring products to market that distinguish Innocor from competitors.
Those supplier relationships result in technologies that make sleep more comfortable or better fit the requirements of furniture manufacturers. Innocor recently introduced several new specialty foam products that live up to its promise of innovation. HYPERcor High Resilience Foam is designed to enable unparalleled support, durability and malleability and LURAcor Latex Alternative Foam delivers buoyant, responsive comfort with excellent pressure point relief..
One of the company's most exciting new products is EVENcor Memory Foam. Traditional memory foams can stiffen and lose comfort as the temperature and humidity change. EVENcor solves that problem so that users will enjoy the same softness in winter as they do in summer. "The idea is for the consumer experience to be the same over a broader range of atmospheric conditions," Eicher says.
Gary Reach, vice president of marketing, says the need for a product like EVENcor arose from Innocor's Consumer Insights research. The company surveyed hundreds of consumers and found that more than half noticed a difference in their memory foam mattresses based on the temperature. Of those, about two-thirds had a negative reaction. They called the vendor, manufacturer or retailer to complain, return the product or said they would not buy a memory foam mattress in the future. "That was a big problem in the marketplace," Reach says. "We're proud to say we've found a solution to it."
Innocor strives to innovate at three different levels within its products: foam, covers and packaging. The foam is the basic raw material the company uses. Reach says the company spends a lot of time and effort working with all vendors to ensure it has the most cutting-edge foams, covers and packaging.
Covers include those for the pillows, mattresses and mattress toppers the company manufactures. When it comes to covers, Innocor works to advance the functional capabilities, aesthetic qualities and feel. Innovation within packaging often depends on the distribution or retail channel.
Channel Surfing
The flexible nature of foam also opened up a new distribution model to fit the shopping habits of modern consumers. Foam can be rolled up and packaged for direct-to-consumer sales through the Sleep Innovations website. Reach says although consumers are becoming more willing to buy something online, retail still plays an important role in the shopping experience. Sixty-five percent of customers still rely on retailers as the primary source of information, and of that group, 90 percent use their phone to comparison shop while in the store.
Innocor tailors its distribution channels to fit those varying shopping methods. "We participate in a lot of different ways to ensure we have all of the consumers' shopping desires covered," Reach explains. "Part of our goal is to make sure we're focused on the areas of the market, the paths of purchase and the channels that are growing the most."
Innocor's success in supporting retailers while providing the shopping channels customers want is driven by its internal research and understanding of the mattress market. Eicher describes Innocor as a company with a culture of accountability with clear goals and objectives. "We make decisions based on data, not on whims or who screams the loudest in the room," she explains.
Eicher says there are always thousands of great ideas floating around at Innocor, but success comes down to execution, not brilliance. Achieving those goals requires a laser focus on what needs to be done and Innocor gives employees the freedom they need to complete their jobs.
Following the merger, the company brought in new leaders, such as Eicher, who had experience managing  large and complex businesses. Innocor also promoted from within to create a mix of efficient and experienced management. "It's made for a really strong team of individuals who have seen success elsewhere, who understand the industry and are highly motivated to make the company a success," Eicher says.