Innovation is colorful over at Jonathan Louis, and success is carefully crafted by design
This national, fashion-forward furniture brand, led by the legacy of three hardworking visionaries, has a novel approach to furniture manufacturing that has shaped it into a successful enterprise. Javier Sanchez, CEO, proudly continues the vision of Jonathan Louis' founder, David Harrow: to create quality furniture that is stylish and affordable.
David Harrow's prescience and diligence paved the way for the business becoming one of the largest furniture manufacturers in the United States. His keen foresight also led to fostering the two future leaders of Jonathan Louis from within the company – Javier, and his brother, Juan 'Johnny' Valle, now COO. Both started from ground level and worked their way up, learning the operational ins-and-outs and valuable lessons that still drive decisions today.
The brothers took the reins in 2004, splitting responsibilities based on areas of experience, with Javier taking on product design, and development and sales, and Johnny overseeing all of production, including the eight factories in LA and Mexico.
Confidently colorful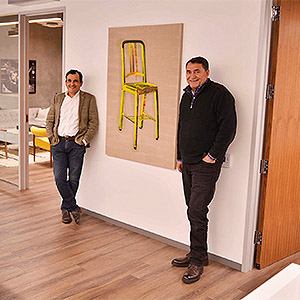 Now, nearly 40 years after its inception, the Californian company boasts a proud team of passionate artists, designers, creators and craftspeople, many of whom have been with the business since day one. Javier reflects: "The journey has been incredible, and I have learnt so much. When we took over, almost everyone in the industry sold brown microfiber, chenille sofas, and not many were investing in color. This is because retailers purchased furniture for inventory, and needed a product that was safe and would appeal to the majority of people. The point was to sell products retailers could turn around quickly. Even though that was the prevailing focus in the industry at that time, we were still interested in color, different textures, and the various price points of fabrics.
"I worked with a young lady (in fact, the last person David guided me to hire before he passed away) who really helped me make the product successful, thanks to her great eye for fabrics and textiles. It was very common in our industry for middle-aged white men to purchase products that they believed appealed to women. From my perspective, I was lucky to have this young woman on my side with such fantastic taste in color, texture and coordinating fabrics."
Exceeding expectations
Consequently, providing a broad selection of fashion-forward upholstered furniture, often tailored to the customer, became a driving force. "One of the biggest things I tell my team when they are creating the product, is do not worry about costs or whether they can be bulk manufactured. What we care about is putting the best product forward. That's what separates us." Looking beyond the immediate market, Javier muses: "From my experience, Europeans are more inclined to consider the sofa to be a piece of art and make purchasing decisions based on design and interior styling. I think in the US, we buy furniture based on utility. You can walk into a home and there will be a standard sofa in the living room. In Europe, on the other hand, people will furnish their homes with sofas akin to museum pieces. We are trying to get those statement pieces in our product line." Indeed, it is this emphasis on excellence in customer relationships and willingness to challenge the status quo that allows for creativity that exceeds expectations.
Another aspect that sets the business apart, is Jonathan Louis's manufacturing freedom, which enables flexibility and nimbleness to meet changing customer needs and adjust to market conditions. "Our manufacturing set up and process does not resemble the cookie-cutter assembly line you might see in other manufacturing industries," states Johnny. "At its heart, this is still a hand-built product. It takes skills and experience to consistently create the quality our customers have come to expect from Jonathan Louis." Led by Johnny's several decades of experience in the industry, the manufacturing team is also bringing in new talent as it continues to grow the business. It's this experience, coupled with new ideas from fresh recruits that allows Jonathan Louis to remain flexible to ongoing changes. "We like to tell our design team, 'you come up with the right product and I am confident we have the right people who will do what it takes to achieve the vision, while still ensuring efficiency in manufacturing,'" states Johnny.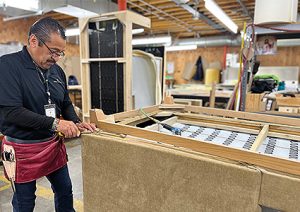 One thing Javier and Johnny both emphasize when talking about the successes at Jonathan Louis is the company's internal culture. "We work hard to put the customer experience first in everything we do," states Javier. While it starts with capturing the imagination with design, "we strive to ensure ongoing communication with our clients on delivery expectations, holding our quality standards high throughout the entire process, all the way to the final quality of the individual piece." Clients might initially come to the business for its innovation and product design, but it's the strong client and customer relationships that have led to many years of success at Jonathan Louis.
Indeed, the future looks as promising as the previous years. While acknowledging that there will be lasting effects from the impact of the pandemic on the manufacturing industry, and that the supply chain will take some time to reestablish stability, Javier is still looking forward to building on the business' potential, and the various ways in which it can disrupt the sector. "While the market is still settling down from the large swings during the pandemic, we are happy with where we are within the industry and excited for our new growth potential," says Javier.
Conclusively, this furniture manufacturer continues to excel in delivering high quality, artfully designed pieces that are inspired by creativity, imagination, and, most of all, self-expression. The products' countless configurations, colors, styles and fabrics help bring out its customers' individual style, offering them a platform for their inner artist. "Our retailers look to us for that 'wow' factor, and I believe that we will continue to provide this in the best way possible for as long as we can," Javier concludes.