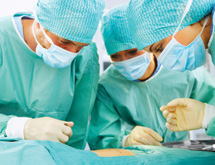 Many companies manufacture products that limit them to a single market, but at INOAC USA, President and CEO Chuck Little says, "We're a little different from the rest." And that difference is reflected in its corporate philosophy:  "Rather than raising a single tree, INOAC intends to create a beautiful forest comprised of many trees of varying characters."
Based in Troy, Mich., INOAC USA certainly has many trees in its forest.  The company manufactures polyurethane foam, elastomers, plastic and advanced compound materials that are used across an array of industries, including automotive, aerospace, electronics, healthcare and cosmetics. The company is the U.S. operations of INOAC Corp., a Japan-based manufacturer.
INOAC Corp. started operations in 1926 and initially manufactured bicycle tires. But that changed in the 1950s, when its current chairman, Soichi Inoue, traveled to Germany to learn more about polyurethane foam and work on the development. At the time, foam was a relatively new product with a number of advancements being developed in Europe. Inoue returned from Germany and was the first to introduce polyurethane foam to Japan.
Since then, INOAC Corp. has grown to employ a staff of more than 20,000 employees and operate more than 100 facilities worldwide, including over 20 facilities in North America. The firm's customer base includes all of the world's major automakers, such as Toyota, Honda, Ford Motor Co., Chrysler Group LLC and General Motors; as well as an array of top-tier providers.
But categorizing INOAC as an automotive company would be misleading. The company's customer base also includes industry giants such as Estee Lauder Inc., Apple Inc. and SAMSUNG.
Little describes that INOAC USA has created its extensive client base by focusing on how it can make its clients into leaders. "It's such a competitive environment for all these industries," he observes. "Anyone can deliver products. Our responsibility is to be the one that comes up with something different, and better. If we can help our customers do that, everybody wins."
Forming Alliances
Appreciating that different partners can bring different, and complementary competencies, INOAC USA's growth has not only been self-generated, but also forwarded through partnerships with multiple companies, including Johnson Controls Inc., a technology firm based in Milwaukee, and The Woodbridge Group, a urethane foam manufacturer based in Mississauga, Ontario.
"We're always looking at synergies," Little says. "We pursue alliances with companies that provide complementary manufacturing and material expertise, but also share our passion and commitment for innovation."
Better Ways
INOAC USA has improved its own operations through the use of lean manufacturing initiatives, Little says. "It is inherent in all we do," he says, noting that the company became an early adopter of the process thanks to its relationship with Toyota.
"We have been a supplier of Toyota since the late 1950s," he says. "We started using lean manufacturing in our plants in Japan and this commitment now extends to use throughout the world.  We're always working on better ways to [do things]."
Staying Ahead
The focus on innovation and efficiency is both bred from within and taught from the top. Little praises INOAC USA's staff for its ability to utilize multiple technologies. "We bring innovation to so many different markets," he says. "Our ability to handle that and keep innovating in those groups is something I'm quite proud of, and something our people excel at progressing."  This includes the interior and exterior of vehicles, the foam in outdoor furniture, sporting goods and medical dressings, cosmetic bottles and even personal electronic devices.
He also has kind words for Inoue. "He's both interesting and fascinating to work with," Little says. "One of the things he's always talking about is the need to innovate in materials processing and to find things that are valuable to consumers and society."
"Complacency is just not something you can have," Little asserts. "If you stop moving ahead, you're already falling behind."
INOAC USA wants to keep moving forward and developing innovations, Little says. "We think there are a lot of interesting things going on within our basic areas – polymers and advanced materials – that we think are going to offer a lot of solutions for different industries," he says.
Not surprising, "different industries" includes new and emerging industries. The company is in the midst of introducing new products to rising markets, including the water treatment and healthcare industries. "The solutions we can bring with polyurethane are interesting to medical professionals and will allow them to provide better care and better products to the patients," Little explains.