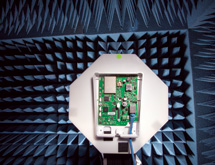 For many companies, outsourcing is an extremely undesirable concept that brings to mind the loss of jobs and product quality in the name of cost savings. Typically, manufacturers only look to it as a last resort in a poor economy, with many later regretting the decision regardless of the positive effect on their bottom line.
Louisville, Colo.-based Inovonics made the decision in 2008 to contract out its manufacturing operations for reasons similar to those of many other companies. The wireless sensor, network and systems manufacturer, founded in the mid-1980s, faced capacity restraints that would have required a heavy investment in new equipment, which it wasn't willing to make during a poor market.
Although the company learned some tough lessons about knowledge sharing and documenting standard work on the way to transitioning manufacturing to Neenah, Wis.-based Plexus Corp., Inovonics found that outsourcing its operations doesn't mean sacrificing quality and control.
"Plexus is a true partner to us, and has a dedicated line and dedicated team making our products," Vice President of Marketing Don Commare says. "We treat it as an extension of our facility: they don't just build one day a week for us, they're manufacturing for us around the clock.
"We're proud of our manufacturing partnership strategy and the maturation we've been able to achieve with a low capital investment," he adds. "All the positive measures you would use to judge a manufacturing operation we've been able to achieve through this process."
Maintaining Quality
Inovonics maintains in-house design, tester strategy, technical support and engineering functions as well as sales, marketing, finance and accounting, and executive management. The company also operates a distribution warehouse for its products. Plexus maintains the majority of the supply chain management for Inovonics products in its Boise, Idaho, plant. Inovonics' manufacturing is based on high mix and low volume, with hundreds of SKUs that typically ship from Inovonics' distribution point within one to three days of an order.
Lean manufacturing methods are at the forefront of Inovonics' outsourced production, both in its front office as well as on Plexus' manufacturing floor. The two companies work collaboratively to meet demand, with Plexus maintaining a kanban system to control the inventory of components and sub-assemblies used to make Inovonics products.
Inovonics also is closely involved in product testing and quality control at Plexus. This includes everything from establishing supplier quality acceptance plans to setting first pass production yield requirements.
"Even though we don't have the physical manufacturing structure here, we are managing costs and maintaining quality the same way we would if they were," says Greg Strayer, Director of Operations.
The company also uses product life cycle management software from Omnify to track its products and design documentation electronically.
Market Demand
The capital cost savings associated with contracting out its manufacturing has helped Inovonics handle the cyclical nature of the markets it serves.
Inovonics markets, designs and sells radio frequency electronics used in the commercial security and healthcare markets. Its products operate on the 900MHz industrial, scientific and medical (ISM) band, approved for unlicensed radio traffic by the Federal Communications Commission in the mid-1980s.
Inovonics' 900-megahertz wireless transmitters, receivers and repeaters offer customers long-range coverage. "We have a unique offering in that our network is repeater-based and provides scalability with less hardware infrastructure, compared to 2.4-gigahertz wi-fi transmitters, where there's less range and coverage," Commare says.
Applications of Inovonics' products include government and commercial buildings, where they are used as the wireless backbone of burglary/intrusion security; senior care, where they support nursing call networks; utility sub metering; and healthcare for enterprise mobile duress.
Inovonics' newest products include RADIUS, a wireless enterprise mobile duress system featuring the ability to locate mobile duress alarms and provide immediate notification when help is needed by directing responders to the location of the call and the EN6080 Area Control Gateway, which converts an Inovonics wireless network message into an IP protocol message on a LAN or WAN. This allows for the interoperability of wireless video, access control, burglary and intrusion detection systems on a single security network.