Living for innovation
Known for its passion for creating customised solutions for its clients, Integral Powertrain has grown from a pure consultancy to an engineering manufacturer, whose technological expertise has made it a preferred partner across the automotive sector
For 20 years of operation, Integral Powertrain has provided plenty of opportunities for its founders, Roger Duckworth, Luke Barker, John McLean, and Darren Cairns, to quench their thirst for engineering and innovation. Founded in 1998, the engineering manufacturer and consultancy has written its illustrious company history by taking on numerous significant projects, both
challenging and rewarding at the same time. Its four founders are still with the company to date, and one of them, Luke, who is also Technical Director, talks to Manufacturing Today Europe to tell the story of how Integral Powertrain came to be.
"The four of us met at Cosworth in the early 1990s. It is a place with strong engineering tradition, so it offered us great opportunities to hone our skills. However, when its then owner, Vickers, got out of automotive, and sold our part of the business to Audi, we lost some of our independence. This is why we decided to start Integral Powertrain," Luke begins. After initially working on internal combustion engineering and management systems, the newly-founded company landed its first big project in 2000. "We were tasked to implement a 3D master model process for a Formula One engineering team. One of us, Darren, has always been enthusiastic about getting maximum advantage from CAE systems, and we were among the first engineers to design castings associated with the tooling to produce them as one master model," Luke explains. From there, it did not take Integral Powertrain long to build a strong client base. In 2004, its engineering team invented its own SuperGen technology, an electromechanical supercharger, which opened the doors to the electric drive industry for the company.
The recession in 2008 hampered the steady growth Integral Powertrain was experiencing, but by no means did it discourage its management, which eagerly strived to explore new business areas, in order to minimise the negative impact of the crisis. Luke remembers: "We won a project in 2010 to design and supply a low-volume production run of electric machines for a hybrid supercar, and I think we were the first powertrain consultancy to do so. Later on, we developed and supplied some extremely power-dense premium machines, which our client wanted to challenge the conventions of what was then considered state-of-the-art."
Evidently, Integral Powertrain has continuously surpassed the ordinary in engineering, and Luke regards the company's passion for innovation as one of its biggest strengths. He also stresses the perfectionism reigning across the business, and the commitment to find solutions that exactly match clients' needs. "We are driven by the idea of delivering a product or service that corresponds precisely to what the client demands. There is a lot of value and win-win potential in devising the right drive system or concept, and we have become very good in this respect over the years," Luke maintains.
It was in recent years that the company has established itself as an engineering manufacturer. Having started as a pure consultancy, the increased workload propelled Integral Powertrain to begin its own manufacturing operations. Out of practical and time-saving reasons, it has achieved its current structure, described by Luke as a 'hub', which covers all of the company's capabilities. "It includes everything – design, analysis, procurement, prototyping, testing, and even our supplier network.
"Through this hub, we offer our services via three different divisions. First, we have the original Integral Powertrain brand, where we work with OEMs on internal combustion and hybrid powertrains. It is an area increasingly dominated by calls for CO2 reduction and efficiency, so we closely monitor the level of emissions going out in the real world, as opposed to a test environment. Our second brand is called e-Drive, which is our electric drive division. The third division is the e-Hub. It deals with more specific projects, commissioned to us by our clients. Lots of diverse tasks have been executed in the e-Hub. For example, we have designed tooling for aircraft wing assemblies. Once, we even gathered surface data for the steel construction of two 30- metre high horses' heads, based on the scanned information from their clay models. The sculptures depicted 'kelpies', the mystical creatures said to inhabit the lochs of Scotland," Luke smiles.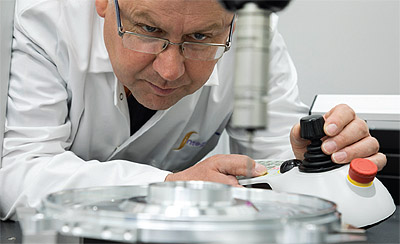 Observing the incessant flow of technological developments, he insists on the company keeping abreast of emerging trends at all times. "We have already got to the top with our electric drives, so we have to make sure we follow all the new technologies. To do so, we have regular, biweekly R&D meetings where we co-ordinate any new ideas that might support our basic fundamental missions. They could deal with internal development, leveraging new supplier capability, or any sector where things are moving quickly," Luke argues, identifying electronic components as one such area. "In addition to this, we are always looking for opportunities for advanced construction techniques and materials like, for example, the emerging high conductivity thermoplastics. Our research has already enabled us to use new winding technology for our motors, as well as a direct metal deposition technology that helps us make re-entrant shapes and other parts that cannot be machined in any other way."
2017 was highlighted by the growth of Integral Powertrain's client base for its e-Drive division, which guarantees a busy 2018 for the organisation. "At the moment, we are working on 16 new motor drive developments and inverter systems, which are all being tested onsite," Luke informs us, opening up on the projects the company is currently implementing. "The Powertrain brand is collaborating with one of the major OEMs on combustion system development. We have recently designed and developed an optical access single cylinder engine that gets together with multiple hardware sets, so the manufacturer can evaluate several different thermodynamic concepts. Meanwhile, the e-Hub division is involved in a project with a marine company that we are helping to identify the root cause of some structural failures it has experienced," Luke recaps.
Finally, he reviews the company's long-term goals: "We aspire to be a key enabler for the new products our clients launch, and we want to help them make these products better by using our technology. Ultimately, our key objective is to have a company we are proud of, and an environment where our employees can fulfil their potential. I think we will stay on the right path, as long as we continue to deliver outstanding engineering solutions, while matching them perfectly to our clients' requirements."
Integral Powertrain
Services: Powertrain services, e-drive systems development, consultancy