In 1990, Dr. John Young co-founded Inteplast Group Ltd. with the be­lief that the United States could still create a competitive manufacturing org­anization in spite of the long-term, general decline in its manufacturing sector. The company's success is a product of the pursuit of integration, economies of scale, strong management and teamwork. Inteplast has es­s­entially provided a model of how future manufacturing organizations can grow in the United States.
Inteplast products include tape films, grocery/retail bags, merchandise bags, trash bags, deli films, stretch wraps, corrugated plastics, plastic containers and boxes, and plastic, trim and decking boards. It runs three divisions: AmTopp, Inte­g­rated Bagging Systems and World­-Pak. "We have gone from zero to the top three market positions in the short span of 10 years," Young says.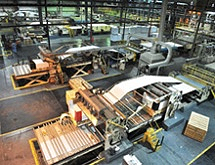 According to Young, Inteplast's manufacturing site in Lolita, Texas, is the single-largest integrated manufacturing site for converted plastics in North America. In addition, the company has 12 plants in global locations. Inteplast has invested in automation to a paperless level that is seldom seen in the industry. In addition, the entire manufacturing organization follows a total quality management (TQM) concept through which every step of the operation is standardized and optimized by means of continuous improvement.
In fact, the TQM process has en­sured that it produces the best-quality products and achieves branding and credibility success without en­gaging in any advertising or promotional campaigns, Young explains.
Young took time to explain to Manufacturing Today the inter-workings behind the firm he co-founded, including the process of becoming a global supplier, its commitment to sustainability and how it is optimizing its manufacturing operations.
Manufacturing Today: How has Inteplast's operating philosophy changed since it was founded in 1990?
Dr. John Young: We have changed very little. We utilize every single management tool available to us, but the central philosophy remains the same, namely to aim continuously for operational excellence while fostering selfless teamwork among all the associates of our group. To achieve operational excellence, we seek to break the operation into manageable and tangible steps, each of which is standardized and subsequently optimized. We then develop excruciat­ingly detailed procedures, steps and training methods to help our associates achieve these standards as well as quality control measures to assure their attainment. This is what we call total quality management, the sum total of approaching operations through tangible, manageable and measurable steps that are optimized.
MT: How is the company adapting to the current economy?
JY: We reject the idea of making major or drastic short-term adaptations due to macro-economic chan­ges. Unlike most companies, we have never un­dergone massive layoffs or other desperate measures when the economy is down, as is the case with this downturn. Instead, we be­lieve that lean manufacturing is an everyday undertaking. It is what our customers expect us to do. It is also what our associates are accustomed to doing.
MT: How have environmental regulations impacted your operations?
JY: I believe it is our collective re­s­ponsibility to continually strive for sustainability and environmental re­s­ponsibility. Inteplast should not be­have any differently. From the very outset, we have aimed for materials reduction, recycling and reusability.
All of our products are manufactured with a clear social and environmental responsibility. Our films and bags are down-gauged. We prefer using HDPE (high-density polyethylene) vs. LDPE or LLDPE (low- or linear low-density polyethylene), a distinction that allowed for down-gauging all our products. We were the first in North America to introduce re­usable plastic boxes and containers. They are now sold to Wal-Mart for their internal distribution. These boxes can be used hundreds of times and they reduce waste and also costs.
We were also the first to introduce plastic composite boards for trim and decking use. They have the same stylish look of wood products but prevent trees from being cut and reduce maintenance with increased durability.
MT: How important are internal in­vestments, and how are manufacturing operations set up?
JY: We have become a global supplier with our expansion into other areas in North America, as well as Asia. Instead of one manufacturing site, now we have dozens. To better facilitate customer service, we are now present not only nationally, but also regionally. Simultaneous operation of so many sites requires a different logistical flow, but essentially the core philosophy remains intact. The large size is unique. Many of our plants have no equivalent in the marketplace. In addition to the un­pre­cedented economies of scale, the level of robotic control and information automation distinguishes our plants. This facilitates quality control as well as expediency. Each step of our operations is optimized by tight control to exact standards.
All our plants are capital-intensive. We do not shy away from the latest equipment, which can give us better quality and greater output. We compete in the marketplace by maximizing our outputs through the use of top of the line equipment.
MT: How often does the product line change? How does the manufacturing operation adjust?
JY: Depending on the order, we have lines making changeovers from hours to days to weeks. By having so many lines, we have the luxury to dedicate our lines to planned stock programs or custom orders. Thus, some lines are dedicated for long runs, while others are earmarked for short runs and frequent changes. These dedicated lines increase our productivity. Whenever possible, we like to develop stock programs for our customers. They follow what we call a "min-max" cycle in which we will always produce a minimal amount of inventory agreed upon by our customers and we refill this amount in line with an optimal scheduling program.
MT: How has Inteplast improved its manufacturing quality?
JY: We have gone from optimizing our product quality to optimizing all facets of sales and delivery. It does our customers no good if we cannot take orders efficiently or de­liver our products promptly and flawlessly.
Over the years, we have optimized material usage. We manage line thro­u­ghput until we reach or exceed nameplate capacity. We concentrate on in­c­reasing the amount of recycled material used as well as improved formulations, all with an eye on reducing costs while sustaining the quality that our customers have come to expect.
MT: What is your position on current management philosophies?
JY: We look at lean manufacturing as not only a slogan, but as the only means of survival. We compare costs among our sister companies and with other organizations our size. Lean manufacturing is achieved when you practice data integration and this in turn represents our core management philosophy. To give you a practical example, we can close the profitloss statement of our company on the first day of the month – something that I have seldom seen other companies achieve. To close the statement of a company our size, on any given day of the month, means that all de­partments must be integrated thro­ugh data flow, a gigantic task at which we excel. This complete data integration allows us to expect and obtain transparency in every facet of our oper­ation – in the sense that we ac­count for every number in our system. Only a transparent operation can achieve complete integrity.
MT: Describe your relationship with your suppliers.
JY: Like most commodity producers, Inteplast is sensitive to supply fluctuations. We work very closely with our suppliers, like partners. It has been our core philosophy to treat others as we ourselves would like to be treated. In terms of suppliers, this means paying them on time and never using frivolous claims to extract compensation. Integrity and transparency are what we believe in and represent the link with our supplier-partners. Whenever possible, we tend to have long-term contracts in place.