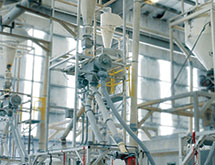 Some companies are set in their ways, but not Inteplast Group, which focuses daily on continuous improvement, Senior Director of Texas Administration Dan Martino affirms. "We're always in the mode of making something better – our products, our work environment, our capacity, our bottom line and our sustainability efforts," he says.
Sustainability initiatives and recycling are subjects that Martino knows something about. A few years ago, he was asked to take a larger role in maximizing the company's recycling efforts at its multi-facility 525-acre site in Lolita, Texas, where Inteplast manufactures a widely diverse and integrated line of plastic products, ranging from films for food packaging to highly engineered building materials.
Lolita is Inteplast's largest manufacturing location. There it utilizes state-of-the-art technology and advanced automation to achieve impressive results in research and development, total quality management and manufacturing. These high standards are employed at Inteplast plants throughout the United States and Canada.
The company has three primary divisions: AmTopp, which manufactures biaxially oriented polypropylene (BOPP) films, stretch films and concentrates; Integrated Bagging Systems (IBS), which manufactures institutional and consumer products such as can liners, foodservice films, gloves, supplies, and an array of flexible packaging; and World- Pak, which produces PVC boards, decking and trim, films for construction applications, corrugated plastic sheets and more.
The company also has two business units – Inteplast Industrial Films, which manufactures a range of films, including lower gauge and custom products; and Inteplast Healthcare, which offers an array of products ranging from medical specialty bags to extruded plastic items used for patient bedside care.
Dr. Henry Lin, IBS Division's senior technical director, says the company closely monitors its input of raw materials, is producing more and more lower gauge products, and continues to decrease its energy consumption per pound of product manufactured. "Sustainability is important to our industry, our customers and our bottom line," he asserts.
"Inteplast has implemented a quarterly improvement initiatives program to promote and encourage all engineers and employees to raise innovative ideas for improving process, quality, cost and efficiency. It is very effective," Lin states.
Reduce, Reuse and Recycle
From Inteplast's start in 1991, the company has focused heavily on sustainability with reclaim lines for scrap that is reused or sold, a company-wide recycling program and the monitoring of energy, water and raw material usage.
With reference to the reclaim lines, Martino says, "What some may see as a useless piece of discarded plastic represents much more to Inteplast. We see it as material with value and as a product of our labor that should be repurposed."
Martino takes his recycling leadership responsibility to heart. "The company recycles everything it can," he says. And that includes some surprising items that demonstrate a proactive mindset.
"We've been applying the '3Rs' concept on site for more than 20 years – reduce, reuse and recycle.  We focus on reducing the amount of materials that come on site as well to minimize consumption," he says.  "We'll reuse an item until it no longer can function as viable. Our recycling program is robust."
The hundreds of pallets of supplies Inteplast receives each month are covered in stretch wrap. "We don't consider that trash," he says. "We bale it and sell it for reprocessing into hundreds of items. The money we recoup is nominal.
"That is not why we do it," Martino states. "We do it to avoid landfill first. That is a philosophy we apply to everything that passes through our doors."
Valuable Partners
Inteplast works with more than a dozen recycling companies. "What's exciting is that we're working with them on the inbound and outbound flow of recycled goods," Martino says.
One partner is the national disposal company Waste Management (WM) Inc., based in Houston. "We brought in Waste Management several years ago out of a desire to identify more waste streams, further reduce traffic to the landfill and take our recycling initiatives to the next level," Martino says.
"After several visits from Waste Management's waste reduction team, we identified more than 10 additional waste streams," he says.
This is not as complicated as some may think, Martino asserts. "We collect all the items from our manufacturing facilities on site, bale the material and load it into the truck," he says. "WM takes care of the rest of it, turning our waste into a reusable commodity."
This year, Inteplast has shipped off 240,000 pounds of non-product-related plastic items for recycling, including stretch wrap, buckets, lids, totes and super sacks. "We've been told that they reprocess some of our recyclables for use in automotive insulation, among numerous other products," Martino says.
Inteplast values WM's work, and the feeling is mutual, according to WM Recycle Services Sourcing Manager Fred Papp. "Waste Management's relationship with Inteplast serves as a great example of collaboration and commitment to excellence," Papp says.
"Inteplast has made significant achievements in reducing their waste," he says. "Our sales team was able to share Waste Management's expertise in sustainable solutions to look at every item being landfilled and identify ways to divert the material to other end-user markets.
"It's exciting to work with the team at Inteplast," Papp continues. "They are dedicated to finding ways to benefit their company, reduce waste, recycle and set a great example for their associates."
Waste Streams
Inteplast's recycling efforts go far beyond plastics. Martino says the company has an electronics-recycling program with a recycling firm based in Austin, Texas.
Inteplast captures every discarded piece of electronics on the site and sends it to the firm. "This has blossomed into a comprehensive program that has created a stream for every retired electrical or electronic device on the site," says Martino.
Inteplast sends most of its baled cardboard cartons and cores to a sheetrock manufacturer in Houston. "We are working with another vendor too, that makes pulp out of our waste cardboard and cores. It is then used for the manufacture of cardboard, paper towels, toilet tissues, cat litter and more," he adds.
This year to date, Inteplast has shipped nearly 2 million pounds of cardboard and cores to the companies. "That's 1,000 tons of paper material that did not go to the landfill," Martino says.
Inteplast recycles a large quantity of metal monthly, including extrusion screens that are used to filter out solids that cannot go into film. "The screen has to be changed out routinely and when that happens, it is normally covered in plastic," Martino explains.
A recycling company buys the stainless steel screens from Inteplast, removes the plastic and recycles them. "This item was quite a challenge for us to recycle for many years," he says. "We're thrilled that we have found a recycling outlet for this item."
Martino says Inteplast's list of recyclables continues to grow. "Some of our waste items must be controlled and disposed of according to state and federal regulations – items such as batteries, fluorescent bulbs and oil-related items are sent out on specific shipping manifests to recyclers that recycle and dispose of the item according to all regulations," he says.
"We use some local recycling companies for items such as aluminum cans and stainless steel extrusion screens as we work with our local community as much as possible," he states. "Our waste oil is sent to a petroleum-processing station where the oil is processed back into a usable oil-related product."
Production Yield
Inteplast's manufacturing processes ensure that all material that can be used or recycled is being diverted from the landfill. Tests are conducted, accounting for all raw materials before they enter the production process and afterward, Lin explains.
"The tests include all parameters related to products, such as processability, physical properties and more," Lin says. "Production yield is calculated by the finished product quantity and scrap amount."
Inteplast's workers inspect its dumpsters to ensure nothing is being wasted. "We have literally put on coveralls and gloves and worked through entire waste receptacles to identify items that are not being directed into an appropriate waste stream," Martino says.
"This is not the most pleasant task," he admits, "but it is certainly a necessity if we are to be serious about our position on environmental and sustainability initiatives."
Carrying Over
Inteplast's recycling-focused culture has extended outside of the workplace and into the everyday life of its employees, Inteplast Senior Director of Human Resources and Communications Brenda Wilson says. "I have had employees request pictures for their children to use in school projects to demonstrate recycling on an industrial scale," she says.
"There is healthy competition among our various operational units to be the best and do the most with regard to recycling," Wilson continues. "Recycling is so ingrained in our work lives that I find it impossible to not carry it over in my personal life."
Saving Energy
Inteplast has incorporated environmental considerations into the design of its plants and facilities in Lolita, Lin says. "We do this for a variety of reasons – it is smart business," he declares. "Reducing energy consumption contributes to sustainability and keeps costs down."
A good example is the recent installation of a new, 864,000-square-foot highly insulated roof at IBS, Lolita, that keeps the building cool – no small feat in South Texas – as well as energy-saving equipment and insulation for the exterior walls, outlets, pipes and radiators. IBS has replaced inefficient equipment.
"We have replaced innumerable older parts at blown film extruders and converting machines and Inteplast Group continually invests in new major equipment," he says. "New parts and equipment offer better efficiency and easier control, which results in higher production rates and less downtime.
"We installed a new conveying system for finished products," Lin adds. "The system dramatically reduces the use of forklifts and energy."
The advantages of improved equipment efficiencies became clear when Inteplast initiated a study to identify its natural resource consumption on a per-pound basis at the end of 2013, Martino adds. "The results demonstrated that on a per-pound produced basis, we've reduced electricity consumption by 8 percent, natural gas by 20 percent and water by 22 percent compared to 10 years ago," he says.
Divisions Do More With Less
Inteplast's initiatives include the use of less material in certain products without the sacrifice of their quality. For instance, IBS manages this by using a stronger resin for films, Lin says.
"Through the use of resins with better quality and properties, we are able to down-gauge the thickness of products, but maintain those critical properties which are essential to the product performances," he explains.
AmTopp Division products include low-gauge, pre-stretched film, which is often used for wrapping bulk goods for safe shipping. The product, which is lower in cost than traditional films, requires fewer raw materials per foot to produce and generates less waste.
According to AmTopp Senior Director of Stretch Film Product Development Scott Stevens, the film forms a tight seal around goods as it tries to go to its original, non-stretched state. "It lends stability to the load, safeguarding goods in transport," he says.
The company's World-Pak Division offers a top selling TUF­board® PVC decking product named ECO, which contains recycled content and is lighter than traditional PVC decking, while delivering the low maintenance and long product life attributes of traditional PVC decking.
Sustainable Future
Inteplast's sustainability initiatives will continue to thrive and grow, Martino affirms. "There are many platforms on which sustainability can be addressed – product design, manufacturing practices, resource management, the 3Rs, and social and community impact," he says.
"The success of any sustainability program relies on respected leadership and effort by each individual in the organization," Martino says.  "Our chairman, Dr. John Young, leads the way. Our team members have helped build a program with significant momentum that will allow us to take it to the next level."
With Martino and the company's  dedicated employee base supporting that effort, Inteplast is sure to succeed.