The best service for all
Interallis provides leading expertise and service in chemicals for a range of sectors in SEE
Interallis is an international chemical distributor network, which represents the major producers across South East Europe. Its expertise spans a number of sectors, which include human nutrition, coatings and construction, lubricants and rubber, agrosupplies and chemicals, plastics, as well as home, personal care and industrial chemicals. While it does cover a large range of
sectors all of its customers can expect a personalised and tailored service that understands the needs of that industry and of that business.
Executive Corporate Director Panagiotis Magas provided an introduction to the business: "The company was formed as a group in 2011, through mergers, acquisitions and local startup companies, in order to achieve full geographic coverage in the South East of Europe, a fact on which our business model is based. We are active in 12 countries with ten local legal entities, we distribute for more than 150 chemical producers and move over 80,000 tons of products annually. We serve more than 5500 customers regionally, providing B2B distribution solutions and linking chemical suppliers and customers in the most profitable way." Panagiotis added: "Also, we do not simply represent, we distribute on our suppliers behalf. In a practical sense this means we are their long arm in each of the countries we are active, and we develop their products, we apply their policies, we realise their strategies, and we defend their interests."
Interallis serves seven market segments, one of which is home, personal and industrialcare, that distributes speciality and commodity chemicals, and within this sector it offers an extensive portfolio of the latest high-tech solutions. It sources all of these products itself, which ensures that there is maximum oversight by Interallis. Those that use this service include chemical producers and pharmaceuticals, industrial and institutional companies or household and cleaning, metalworking, and many others sectors.
In addition to this it also provides polymers, and this part of the business offers a wide rangeof commodity and engineering materials. Once again, there is a great deal of care that goes into the sourcing of these polymers, and it uses both local and international manufacturers, all of which comply with the highest quality and environmental standards. It also is active in serving the agrochemicals sector, and this is in the form of high quality seeds, fertilizers and pesticides, which it acquires from key European suppliers or are in house developed products as a result of company's R&D. Similarly, Interallis also supports the agricultural sector with animal nutrition, and has high quality products that are designed to enhance the health and performance of animals.
The company works within the lubricants and rubber sectors as well, and in this area Interallis is a leading South East European distributor for the rubber and base oils industry. It offers a full range of products that include elastomers, natural and synthetic rubber, chemical additives and fillers such as silica, carbon black and pigments. The business supplies these to many of the largest members of the market, once again displaying that Interallis is a leader across many sectors within the region. The final area where the business applies its expertise and services is within the coatings and construction sector. It offers a wide range of resins, pigments, additives, fillers and solvents to cover all the needs of its customers for industrial and decorative paints.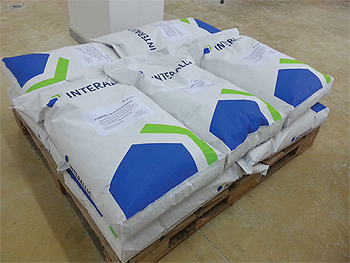 Due to the vast array of areas that Interallis addresses it has an extensive portfolio of products and a depth of experience to assist its clients, which is unparalleled in the region. It achieves this through a number of methods, and Panagiotis highlighted some: "We have very dedicated, highly experienced sales, technical support and handling personnel that always provide the best service to our customers. We also have deep market knowledge and a strong network of infrastructures, which better enables us to find solutions to our clients' challenges. In addition to this we offer quality assured business practices, as well as responsible service levels, plus full control and accountability at every tage through handling, storage, transport and delivery."
Interallis will also continue its tradition of investment in research and development, as well as the high levels of service to customers that it prides itself on. Panagiotis mentioned other features that will remain at the heart of the company: "We are a very flexible organisation, so any change needed in order to support our operations is done so quickly. We like to change, to develop and to adapt according to market requirements and trends. We also strive on a daily basis to maintain the balance between our social obligations as an employer and a member of the community, with our financial growth and continuous improvement as an effective organisation. That is what we believe makes us a great company to work with."
Due to these many strengths, the coming years look set to see Interallis record a continued seven per cent growth yearon- year, and expects to see a number of developments. It will expand its presence within nanotechnologies, as well as the creation of new innovative fertilizers in the agrochemical sector, and strengthen its activity in human nutrition. In all of the diverse areas that Interallis applies itself it does so with the same high standards of quality, service, and expertise, which ensures all of its customers consistently get the very best.
Interallis
Services: Chemical distributor