Underlays fit for royalty
Following a strong year in 2017, when Interfloor launched new successful products and grew its international sales, the carpet underlays manufacturer is planning to conquer new markets in 2018
Since we last spoke to Interfloor in March 2017, the company has made some remarkable strides to confirm its position as Europe's largest company in this sector. New products enriched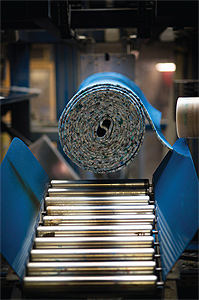 Interfloor's range and the business enjoyed the growth of its international sales team, due to the increase of its export share in the past 12 months.
The beginning of last year saw the company being recognised at the 2016 Export Excellence Awards, where it won in the 'Innovation in Exporting' and 'Exporting Excellence in MENA' categories. It was also a finalist for the 'Exporter of the Year' award, which came to indicate that Interfloor has clearly been acknowledged as a progressive and influential exporter by the industry. The Lancashire-based manufacturer continued to exceed expectations throughout the year, which led to an impressive growth in sales by its end. "We finished 2017 tracking at double-digit growth, and going into 2018, we doubled our international sales team," Interfloor's CEO, John Cooper reports. "In addition to this, we ensured a stable domestic growth of about five per cent." In another true testament to its efforts, the company appeared in the 2016/17 Parliamentary Review, which overviews the year in industry and Westminster in an attempt to showcase best practices as a learning tool to the public and private sectors. The highly authoritative document recognised Interfloor's hard work and innovative approach, and is expected to raise the company's profile even higher, as it reaches every segment of UK's economy.
Benefits of underlay
Underlays are cherished by clients for a multitude of reasons, the most obvious of which being the added comfort they give to carpets, thanks to the extra cushioning they provide, giving superior underfoot comfort. Furthermore, they act as a barrier to retain heat, thus improving the user's insulation. It has been estimated that having an underlay can help cut energy bills by up to 15 per cent. Interfloor's products are also able to extend the lifetime of a carpet by some 50 per cent, as they are a shock absorber against wear and tear. Another valuable facet of underlays is that they can reduce in-room noise significantly, which is often most important for wood and laminate flooring. The Duralay Timbermate range of specialist underlays greatly reduce acoustic noise levels due to their superior weight and density, reducing in-room noise by up to 30 per cent.
Demonstrating agility in responding to shifting customer demands, one of the highlights for the company last year, was the introduction of its new Premium High-Density (PHD) PU underlay range, part of the Tredaire brand. The three new products – Chromium 9mm, Titanium 8mm, and Palladium 10mm, are firmer and offer superior protection of the carpet, which reflects the trend for increasingly luxurious and comfortable interiors that need extra dense underlays. Boasting outstanding heat insulation properties and excellent noise reduction specifications, the new underlays are made from 100 per cent recycled foam, which underlines their 'green' credentials and Interfloor's will to promote sustainability across its ranges.
"We have also been quite aggressively pursuing the development of some flame retardant products, particularly for cruise ships," John continues his review of the company's latest offerings. As an example, he singles out products like the IMO-certified Duralay's Counterflame and Tredaire's Flamecheck that have already become incredibly popular solutions among big customers. Similarly, Interfloor has designed other fire safety products that meet various specific building regulations, notably FR7 of the Tredaire brand, which is particularly suitable for commercial applications, such as hotels, apartment blocks, and public buildings.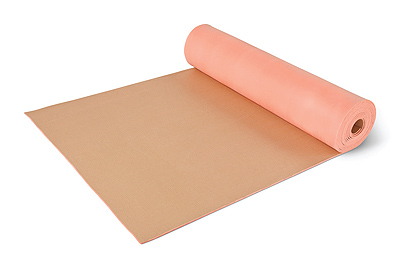 Speaking of hotels, Duralay and Tredaire underlays are a regular feature at some of the world's most splendid lodgings, such as the InterContinental Hotel in Davos, Switzerland, the Four Seasons in Moscow, The Peninsula Hotel in Paris, and The Taj Mahal Hotel in Mumbai. What impresses even more, though, is the fact that Interfloor has supplied underlays to Buckingham Palace itself, helping the Royal Family keep their feet warm. Today, along with supplying approximately 2000 customers in the UK every week, the company exports to over 400 customers in more than 70 countries, often developing customised products for some of its clients. One of the most popular underlays it sells worldwide, is Duralay's Durafit range, whose sales have exceeded 24 million square metres to date.
Far from delivering its flooring solutions just to hotels, ships, and indeed, palaces, Interfloor has had its underlays installed across numerous cinemas, casinos, and airports, too. The company has also formed valuable relationships with various stores across the UK, where its products are being offered. A signature example of this can be found in its partnership with Arighi Bianchi – Macclesfield's famous furniture store that has been a solid fixture in the city since the 1850s. Displaying the finest carpets, beds, and sofas, Arighi Bianchi needed to find the best underlay supplier to match the quality of its own offerings, and the rich variety of innovative products developed by Interfloor turned out to be the best option, giving a start to a fruitful business collaboration between the two organisations more than six years ago.
Investing in staff development is an integral part of Interfloor's strategy and the company has been spending heavily on training its employees internally. Operations Director, Mark Jennings joins the conversation to tell us more about the initiative: "We have been rolling out lean training to the workforce in our manufacturing section, putting people through NVQ Level 2 in business improvement techniques to support our operational excellence programme. The results so far show that we have been doing this successfully, because all of our key performance indicators have improved."
Looking into 2018, John reveals the company's plans to launch new products: "We will shortly be releasing a new LVT (luxury vinyl tiling) underlays and adhesives range. We have taken this direction because we can see that the LVT market is fast growing, so we decided to develop products that meet the newly emerging needs of customers. In general, the year will be a mixture of new product launches and the continuation of our international sales team expansion," he projects.
Interfloor
Products: Carpet underlays and flooring accessories