International Aerospace Coatings
Brightening up the skies
Operating from eleven sites across the world, International Aerospace Coatings continues to invest in technology and equipment that helps to solidify its place as a globally recognized industry leader
A specialist in aircraft painting, interiors, and graphics, International Aerospace Coatings (IAC) is the largest aerospace coating company in the world. From its state-of-the-art facilities across Europe and the USA, IAC has capacity for 36 lines of aircraft, and processes more than 1000 paint events each year. Working across all segments of the aviation industry, including OEM, commercial, military, and general aviation, the company is renowned for its utilization of the very latest in modern aircraft painting techniques and equipment.
"IAC is one of the leading companies in the world specialized in aircraft painting," the company's Group Business Development Manager Angelo Lacorte explains. "We benefit from a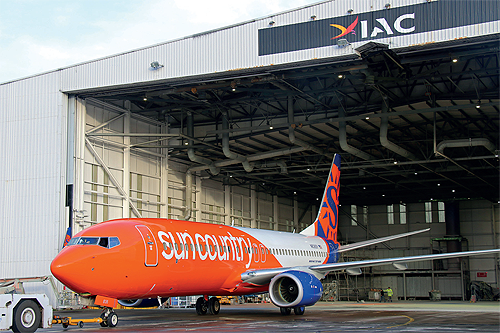 widespread market penetration system which, through a considerable number of facilities, allows the company to satisfy customer requests in terms of slot availability, competitive prices, and high-quality service. Furthermore, our sister company, Eirtech Aviation Services, completes our portfolio by offering a series of ancillary services ranging from livery design to engineering support, ensuring that the final customer can find in IAC a partner, rather than a simple supplier."
As well as US Headquarters in Irvine, California, and European Headquarters in Shannon, Ireland, IAC's global footprint now boasts eight wide-body hangars that offer a diverse range of capabilities depending upon the job required or vehicle in question. Most recently, IAC completed the construction of a new hangar at Shannon Airport, which boasts the most modern technological solutions on a technical, structural, and environmental level. The hangar, among the largest in the world, is targeted at aircraft such as the Airbus A380. From single aircraft from small regional airlines to fleet rebrands for major carriers and VIP finishes for business jets, IAC is well-equipped to provide the best solution for the client.
"Through collaboration with leading manufacturers of painting products and industry-specific equipment, IAC is regularly updated with the newest technologies and constantly expands its equipment stock to guarantee the use of latest generation products," Angelo reveals. "Investments are oriented towards new operating technologies and are always analyzed and evaluated in conjunction with the producers of paint, sealant, and stripper materials in order to guarantee a quality product aimed at customer satisfaction. Furthermore, the company invests in certifications and adaptation to the most stringent quality system standards so that even the internal control system can guarantee continuous improvement."
As well as employing technology for the benefit of its customers, IAC frequently looks for technological innovations that help to protect the health of its workers. The focus on employee safeguarding is nothing new to IAC, a firm that has always considered its workforce to be a fundamental resource in the implementation of the company's services.
"At all levels, IAC staff are part of a larger family without territorial distances," Angelo says. "Regular meetings, calls, and training sessions allow the dissemination of knowledge across all sites and the exchange of information guarantees customers the same treatment on each site. Our workforce is highly motivated, as is management, and we believe that the achievement of objectives is only possible when an organization operates as a chain in which each link has an important function."
Highest standards
Due to the nature of the company's work – applying aircraft coatings and graphics is a highly skilled and manual activity – IAC's workforce is led through a comprehensive training program that complies with the latest regulations for the aeronautical field. Not solely limited to the application of products, the training regime extends to a series of behavioral elements and human factors, as well as more technical, aircraft-specific topics.
"Obviously, as an integral part of the aeronautical maintenance process, the kind of work IAC performs requires the highest training standards to be respected at all times," Angelo asserts. "Continuous training is one of the elements that characterizes an activity in which the operator's manual skills are fundamental. IAC guarantees these standards through our aforementioned commitment to personal development initiatives for our workforce, which act as another element promoting great professionalism towards the final customer."
Total dedication to clients and their respective requirements is an area in which IAC thrives, and as a result, the firm works in close partnership with all its customers, listening closely to requests, and valuing excellent collaboration. Recently, IAC's abilities in this department were put to the test when it was contracted to paint the first B787 in Europe at its facility in Fiumicino, Italy. A very particular aircraft built by Boeing entirely of composite materials, IAC worked on the vehicle in close proximity with its owner throughout the landmark painting
project. Historically, this partnership approach has not only helped IAC to minimize the possibility of errors and misunderstandings, but also assisted in building strong connections from which future business can flourish. Angelo suggests that IAC has endeavored to uphold these practices throughout 2020's Coronavirus pandemic, whilst simultaneously protecting its workforce.
"We've tried to keep the commitments we've always held with our customers, even during the pandemic phase of Covid-19," he reports. "Still, everything we've done has been with the safeguarding of our employees in mind. They are our primary asset and we have tried to continue operating with our staff working in conditions of absolute safety. Where and when possible, the staff have operated as part of a smart working model – a system that had already been applied throughout the company, pre-pandemic, for the departments that could use it – and we have guaranteed continuous monitoring and control systems for all team members. Considering we are a company operating in various different sites and nations, we have always conscientiously implemented local regulations and persuaded other facilities to do the same. Relevant standards are always strictly applied to ensure maximum efficiency and the same steadfast approach is adopted when tackling any company issues."
Environmental strategy
Trusted by some of the Aerospace industry's biggest brands, IAC continues to work with major names like Alaska Airlines, Lufthansa and United Airlines to name a few. Most recently, the firm performed a modernization of United Airlines' iconic livery, adding a fresh, revitalized look, whilst maintaining the airline's blue and navy heritage. As part of the project, IAC expertly applied Akzo Nobel's Aerodur 3001 Basecoat/Clearcoat coating systems to bring a more 'modern energy' to United's visual identity. As IAC's Executive Vice President of Sales & Marketing, Dave Patterson, alluded to at the time, the enduring relationship between United Airlines and IAC is an accurate representation of how the coatings firm has achieved such lasting success.
"We've been partners with United since we were contracted in 2010 to repaint 631 aircraft in the livery we are now changing," Dave remarked. "We look forward to our continued partnership with United and we are lucky to be a part of the upcoming transformation of more than 1300 aircraft. We are proud to call United not only our partners but our friends."
In the coming years, as well as building upon its existing network of partners, IAC will also be turning its attention to the environment. As it collaborates with global producers of painting products, the company strives to stay abreast of the latest eco-compatible technology. Furthermore, all IAC hangars are equipped with the most efficient air and water purification systems, while an organized maintenance scheme guarantees unfaltering functionality at the plants. Additional double-mandated control systems are also utilized in conjunction with external monitoring and control bodies to improve the company's performance. Both now and in the future, IAC is not willing to leave anything to chance in its mission to remain the industry's leading aerospace coating specialist for decades to come.
"I have been working with IAC for about five years and I consider the company like a second family," Angelo states. "Having worked in the industry most of my life, I have accumulated more than 30 years of experience in the aeronautical painting sector and have deep knowledge of the main companies in the segment. Based on this experience, it is my opinion that IAC is operating at a very high level in terms of proximity to customer needs and the lengths it is willing to travel to secure the satisfaction of its collaborators. Over the next few years, the expansion of our network of sites and the acquisition of cutting-edge technological solutions, together with services of higher quality and lower environmental impact, will consolidate our position as a world leader in the aeronautical painting field."
International Aerospace Coatings Services:
Aerospace coating company
www.iac.aero