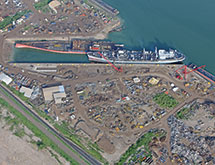 International Shipbreaking Ltd.
In August 2014, the Navy aircraft carrier USS Constellation began its final voyage. The 1,062-foot-long vessel, built in 1957 and decommissioned in 2003 after more than 40 years in service, embarked on a 16,000-mile trip around the southern tip of South America on a towline carried by an ocean-faring tugboat.
In January 2015, the carrier – once dubbed "America's Flagship" by President Ronald Reagan – will reach its final destination: the Brownsville, Texas, shipyard of International Shipbreaking Ltd., a specialized ship dismantling and recycling  facility founded in 1995.
"This is the largest aircraft carrier ever scrapped in the United States, and the largest project we've ever done," says Chris Green, the company's environmental, health, and safety manager.
For Green, the opportunity to participate in the Constellation's dismantling is a main reason why he joined the company in 2013. "This is a large, multi-year project that I'm very excited about," says Green, who has worked in the maritime dismantling and recycling field for more than 14 years. "We've been preparing for this project for more than three years."
The company added to its staff and invested millions in dredging and building a bulkhead along the main slip of its facility to accommodate the Constellation. The work will be overseen by the U.S. Navy, which will have a representative on site full-time during the project. "We've built a good team and spent a lot of time making sure the Navy feels confident in what we're doing," Green adds.
Taking Care
International Shipbreaking will follow an extensive inspection and hazard assessment process once the USS Constellation arrives at its facility. Inspections include a safety evaluation during which potentially hazardous areas of the ship are identified and isolated, and an environmental inspection that includes extensive sampling and marine chemist certification.
Once inspections are complete, crews will remove hazardous materials such as asbestos, mercury and polychlorinated biphenyls (PCBs).
Following the abatement process, International Shipbreaking has a plan to safely cut the vessel apart. The cutting process is facilitated by a "graving cradle," a ramp from the dock onto which the ship will be pulled. Large sections of the ship will be cut, removed from the vessel using fixed and crawler cranes, and processed on the concrete slab cutting yard engineered to contain and treat storm water runoff.
The ship sections will then be cut into smaller, 2-by 3-foot sections of steel, which the company will then sell. The company uses torches, large mobile hydraulic shears, scrap handlers and Bobcats during its dismantling process. The USS Constellation dismantling process will take less than two years, Green notes.
A Positive Culture
The USS Constellation project is a service contract from the U.S. Navy. U.S. Government ship dismantling contracts are handled in one of two ways, Green notes.
The company performs recycling and dismantling work on behalf of public sector clients such as the U.S. Navy and U.S. Maritime Administration as well as private ship operators such as Chevron, Sea River, Kirby and Sea Star Lines.
Before taking possession, International Shipbreaking inspects vessels during a two- to three-day period that includes collecting samples of materials to determine the presence of hazardous materials. "Vessels, especially those sold by the Maritime Administration, tend to be offered `as-is,'" Green says. "If we choose to buy those vessels and there are unforeseen costs, we're stuck with it, so we make sure we're thorough during the inspection process."
Vessels are also tested for their ultimate economic viability. "We carefully evaluate what every vessel is worth and what we can earn from dismantling and recycling its materials," he adds.
The company has recycled more than 500,000 tons of scrap metal since it was established in 1995. International Shipbreaking was acquired in 2010 by global recycling firm European Metals Recycling (EMR), which has helped it establish a long-term plan. "We feel that we will be able to perform our work and sustain our business here instead of exiting in a few years," Green notes. "We are fully capitalized; if we need to spend $20 million to dig another dock we can do that, and if we need to buy another crane, it's just a phone call away."
Shipbreaking's planning and financial stability have enabled it to retain a team of experienced employees. The company retains and rewards its employees in several ways including promoting from within. "We have a better team of people here because of the way we treat our employees – everyone feels they have greater stability here," Green adds.
The company also takes the safety of its employees very seriously.
"We try to make our employees understand how important they are to the company. Every time we have a near-miss, we analyze that extensively and have a strict employee discipline program," he says. "We cultivate a culture of safety here; we analyze what we're doing, make sure it's safe, then get the job done."