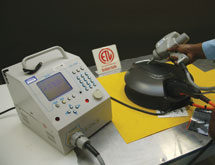 An international standards and testing organization with more than 100 years of service headquartered in London, England, can be and is located practically everywhere. But Intertek did not want to miss out on having its automotive business line headquartered in what is still the automotive capital of the United States if not the world – southeastern Michigan.
"Making a significant investment in our center of excellence in Plymouth, Mich., to address and build up our auto testing and electric vehicle test capability is an indicator of our belief in the ongoing recovery of that geographical market and the auto industry as a whole," says Tim Hubbard, regional vice president of Intertek's automotive group. "We think renewable and cleaner energy – whether electric or fuel cell or cleaner fuels – are all things Intertek is investing in. We see great potential as the industry continues to evolve, research and bring newer products to the market to combat the challenges we face with fossil fuels."
Southeastern Michigan is just one of three automotive centers of excellence Intertek has established. The other two that Hubbard also oversees are in the major automotive design and engineering regions in Munich and near Shanghai. With more than 1,000 laboratories and offices and 30,000-plus employees in more than 100 countries around the world, Intertek provides third-party auditing, inspection, testing, quality assurance and certification for OEM manufacturers and their components and products suppliers.
"We've made some significant investments in a specialized lab and are in the process of expanding that lab in Plymouth, Mich., to focus on electric vehicle battery and ancillary electric vehicle component tests," Hubbard reveals. "We replicate – in different types of environmental chambers and fixtures – heat, humidity, cold, vibration, etc., and charge and discharge batteries over extended periods of time, simulating consumer usage in a vehicle if they were driving an electric vehicle down the road – whether in Michigan, the mountains or the desert."
Intertek also simulates plugging in the electric vehicle and recharging the battery thousands or tens of thousands of times to determine compliance with the auto companies' criteria for performance and quality. The ancillary components – including wire harnesses, chargers and battery control modules – which are the computerized brains of the systems that provide an infrastructure for the battery – also are tested in a similar fashion.
Three Steps
Intertek frequently is involved in three steps of automotive component design and production: design validation, which includes a series of tests of a proposed new component; product validation, in which a component that is being assembled in a vehicle is sampled and tested for quality at the time of initial production; and spot checking and retesting of critical components annually on a schedule determined by the manufacturers themselves.
"Primarily anybody who makes something or sells something – a product, commodity or even a service – could potentially be our customer, and by that I mean, from the automotive perspective, all the different components that go into the car, all the way up to the full vehicle itself," Hubbard says. This includes different services that revolve around the quality of the component and/or the vehicle testing and inspection. It also includes advisory and consulting services and certification-type services, including those for a country's product safety standards.
"It's really a very broad spectrum of services that Intertek provides to customers," Hubbard remarks.
Charged Up
Hubbard estimates that Intertek has more than 100 different accreditations on a global scale that cover all its different business lines and industries. Because manufacturing has become so international and so many products are manufactured for the same markets in a variety of countries, efforts are being made internationally to harmonize the evaluation of the same product in different countries.
An example is public charging stations installed in parking lots and other locations for electric vehicles. Intertek is testing, verifying and/or certifying that these products meet the requirements set by manufacturers, the industry and the countries. For example, using a program called the CB Scheme that the International Electrotechnical Commission (IEC) oversees, an electric vehicle charging station that meets one country's standards can be more efficiently evaluated and approved for use in other countries that have members participating within the IEC program.
"Each industry is different," Hubbard concedes. "There still may be requirements for limited testing across markets as you go forward with your product. But it's much better than what it was 20 to 25 years ago, as companies are finding it easier to have their products tested locally. This is a mechanism that is improving that and making it much more efficient and economical for industry."
Intertek's automotive labs are accredited by the American Association of Laboratory Accreditation. The association conducts annual audits against an international quality standard to verify lab personnel, equipment, calibration, training records and examines test methods, standards and setups. "I would hazard to guess on any given day Intertek is being audited or being overseen by some accreditor at some lab on a global scale," Hubbard says.
He thinks Intertek has strong advantages over competitors. "The biggest differentiator is the global scale of Intertek – a network of literally a thousand labs around the world," Hubbard emphasizes.