Broadening horizons
IPG Photonics continues to bring new innovations to market, which are designed to drive value and efficiency into high-value production processes
As an internationally leading supplier of high power fibre lasers and amplifiers, IPG Photonics is revolutionising the performance and utility of manufacturing across numerous applications and industries from materials processing and micromachining, to telecommunications, medical and other advanced applications. From four production facilities in the US, Germany, Russia & Italy and supportive sales offices in the United Kingdom, Japan, Korea, India and across Europe, the company is the leading vertically integrated manufacturer. IPG has developed a strong reputation for leading design, quality and supply.


Due to its unique approach to product innovation, the company has strategically placed itself within the manufacturing industry as a leader of technical solutions, displacing traditional products with superior performance and value. One display of this revolution in practice is with the development of IPG's Laser Seam Stepper (LSS) system.
"The LSS is designed as a ready alternative to traditional Resistance Spot Welding (RSW)," explains Director of Sales and Service at IPG Photonics UK, Mark Thompson. "In transportation the market is moving towards the use of lightweight materials and there is often a need to join lightweight or dissimilar materials. The LSS will complete production grade joins in half the cycle time of RSW and is capable of joining dissimilar materials; typically aluminium to automotive grade steel or another grade of aluminium."
Within the automotive industry, and other high-volume production environments, RSW has dominated production lines for years, despite the high process speed and increased component strength offered by earlier laser joining technologies. One key advantage afforded by traditional RSW is the integrated clamping technology that retains the workpiece safely, accurately and repeatedly. The LSS system from IPG was developed to combine the advantages of the RSW clamping technology with a faster laserwelding process.
The LSS is designed to be a maintenance free fibre laser combined with a simple robotic C-gun clamp tool that results in superior process speedsand inherent safety features. An integrated laser welding head within the G-gun clamp realises the X-Y welding motions. The system will only release its laser power when the clamp is in full contact with the material to be welded, so that safety is built-in by design. The basic version of the tool is capable of welding linear seams with a typical length of 20-50mm. A beam wobble function allows a characteristic weave pattern to manipulate the welding seam, increasing the weld area.
In terms of process speed, a typical stepping operation with 30mm welding seams, spaced by 30mm achieves a welding velocity around 30mm in 1.7-2.0 seconds. Within the context '' of automotive 'body-in-white' processes, when compared to traditional RSW applications, significant time and cost reductions are realised.
For example an RSW cycle of 30 joints might take 75 seconds. The LSS tool, will achieve similar weld criteria with only 15 seams; taking only 37 seconds. With less floor space and less capital investment cost the overall benefits of upgrading from RSW to LSS are clear to see.
"The LSS system has been primarily adopted in automotive overlap welding and aluminium joining after four years production and development in a fully-automated car plant," Mark continues. "Within this environment there are a number of other benefits that present themselves. For example, not only does LSS provide the ability to weld dissimilar materials, but it also allows for the overlap width to be reduced without compromising joining performance. This results in reduced weight and improved passenger viewing angles."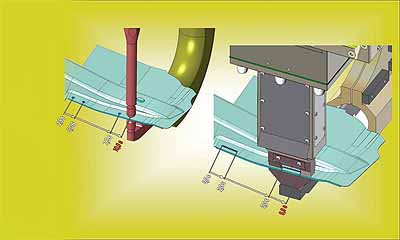 As a representative example of this, the clamping brackets of the LSS tool will allow vehicle designers and manufacturers to reduce the flanges from 15mm (required for RSW) to a range from 6-10mm, depending on application. This not only facilitates noticeably larger passenger viewing angles but can also increase the A/B pillar entrance areas by eight per cent and significantly reduce weight.
To further demonstrate the competitive advantage that the LSS tool brings to the automotive industry, Berlin-based INPRO, which counts names such as Daimler, Volkswagen and Siemens as its partners, carried out an economic comparison between wobbled-beam LSS and RSW methods. After review, it was concluded that the performance of the wobbled seam produced by the new LSS welding module is comparable to or even better than RSW, whilst completing the task in half the time. Significantly this can result in a cost reduction of six to ten per cent under an assumed condition that sees a fully automated production run of 800 units in a three-shift operation. "It is important to note that the LSS system can be applied successfully to any high-volume production industry where steel or aluminium is widely used," Mark points out, noting in particular the maritime and furniture industries that have already adopted the technology in some places. "Until now the system has gone through a programme of continuous development and future improvement processes will remain aligned with customer demand. As such, we are open to working with major manufacturers to enhance the benefits of
LSS for their applications." The LSS system is a key example of how IPG approaches the international market to drive value and efficiency into new and existing manufacturing processes; in doing so IPG helps facilitate its customers' transition into the future. With the growth of high value manufacturing ongoing at a considerable pace, the company has paid particular attention to its UK business by investing in a new UK Sales and Service Centre. "With this established our UK team now have the responsibility to drive growth in the adoption of high power fibre laser applications," highlights Mark.
"IPG's products are widely used to deliver improved value in a variety of applications including cutting, joining, drilling, marking, 3D printing, cleaning and cladding. We are working closely with the UK's manufacturing supply chain to support growth. By transitioning to an increased use of fibre laser technology, our customers are benefiting from higher productivity and significantly lower cost of ownership."
IPG Photonics UK
Products: Leading global supplier of high power fibre lasers and fibre amplifiers