Ipsen Manufacturing Ireland Ltd
Active growth
Ipsen Manufacturing Ireland Ltd is the manufacturer of the active pharmaceutical ingredients of Ipsen's number one and number two products, Somatuline and Decapeptyl
With a history dating back to 1929, Ipsen Manufacturing Ireland Ltd was established in 1989 in Blanchardstown, West Dublin, as part of the global operating, speciality-driven pharmaceutical organisation, Ipsen Group. Boasting sales of close to 1.6 billion euros in 2016, Ipsen Group sells over 20 drugs in more than 115 countries and has a direct commercial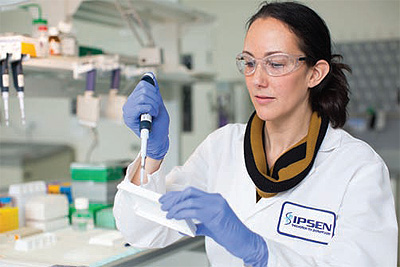 presence in over 30 countries. With the objective of becoming a leading global biotech company focused on innovation and Speciality Care, the group's fields of expertise cover oncology, neurosciences and rare diseases. Ipsen's commitment to oncology is proven through its increasing portfolio of key therapies that improve the care of patients who are suffering from neuroendocrine tumours, prostate cancer, renal cancer, and pancreatic cancer. Furthermore, Ipsen has a well-established Consumer Healthcare business.
"At Ipsen the patient is at the heart of what we do. We continuously invest to innovate and deliver therapeutic solutions for the patient's benefit," said James Byrne, Vice President of Site Technical Operations.
Looking back at the success of Ipsen Manufacturing Ireland Ltd, James comments: "In 1929, Dr. Henri Beaufour created Laboratoires Beaufour in Dreux, France, a town just outside of Paris This company initially produced medicines for the treatment of gastro-intestinal disorders and then expanded to treat memory disorders in the 1970s. From the 1980s, the company extended its portfolio with peptides and toxins, which brought a new level of momentum to the company.
"The Dublin site opened in 1989 and now employs around 110 people at our 4.4-hectare site, which encompasses over 10,000 square metres of buildings. Our location is notable as we are part of a major biopharmaceutical cluster centred in West Dublin where current investments and developments are close to two billion euros. The site is a centre of excellence for peptide development and manufacturing. The company is home to approximately 25 chemists and analysts who are focused on the development of new peptides, as well as supporting the progression and continuous improvement of the company's existing commercial products. The development group works closely with research colleagues in France. At present, this group is working on several peptides at various stages of clinical development that we hope will be successful in the clinic and go into production over the next few years on site," said James.
The site produces two active pharmaceutical ingredients for two of Ipsen's largest products, Somatuline, which is mainly used to treat neuroendocrine tumours and other hormone-dependent cancers, and Decapeptyl, for the treatment of prostate cancer and breast cancer. Once produced, the company ships the finished products to its sister company, Ipsen Pharma Biotech, in the South of France, where drug product manufacturing takes place. Ipsen's two drugs are then marketed in more than 60 countries. In 2016, these injectable drugs had combined sales of close to 900 million euros, out of the group's total sales of 1.6 billion euros.
With sales of Somatuline and Decapeptyl hitting 500 million euros and 340 million euros in 2016 respectively, Ipsen Manufacturing Ireland Ltd is committed to ensuring the robust supply of these active ingredients. "Our site has the highest possible risk mitigation rating from FM Global, which means we are a highly-protected site and all of our designs carefully consider risk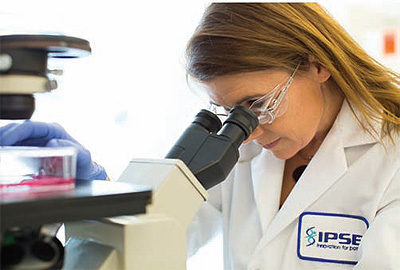 minimisation and mitigation," added James. The approval of Somatuline for the treatment of neuroendocrine tumours in 2015 resulted in a sales increase of approximately 35 per cent in 2016, mainly driven by growth in North America. This major growth has been a huge, but welcoming, challenge for the site, thus, significant investments have been planned to increase site capacity and hire additional talents. As such, Ipsen Manufacturing Ireland Ltd is in the middle of a 50 million euro expansion to meet this goal, with three projects in progress in different phases of completion.
Moving forward, Ipsen anticipates a 12 per cent growth per year up to 2020, as announced by Ipsen's CEO David Meek, in May 2017. This new strategy will also impact Ipsen Manufacturing Ireland Ltd. "Globally, Ipsen is going through a huge transformation to reach its long-term vision of being one of the top ten pharmaceutical companies by 2020 in terms of growth rate and profitability," James adds. "As part of the Technical Operations division, we have set ourselves some ambitious targets, which include zero lost time accidents, 100 per cent staff engagement, zero waste, 100 per cent right first time, and 100 per cent customer satisfaction."
James continues: "People and teams are what helps Ipsen Dublin to thrive. Our manufacturing process is complex and we value the expertise of our employees and truly believe in investing in them. As a site, we want to not only be the best, but also make Ipsen a great place to work, which means empowering everyone and focusing on people development, and creating the right culture and environment.
"We are very motivated, knowing that the products we produce in Dublin are used to treat life threatening illnesses and make a real difference to patients' lives. It's also a very exciting time for Ipsen in Dublin as we continue to invest in the site, as well as in the development of our people, in order to meet our Ipsen 2020 ambition."
Ipsen Manufacturing Ireland Ltd
Products: Manufactures key active pharmaceutical ingredients for life saving medicines