Keeping us connected
At the forefront of the UK's high-tech manufacturing sector, IQE Group Plc is the leading global supplier of advanced wafer products and material solutions to the semiconductor industry
Founded over 30 years ago from a single manufacturing operation in South Wales, IQE has grown into a world-class organisation with a global footprint spanning Europe, Asia, and the USA. Home to around 650 employees, and listed on the FTSE AIM index, the company's core business is the design and manufacture of compound semiconductor wafers. Also known as 'epiwafers', compound semiconductor wafers enable a broad portfolio of today's technology products, including mobile handsets, telecommunications infrastructure, connected devices, and infrared and sensing applications.
Recipient of numerous accolades over the years, including a 2019 Raytheon Premier Supplier Excellence Award, and a 2020 BAE Systems Gold Tier Award, IQE's technologies address three vital application themes: connectivity, sensing, and energy. Ubiquitous in their use, today, the company's Photonics and Wireless business units supply customers in the Consumer Mobile, 5G Infrastructure, Aerospace & Defense, Automotive, Cloud, Networking & IoT, Healthcare and Industrial markets.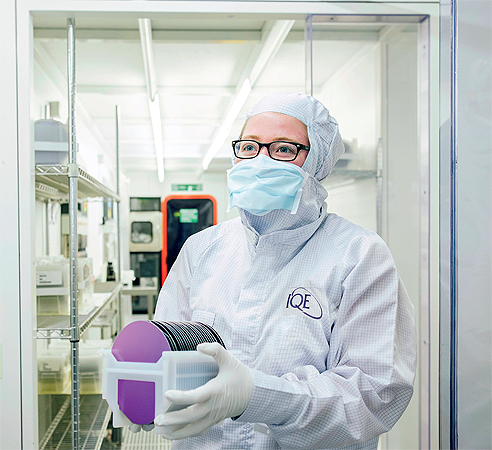 "As a world leader in Photonics technologies, IQE's product and intellectual property (IP) portfolio is broad and includes the likes of Vertical Cavity Surface Emitting Lasers (VCSELs), Indium Phosphide (InP) and infrared products," explains Group CEO Drew Nelson. "VCSELs in particular are a key component in telecom and 3D sensing systems and their applications include high speed data centre infrastructure, facial recognition, proximity sensing and LiDAR time-of-flight sensors on mobile handsets, in-cabin and environmental sensing for autonomous drive vehicles, and 3D image recognition."
Virtually all wireless communication has been enabled by IQE technology and the company's work covers certain electronic radio-frequency (RF) devices that enable wireless communications such as power amplifiers (PAs). These include, but are not limited to, mobile communications, base stations, mobile networks, WiFi, smart metering and satellite navigation systems. Recently, IQE's wireless products have taken on a more prominent role in enabling 5G systems and connecting devices globally. No matter what the project, the firm prides itself on working closely with clients to customise epiwafer structure and substrate characteristics, ensuring they meet each customer's individual requirements, work optimally with their fabrication processes, and ultimately yield competitive, consistent, and highly reliable semiconductors.
"At IQE, we have created a competitive advantage through superior quality, scale and a strategy of serving the entire market as a materials solution provider," says Drew, on the topic of IQE's success. "As a scaled global manufacturer, IQE has built an enviable reputation for its unparalleled depth of specialised process knowhow and expertise in the development and manufacture of highly advanced semiconductor materials technologies.
"The global semiconductor industry operates to exacting standards, requiring products of the highest quality with uncompromising reproducibility and repeatability. The Customer Qualification process represents a significant investment for IQE and our customers, both financially and in respect to the time required for completion. Therefore, once a product and relationship are established, this becomes a significant barrier to entry for competitors.
"IQE also has the ability to leverage its global manufacturing footprint by qualifying tools in multiple production locations worldwide," he adds. "This unique global reach means we are well positioned to adapt to changes in global technology markets, and being in close proximity to our international customers helps ensure security of supply in their chosen location."
When it comes to the company's operations, IQE is geographically diverse and can be found at nine sites across three continents. Following significant investment in the firm's Global Infrastructure Capacity Extension Program in 2019, IQE's universal site capacity continues to increase, allowing the company to serve new and emerging high-growth markets.
As part of the expansion program, IQE established the 'Mega Foundry', a state-of-the-art, 30,000 square metre facility in Newport, Wales. Leased by IQE as an empty shell, the site was made ready for production in less than 15 months and now has the capacity to house 100 high-volume production tools. Focused at present on serving the 3D sensing market, the Newport facility also has the ability to meet increasing demand for compound semiconductor materials in the future and provide world-class wafer products.
"We manufacture using Metal Organic Chemical Vapor Disposition (MOCVD), Molecular Beam Epitaxy (MBE) and Chemical Vapor Disposition (CVD) technologies, and offer our broad product portfolio across our multi-site operations. This represents a powerful competitive advantage in a market where qualification barriers are high," Drew states, delving deeper into the firm's production processes. "IQE is continually striving to improve manufacturing efficiencies by deploying state-of-the-art procedures and practices, improving the skills of our workforce, as well as implementing proprietary methodologies and new product introductions to help our customers achieve their own efficiency objectives. The introduction of an Executive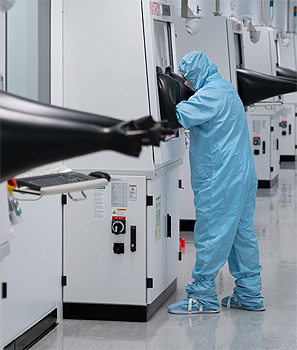 Management Board earlier this year is already making strong progress in driving operational efficiency within the Group, with a focus on new product introductions, revenue expansion and cost management."
Committed to technological leadership through research and development, IQE has developed an unrivalled intellectual property portfolio and process knowhow. Consequently, the firm continues to offer innovative new products and technologies that enable its customers and meet the needs of the industry at large.
In order to ensure that the right products are developed and introduced, the firm employs a rigorous phase-gate governance framework, which relies on the expertise of all relevant functional groups in the company, such as its Business, Technology, Operations, Finance and Quality departments. The result is new products that are efficient and effective, positioning IQE for significant growth and maximum return on its investment.
A trusted partner to some of the world's biggest brands, IQE has remained resilient throughout 2020's Covid-19 pandemic. After being designated as a 'critical infrastructure provider' by US and UK Governments in March, production has continued at all the firm's global sites with no restrictions, due to the critical role manufacturing is known to have on the economy.
To support these production efforts, IQE assembled a dedicated Business Continuity Sub-committee early in the year and the Group continues to monitor risk indicators and external guidance today. Given the diversified nature of the firm's global operations, operating conditions have differed across IQE's various sites, but implementation of appropriate measures to ensure the safety of all staff has been universally adopted, with social distancing and temperature monitoring present at all locations. Despite the difficulties, Drew declares that the company has remained successful.
"Ensuring the health and safety of our workforce remains our primary concern, so our sites continue to operate at minimal staffing levels and only where essential for production. We remain flexible too and continue to monitor the situation closely," Drew reports. "In terms of some of our achievements this year, while I cannot name our customers for confidentiality reasons, we recently announced the successful development of an IQGeVCSEL 150™ technology for 6" Vertical Cavity
Surface Emitting Lasers (VCSELs) on Germanium (Ge), a critical step in the pathway to 200-millimetre and 300-millimetre VCSEL technology. We have also launched new technologies for more efficient power amplifiers, low resistance buried contacts, with applications in high frequency RF Filters and other technologies such as GaN, with a clear focus on driving technological innovations relevant to the booming 5G sector."
Although IQE is a technology driven business, Drew believes that the company's true strength lies in the expertise of its workforce. Supported by a culture of integrity, accountability, excellence, and teamwork, the daily collaboration on display within the company's team of industry experts makes for an organisation with a powerful competitive advantage, and yet one that is also constantly improving.
"2020 has proven to be a difficult year for us all, but we are ensuring we keep our staff motivated by focusing on keeping them connected," Drew remarks. "We have several internal communication tools and initiatives that we are using to keep everyone in touch with one another and aware of what is happening throughout the global IQE Group. IQE is dedicated to supporting positive physical and mental wellbeing amongst our staff and offers access to medical assistance through our Employee Assistance Programme, as well as our Wellbeing Group."
Looking ahead, IQE plans to take advantage of its reputation and market standing as it develops technologies that support a sustainable world. Among the company's green objectives are minimising the environmental impact of its operations and encouraging waste reduction. This is in line with IQE's internationally recognised ISO 14001 Environmental Management System, which provides a framework for the continual improvement of environmental management practices and ensures compliance with regulations.
"We closely monitor our consumption of electricity, gas and water at all facilities, and look for opportunities to integrate environmental considerations into our business planning and decision-making processes," Drew asserts. "This includes designing energy efficiencies for new facilities, existing facilities, and facility expansions. In addition, many of our products are designed to reduce power consumption in all the applications in which they are deployed, from higher efficiency power amplifiers, to more efficient data storage and transmission.
"This work is all part of our ultimate goal over the next three to five years," he continues, "and that is to become by far the largest, most profitable and most effective advanced materials solution provider in the semiconductor industry."
IQE Group Plc
Products: Advanced semiconductor wafer products
www.iqep.com/about-iqe