Impenetrable data
A number of government certifications have singled out iStorage's flagship data storage devices as the world's most secure, allowing the British manufacturer to expand globally, as product demand continues to rise
''Data is the new gold," exclaims John Michael, CEO of iStorage – a developer of the world's most secure PIN-authenticated, hardware-encrypted, portable storage devices. The introduction of the GDPR on 25th May 2018 had a profound effect on everyone dealing with sensitive personal information, from individuals to large corporations and governmental organisations. In a world permeated by technology on every level, it is practically impossible not to own data that requires protection, and GDPR has played a leading role in increasing the awareness of the importance of data security.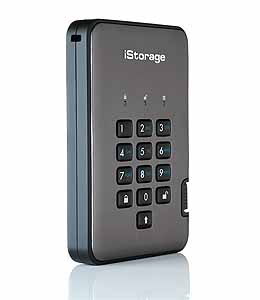 Undoubtedly, the introduction of the new regulation has caused considerable changes in the playing field of the data industry, with the new conditions favouring the ultra-secure products manufactured by iStorage. "GDPR will certainly catalyse the attempts at innovation across the industry, as the standards for more reliable products are going higher. For sure, iStorage is planning to release numerous new innovative solutions over the coming months to add to its portfolio and accommodate the emerging needs," John assures us.
Formed in July 2009, the company has gone a long way in less than a decade. Its exciting growth is a truly inspirational story of manufacturing and technological excellence, the results of which are multiple products that, in many ways, have proven to be ahead of their time. Most of the devices that have come out of iStorage's factory have subsequently received a number of government certifications, guaranteeing their trustworthiness.
Two of the company's products, in particular, have been leading the pack in recent times, excelling incomparably to any other offering in the market. "Our diskAshur PRO² and disk
Ashur DT² portable devices have been granted the UK's National Cyber Security Centre Commercial Product Assurance (NCSC CPA), as well as the Netherlands National Communications Security Agency Baseline Security Product Assessment (NLNCSA BSPA) certificates, and most recently, they have acquired the US equivalent of these, which is the Federal Information Processing Standard Publication 140-2 Level 3 (FIPS PUB 140-2). We are unique in being the only company in the world to have all the three government certifications for products of this kind, which backs up the claim that we produce the world's most secure portable data storage devices. What is more, iStorage's products are certified to a NATO-restricted level and are used by both civil and military organisations globally," John states proudly.
But how do you get certified? He explains: "In order to secure such government certifications, you have to send your products to government-accredited test laboratories, where they are subjected to hacking attacks. If the device is successfully hacked, then you obviously cannot get the certificate, but if the hacking attempts fail and you can prove that the product is extremely secure and has been designed in accordance with all the criteria, you are awarded the certificate."
Having claimed seals of approval of the highest calibre, iStorage has piqued the interest of various military customers from around the world, its data protection devices finding a range of applications in the industry. In addition, the company's products have proven especially sought-after in other sectors that make extensive use of sensitive data, such as finance, banking, healthcare, energy, and education. "There is a massive potential in all of these industries. I am really happy that a level of universal understanding has been reached that data is a really expensive and precious commodity, one that needs to be treated the same way as other expensive commodities. It is important that people have started taking measures to ensure the protection of their data. This is where we step in, with our impregnable, extremely easy to use, and affordable products," discusses John.
"We also supply to consumers, prosumers, SMEs, and multinational corporations, as well as government organisations. OEM relationships are also a vital part of the business. For example, we have Kingston Technology – a very large US, multinational, computer technology corporation – as a key partner. They rebrand and resell one of our products, the datAshur PRO, which they call the DT2000, and we are eager to foster promising relationships like this in the years to come. Overall, our products are currently distributed in over 50 countries, and I think it is very rare for a British company to do what we are doing, as we design, develop, and assemble all of our products right here, in the UK," John says, expressing his pride in the British origin of iStorage's devices.
Evidently, it is not just the company that cherishes its legacy, as its activities have turned it into an example for the whole nation when it was named as one of the '1000 Companies to Inspire Britain' in 2018, in an annual report compiled and presented by the London Stock Exchange Group. John comments on the prestigious recognition: "It makes me extremely proud that iStorage has achieved such an accolade. To have come this far in such a short space of time, is a testament to the incredibly talented family that makes up the company. Our success is entirely down to the outstanding team I have at my disposal."
Earning a spot on the LSEG's list constitutes a continuation of a now lengthy tradition of iStorage being under the spotlight not just of its own industry, but the wider UK and European business sphere. In 2016, the company was ranked among the fastest growing tech companies in the UK by the Sunday Times in its 'Tech Track 100' and a year later, it was listed in the 'FT 1000: Europe's Fastest Growing Companies', clear signs of iStorage making a name for itself away from its domestic market.
"America is the next target," John announces, focusing on the company's future development. "Receiving the FIPS 140-2 Level 3 certificate was a major milestone for us and now we are about to open a US office to support our activities on the other side of the Atlantic. We have just signed a major distributor in the USA, so, over the next few years, we are going to push very hard to grow there. I would like iStorage to be the global leader in data security products and to get to this point, we will continue to pioneer and develop revolutionary products," he concludes enthusiastically.
iStorage
Products: Data storage devices
https://istorage-uk.com