Confident air
Swedish manufacturer of air handling units IV Produkt celebrated its 50th anniversary in 2019 in the best possible way – by achieving a turnover of SEK 1bn for the first time in its history
When it became clear that IV Produkt had successfully taken its turnover over the SEK1bn (£81m) line, it surely must have felt as a wink from fate that the figure was reached in time for the air handling unit manufacturer's 50th anniversary. It has indeed been a year of festivities at IV Produkt, which culminated with a big party in Växjö – in the hockey arena of the company's home city, with the manufacturer inviting over 650 employees, partners, and key suppliers to share the special moment.
"We worked on meeting this target for a long time and we are immensely gratified by the end result," Magnus Lind, SVP Sales & Marketing, proudly begins. "We have continued to perform well within all the markets where we have established a presence, enjoying a nearly 30 per cent year-on-year growth on our markets outside Sweden. What makes me particularly happy, is that we do well in all countries. Our brand and products are as attractive to one area as they are to any other, which demonstrates their strength and appeal to a wide customer base."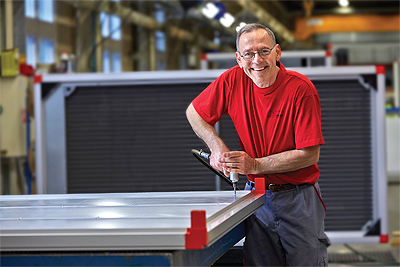 When we previously talked to Magnus at the very beginning of 2019, he outlined some of the dominating trends in market preferences. Now, almost a year on, he maintains that these have had an even stronger impact on businesses in the air handling sector, mainly in regards to product development.
"The demand for air handling units with integrated cooling or integrated reversible heat pumps continues to grow. The same can be said about the increasing popularity of space-saving solutions. Another important trend is that units tend to get bigger in size, due to the need for more efficient ventilation systems. Therefore, we have started looking at different ways of transporting and delivering our products, and then installing them on-site at our clients' premises."
In order to stay in line with its customers' requirements, IV Produkt has launched the Envistar Top with ThermoCooler HP, which is a product that acknowledges all of the technological developments the market wants to see in an air handling unit. "Both the EcoCooler cooling unit and the reversible heat pump ThermoCooler HP are available as options for this product," Magnus explains. "What is more, it saves up to 70 per cent of floor space, compared to a traditional installation, because we have put the duct connection on the top of the unit and not on each of its sides. This makes Envistar Top the most economic and energy-efficient solution for the available floor space. As mentioned earlier, it is necessary to make it easy to transport a unit into a building and Envistar Top, in particular, has been designed in a way that allows it to pass through narrow passages.
"It is fair to say that the product has been an immediate success, which, perhaps, comes down to the fact that it combines two technologies that have been released separately before, but which can now be integrated into the same item. We are really pleased with the early uptake of the Envistar Top with ThermoCooler HP, it having started selling virtually from day one,"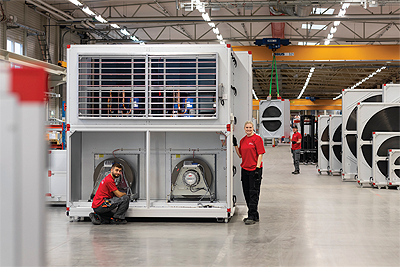 Magnus adds.
Given the incessant flow of orders IV Produkt has to handle, the company has purchased several new pieces of equipment to speed up its operations, including a frame cutting machine and a pipe bending machine. Moreover, it conducted a study of its manufacturing process throughout the factory, whose findings have since resulted in a reduction of idle time and an increase of efficiency by around six per cent.
It appears, though, that largest investment IV Produkt is planning to make, is still in the pipeline. Magnus reveals that the company is actively considering an extension to its manufacturing facility, with the blueprints already in place. "We still do not know exactly when we will push the button, but we are certainly growing our footprint by another 6000 square metres. Having reached SEK1bn, it made sense to set ourselves a new target, and we now aspire to double production volumes by 2026," he declares.
"At the moment, there is a steady growth in the markets where we operate and we are fairly confident that this will remain to be the 51case in the next few years," Magnus remarks, before bringing the conversation to an end in an upbeat fashion. "Looking ahead, by 2026, we should absolutely be one of the major players in Europe when it comes to air handling units – be it from technology, sales, or volume point of view. We are getting bigger and bigger on the continent and with the potential up for grabs, exciting times look to be in store for us."
IV Produkt
Products: Air handling units