Handling the industry
Wise business decisions and carefully-targeted investment have enabled Sweden's leading provider of air handling units, IV Produkt, to reach unprecedented growth in the last decade
Despite having a history stretching back to 1969, it was in 2005 that IV Produkt made its big leap in the market of air handling units. That year, the company was acquired by its current owner Matias Sjöberg, and his father Alf, who steered it to the top of the industry in less than 15 years. "The company was previously owned by Skanska, and before it was bought by the Sjöberg family, it was perhaps only number three, or four, in the Swedish market, and did not have much business abroad," SVP Sales & Marketing, Magnus Lind recalls. "By comparison, today we are the leading manufacturer by a margin, and we have well over a third of the market share."
Magnus pins the company's recent prosperity down to the strategy adopted by the new owners. "Unlike our competitors who tend to offer a wide range of products, be it air handling units, diffusers, or chillers, we decided to focus entirely on producing air handling units. We have created a multitude of different types of integrated units to choose from, such as heating pumps and cooling machines. I would say that for these specific products, we are number one not only in Sweden, but also in Europe," he asserts.
But the growth of IV Produkt would not have been possible without the grand five-year investment strategy the family-owned company laid out in 2013. The key decision taken by owner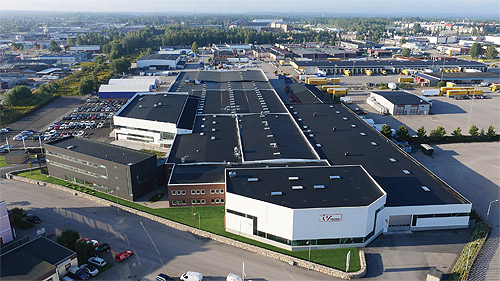 Matias Sjöberg to reinvest the generated profit back into the business, has resulted in expansion works worth almost 20 million euros. "We bought two new metal panelling machines, each costing about three million euros. We also built new offices and expanded our admin space. In addition to this, we have only been operating our new laboratory for about a year and a half," Magnus details.
"The lab is equipped in compliance with the standards set by Eurovent, a pan-European, independent third-party testing institute. We work closely with them, and they monitor, test,and approve all of our products, so that quality and safety are guaranteed," Magnus comments. "With the new lab, we can now test our products according to the same principles applied by Eurovent, which gives us confidence that any unit we send to Germany to be approved by the association, will pass its test."
For Magnus, the stricter procedures of receiving approval reflect the development of the entire M&E business. "Back in the day, an air handling unit used to be a pretty straightforward piece of mechanical kit, but this is no longer the case. The expectations the product has to live up to, have raised dramatically. A lot more is required in terms of efficiency, quality, and overall performance. This is why we must be prepared for testing at all times.
"We have been able to strike the right balance between customer demands and our in-house engineering, when it comes to product development," Magnus states, citing this as a reason for the huge popularity of IV Produkt's air handling units, especially in times of increased market demands. "Understandably, we are keen to listen attentively to what our customers want, but at the same time, we are always looking at how we can do things better and exceed their expectations."
Consequently, the company's R&D division consists of 32 people – a figure that amounts to ten per cent of the whole staff, and which forges IV Produkt's determination to offer only products that bring real value to customers. "However," Magnus adds, "we also want to provide top-quality service after the delivery. We strive to show our clients that we care for their experience with the product, and build rapport with them, because being trusted is extremely important in this business. We have people who can attend to any sort of problem that might occur, although this does not happen very often. Our warranty costs have continuously been less than one per cent of our turnover. We have been developing our units for a long time, so we are well aware of what we are doing," Magnus maintains.
Having started to expand internationally just four years ago, IV Produkt has already established subsidiaries in the UK, Norway, and Germany, and is actively working to develop a firm presence abroad. "We are recruiting sales representatives for our international locations, and this is shaping up nicely at the moment," Magnus remarks with satisfaction. "It was a necessary step forward for us. With the market share we already possess in Sweden, we had to look out to keep growing. We are particularly interested in improving our position in the UK, in spite of the impact Brexit might have on business climate."
At the end of our conversation, he expounds on the long-term aspirations of the company. "Our ambition is to be seen as a knowledge company and I think the results we have achieved so far, prove that we are on the right track. We want to be the engineering company we have always envisioned to be, which means that we should continue doing the same thing, and doing it better."
IV Produkt AB
Products: Air handling units