Some companies offer a limited range of products, but not iwis drive systems LLC. "What we do is we go to our various customers [and] design and develop products that meet their particular application needs," co-owner Dan Egenolf says.
"We don't go to them and say, 'Here's our catalog and pick out a product,'" he asserts. "We design a product that will overcome [their challenges]."
Based in Indianapolis, iwis drive systems is a division of iwis, a Munich, Germany-based producer of engine and drive systems for automotive, industrial and agricultural equipment OEMs. The division's history goes back to 2004, Egenolf says.
"What took place was our German parent company had developed a relationship with John Deere," he recalls. "They were doing a very good job in Germany and John Deere asked if they would like to work for them in the U.S.A."
But iwis needed its own U.S. division to do that. At that time, Egenolf was a U.S. distributor for the company, and he partnered with iwis export manager, Glenn Walters, to form iwis drive systems.
Both men became 10 percent equity holders, while the parent company held 80 percent. Today, iwis drive systems' products are used in a variety of markets, including automotive, agriculture, and food and beverage.  Iwis has diversified to include thousands of additional customers.
"Any kind of assembly line could be using our chains to transport parts," he says. "We've got a line of flattop chains that are used in the beverage market and in food packaging."
Driving Reliability
Egenolf credits iwis drive systems' success to its parent company. "We really piggyback a lot of the development on our German parent," he says, noting that that iwis is celebrating its 100th anniversary. "They really focus on serving the OEM."
iwis drive systems' broad product range and reliability also help. Historically, Egenolf says, chains tend to break under heavy loads and harsh circumstances due to dirt, debris and heat. "So we've got to design our products to meet those application needs and be more competitive in the market," he says.
This is particularly essential for the automotive industry. If a vehicle's timing chain fails, "The whole engine will fail," he says. "[Our chains are] designed to run 300,000 miles, guaranteed."
Farmers also depend on the products. "They cannot have failures," Egenolf says. "When they're out there harvesting, they have to have all of their systems running 100 percent to capture the harvest."
Leading to Quality
iwis maintains a rigorous quality control system that permeates the entire organization, Egenolf says. Its Munich facility daily produces 65 kilometers of chains that are used for 35 million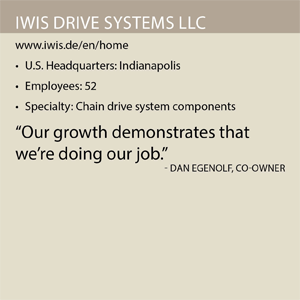 components. The company accomplishes this while maintaining "a reject rate of less than .01 percent," he says.
iwis manages this through a strong focus on research and development, and its use of modern design techniques. "We also have an extensive ability to do lab testing and help our customers shorten the design cycle," he says. Use of modern design techniques, such as computer generated Finite Element Analysis and computer Tomography, allows iwis to accelerate the design time cycle.
iwis drive systems also regularly performs a thorough engineering review and a failure mode effects analysis on all of its parts. "All these things ultimately lead to quality if you design it properly, set up a proper manufacturing plan and set up auto-procedures," he says. "That should feed into giving you a robust quality system."
Lean manufacturing also has not passed iwis drive systems by. "We've tried to eliminate excessive time involved with assembly and come up with a better system, involved with lean techniques," he says. Driving cost out of the manufacturing system is tantamount to being globally competitive. iwis strives to increase efficiency on an incremental basis in every process.
The U.S. division applies value-add activities to its manufacturing process, which include digitally saving the torque value of each assembled attachment chain. If a customer wants to check it, iwis drive systems can with the product's serial number. "We can go back … [and see that] the chain was assembled with the proper torque values," he says.
Ready to Ship
iwis drive systems is coping with increased customer service expectations, Egenolf says. "When you look at the way our world is operating, people really expect everything to be on the shelf like at a Walmart," he says.
"You always have to have inventory on your shelf for people who need things now," he says. "Our challenge is to have the right product on the shelf and manage that inventory effectively to get people their orders."
The company manages this by staying closely connected with its clients through interactive planning meetings, Egenolf says. Additionally, if the client undergoes a design change, "You've got to try and sell it before they go to the new design," he adds. "We try not to load up on an inventory of old parts."
Willing to Innovate
Egenolf has extensive industry expertise. Egenolf started with a Mechanical Engineering Degree from Purdue University and then obtained his MBA from Indiana University. He worked for General Motors for five years, and also held roles at MARPOSS and W.W. Grainger Inc. He also managed Egenolf Industrial Group Inc., his family's business.
He is proud of his 12 years at iwis drive systems, as it has served some of the largest Fortune 500 OEMs in the United States. "We can meet their requirements at a very high level, even at the point of developing and creating new product programs," he says.
"Our growth as a business has demonstrated that we're willing to innovate and give customers better products," he says. "Our growth demonstrates that we're doing our job."
iwis drive systems' future depends on the current political climate, Egenolf says. "The United States is under pressure to create jobs," he says. "A lot of jobs have gone back to Asia, but some of the current political rhetoric is that they want to bring more manufacturing back to the United States. The Agricultural market has also contracted significantly with the loss of Section 179 benefits and the low grain prices worldwide. The opportunity for growth will be developing new markets with new products.
"Some of the manufacturers are coming back here because they want to be closer to their customers," he says. "If that happens, I think we will see growth."