Reliable refrigeration
A member of the global Daikin Group, J & E Hall utilizes over 120 years of refrigeration expertise to develop its innovative solutions, which continually set the benchmark for quality, reliability and energy efficiency
Today, J & E Hall is one of the world's foremost refrigeration solution providers, however its long-standing history dates back as far as 1785. It was then that John Hall began what was initially a one-man workshop in Dartford, Kent. Under his stewardship, the company soon became known for manufacturing steam engines and gun carriages, which were exported to Europe and Asia. It was not until the 19th century that J & E Hall first manufactured the cold air machine that would earn it its reputation for refrigeration innovation, which still stands to this day.
"Our key activities include the design, refrigeration and HVAC solutions," explains the company's Managing Director, Andrew Bowden. "Our business is essentially split into four distinct areas, these being Projects, Products/Spares, Service, and Complementary services such as compressor remanufacturing, motor rewind, cable harnesses and machine shop services."
In the case of the company's Projects activities, J & E Hall designs, manufactures and installs bespoke systems for a number of global markets including the chemical, petrochemical, pharmaceutical, brewing, beverage and food industries. Its bespoke packages operate from 20kW to 6000kW, using all forms of refrigerant including ammonia, CO2, HFC and HFO.
J & E Hall's industrial products include the award winning HallScrew single screw compressor, which is sold worldwide for industrial refrigeration, air conditioning and heat pump systems. The company also manufactures commercial products for convenience store and cellar cooler applications, a field in which it stands head and shoulders above its competition as UK market leaders. To support not only its products, but also those of other OEM's, the company supplies a comprehensive range of spare parts.
In addition to the above, the company has a network of ten UK service centers, through which it provides installation, service and maintenance to a host of different sectors to help improve refrigeration plant performance. Among its services one can gain access to 24/7, 365 days-per-year customer support, planned preventative maintenance and emergency care, system inspections and asset management, and ammonia risk assessments and training.
"As a long-established company, we like to think that our depth of engineering knowledge and customer application experience helps us to stand out from the competition," Andrew states. "The industry as a whole is currently focused on low global warming potential (GWP) natural refrigerants, but J & E Hall has been developing this technology for nearly 100 years already. Ammonia is a versatile, effective, and efficient natural refrigerant, and is a green alternative to more commonly used industrial refrigerants. Primarily, it is a natural refrigerant which does not deplete the ozone layer and has excellent thermodynamic qualities, which give it a wide temperature range.
"Our first ammonia compressor was manufactured in 1922, and today we are still developing ammonia compressor technology, because there are so many benefits. With zero ozone depletion and zero global warming potential it is a future-proof alternative to high GWP HFCs. Ammonia is also more efficient than some other refrigerants, which can make a significant impact on energy bills. This can make a big difference to the bottom line at a large-scale cooling operation."
The production facilities that make up the core of J & E Hall's manufacturing activities are varied depending on product category. Since becoming part of Daikin Group, these facilities – all of which are ISO certified and have state-of-the-art metal work machinery with advanced automated processes in place – have been integrated strategically to maximize production efficiencies. "Our HallScrew compressors are manufactured in factories based in Italy and China, which also build applied products – specifically air conditioning chillers – that have these compressors at the heart of their respective systems," Andrew continues. "These factories are then supported by our applied development center, based in the UK, and its testing and R&D facilities. Meanwhile, our market leading condensing units are manufactured at facilities in Malaysia."
The company also has a subsidiary business in the UK – Coulstock and Place Engineering – which offers complementary services to both J & E Hall and its customers. The total footprint of this facility stretches to 20,000 square feet, with services ranging from compressor remanufacturing, electric motor rewinds, and machining solutions, to cable management such as prewired assemblies.
One of the company's core values revolves around 'Customer Focus', meaning that its customers are at all times considered its number one priority. "We follow a consultative approach here at J & E Hall of anticipating future needs through constant engagement, which also aids the development of new and innovative products," Andrew says. "Our task is to find out what our customers need and propose solutions to resolve their problems."
Such an approach as that described above has resulted in the company playing a key role in projects all over the world, with its products being installed in more than 80 countries to date. Highlights among the many examples of its work include, its involvement in EDF's Hinckley Point Nuclear Power Station Project, where it will supply 11 chillers for various applications for the plant with the project spanning over four years, and in its work with the CERN Project, where it supplied chiller cooling at -70 degrees centigrade with a total capacity of 192kW for the Large Hadron Collider Project. J & E Hall has also supplied numerous chillers for critical applications for British naval forces and various international naval fleets.
In the district heating space, on the other hand, the company has carried out work such as a critical heat pump installation for a particular customer, which maintains and operates a district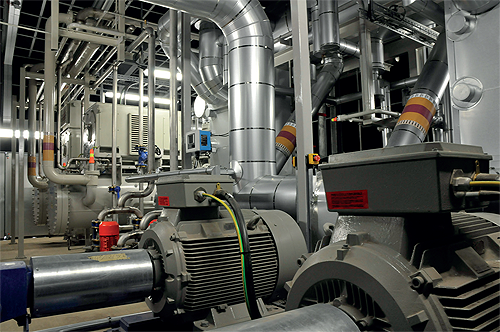 heating net in Basel, Switzerland. Here, oil and gas boilers create most of the energy, supported by a heat pump. The customer in question wished to increase the amount of renewable energy used for the district heating, so installed a larger heat pump and new woodchip burners. The pump supplies the base load of the district heating, and is the sole heat generator active over the summer months.
J & E Hall supplied heat pumps with capacities ranging from 835kW to 1600kW to cool water temperatures from 2°C to 19°C (depending on the time of year) and hot water temperatures from 40°C to 75°C.
As well as its customers, J & E Hall also has an outstanding track record and reputation for looking after its people and promoting their development. One of the ways it furthers the growth of its employees is through what it calls People-Centered Management. "This refers to the tacit knowledge, or corporate culture, that Daikin has cultivated through its many years of corporate activities since its founding, and serves as the basis for all corporate ideals including corporate principles, our group philosophy, and the annual group policy," Andrew details. "With belief in the unlimited potential of people, and based on the conviction that the source of a company's competitiveness is its people and that the cumulative growth of each individual is the foundation of a company's growth, People-Centered Management is a line of thinking which draws out the enthusiasm and understanding of our employees, which in turn strengthens and raises the capabilities of the organization."
The company can also take great pride in its efforts in developing the career paths of young people and women in particular. "We have a number of women within the business in key engineering roles and do all we can to help them develop their skills and position within the industry," Andrew enthuses. "We actively encourage and support our female engineers to join industry bodies and networking groups so they can become part of the industry's decision making process, and help young female engineers join the refrigeration sector. A number of our female engineers – and their work – have been acknowledged by engineering bodies, with one of our engineers named in last year's list of the Top 50 Women in Engineering (WES).
"We also invest heavily in our apprenticeship scheme and have gained a reputation for training young people in the industry, with generations of refrigeration engineers having benefited through the years. J & E Hall has always placed a high level of importance on introducing new blood to the refrigeration industry. With age levels among employees continuing to rise, this has never been more needed. At the same time, we ensure that we reward our staff for their loyalty, and have an established long service award program, with at least two of our employees reaching 55 years' service. Many of our employees stay with us for many years, which is a testament to our strong company culture."
As Andrew himself states, the key to the company's success moving forward is listening to its customers and aligning with global megatrends. "Since the introduction of the F Gas regulations, J & E Hall has been in consultation with its customer base to update their installations with available greener alternatives and energy efficient solutions in products and contracting," he reveals. "This direction forms the basis for the research and development team to introduce products that improve customer processes, save energy costs and minimize environmental impact. The Kigali Agreement is a reaffirmation of a global initiative to mitigate climate change. As a result, this has fast tracked the development and acceptance of low GWP refrigerant based products in various market segments, ranging from commercial to industrial sectors. J & E Hall already has existing natural refrigerant products available and is in the final stages of developing a range of low GWP products. A five-year plan is in place to grow the products business further and launch several new products within the UK and internationally to meet our customers' requirements."
Andrew concludes by explaining how future prospects for the refrigeration sector remain strong for several reasons. "Firstly, the UK and other developed countries are looking at energy efficient and environment conscious products to update their process from legacy equipment. Secondly, developing countries are investing heavily in their infrastructure with cold chain considered as a key pillar of investment to reduce food wastage and make the food supply chain more efficient. J & E Hall's international market penetration puts us in strong position to deliver solutions to overcome these challenges."
J & E Hall
Products: Refrigeration and HVAC solutions
www.jehall.com