A giant leap
As a figurehead for British engineering and a leading player in the global automotive industry, Jaguar Land Rover continues to invest heavily into its UK facilities in line with record levels of growth
Back in 2008, under the ownership of US automotive giant Ford, the Jaguar and Land Rover brands were ailing. Amidst uncertainty for the manufacturers' futures, the Indian industrial group Tata took over the recently merged company and set about restabilising the iconic brands, both of which held a long history of heritage and loyal following, but were falling short of delivering in a premium segment dominated by German competitors.
What followed was a period of growth that represents one of the biggest success stories in recent automotive history. In the last five years the Jaguar Land Rover (JLR) range has undergone a major overhaul that has seen employment levels double, turnover treble, and global sales jump to over half a million units in 2016 following six years of consecutive growth. In 2015 it was announced that 50 product actions would be carried out in the five years to 2020, with 12 already implemented in 2015.
Recent introductions to the Jaguar range include the F-TYPE sports car, the all-new XE – a mid-range executive saloon – an updated XF model, and Jaguar's first SUV – the F-PACE, which began production earlier this year and sees the brand break into an increasingly competitive SUV market. In 2015 it also announced its intention to compete in the all-electric FIA Formula E championship indicating its long-term commitment to develop MHEV (mild-hybrid), BEV (battery electric), and PHEV (plug-in hybrid) technologies for future road applications. Regarding Land Rover, whilst January 2016 saw the final Defender, a true British icon, roll off the production line, the Range Rover Evoque and, most recently, Discovery Sport have been welcome additions to the already wide-reaching and well-regarded portfolio.
Helping to facilitate this growth, JLR has invested heavily over the past years into expanding and developing its manufacturing capabilities. Sitting on a 300-acre site and often referred to as 'the home of Land Rover', manufacturing at the company's Solihull site began back in 1948. Over this time, millions of Land Rover Defenders and Discovery's, Range Rover's and Ranger Rover Sport's have been built, and in 2015 it became a 'dual branded site' beginning the production of the XE.
"In the last five years, we have invested over £1.5 billion at the plant," explains Nigel Blenkinsop, Operations Director at the facility. "More than a third of this investment was committed to create a state-of-the-art 'factory within a factory' to house the XE. This original investment was designed to take into account future vehicles, demonstrating the flexibility and versatility of the vehicle platform. As we are a global premium automotive manufacturer, we have to future proof any investment. As such, we have since begun production of the F-PACE SUV at Solihull.
"This facility, which operates on a three-shift, 24-hour production schedule to meet global demand, includes one of the largest aluminium body shops in the world and a final assembly hall capable of building both Land Rover and Jaguar vehicles. The combined space is equivalent to 22 football pitches and has resulted in the creation of over 3000 jobs plus many more in the supply chain. Thanks to the expansion, our production volumes at Solihull have trebled and we have doubled our workforce to over 10,700 employees in the last five years. This increase in output has contributed to JLR becoming the largest automotive manufacturer in the UK, something we're very proud of."
Another part of this recent investment programme at Solihull surrounded the improved production of the Range Rover and Range Rover Sport models, including a new aluminium body shop, which employs the latest low-energy aluminium body construction technologies. Put in place in 2012, the £370 million injection helped to create an additional 2000 jobs.
In addition to the Solihull site, JLR also operates two other advanced vehicle-manufacturing sites in the UK in Castle Bromwich and Halewood. In October 2014, a fourth advanced facility joined the group in the form the brand-new, state-of-the-art Engine Manufacturing Centre (EMC) in Wolverhampton. "The EMC represents a £1 billion investment into a brand new, world class manufacturing environment," says Trevor Leeks, the EMC's Operations Director. "This facility is home to JLR's two-litre, four-cylinder, Diesel Ingenium engine, the first engine to be designed, engineered and manufactured by the company in a generation. Ideally located between the three vehicle manufacturing sites, the EMC supplies engines to be used in the Jaguar XE, XF and F-PACE, and Land Rover Discovery Sport and Range Rover Evoque models."
The first stage of the build constitutes a £500 million investment into a 98,000 square metre facility that includes a machining hall, complete with three separate lines for cylinder block, cylinder head and crank components and173 different machines, as well as a fully operational diesel assembly hall comprising 17 zones.
The second stage of development, which is currently under construction, brings the facility up to a combined 185,000 square metres.
"At present the EMC employs about 950 people, but once at full capacity this will peak at about 1400," Trevor continues. "The facility is also rated BREEAM Excellent and benefits from an innovative Environmental Management System. Its rooftop array of 21,000 photovoltaic solar panels, for instance, is one of the largest in the UK and has the capability to generate up to 30 per cent of the facility's energy demands – enough to power 1600 homes."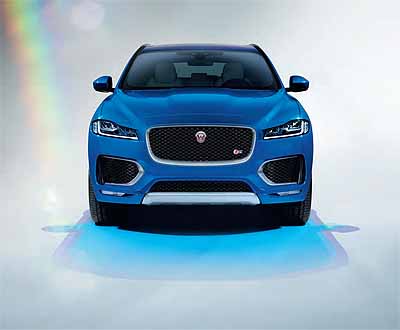 As with the Solihull developments, the EMC has been designed to be a fully flexible and scalable environment to support the company's ambitious global growth strategy. Of which, the Ingenium Engine family, which, according to JLR, will deliver a class leading balance of performance, refinement and economy, is a big part. Mirroring this design for flexibility, the engines themselves follow a modular production technique making the platform configurable to the challenging needs of this premium automotive sector.
Employment remains a key focus of every JLR site, and initiatives in place across both the EMC and Solihull plants perfectly demonstrate this. With employment levels growing all the time, JLR commits to giving its staff the best working opportunities and in Solihull all hourly employees undertake a structured training programme with a view to achieving an NVQ II qualification in Business Improvement Techniques. The plant has also recruited over 80 ex-military personnel – over 50 per cent of these in the past year – as part of JLR's participation in the Armed Forces corporate covenant to support the reintegration of military force personnel into successful civilian careers.
"Back in the days of recession in 2008, the future of our manufacturing facilities looked uncertain," says Nigel. However, there is no doubt that JLR has experienced a comeback of unprecedented proportion over recent years, not only as a player on the global automotive playing field, but also as a flag bearer for British engineering and the UK's manufacturing industry. Across the UK and Europe, hundreds of suppliers have benefitted from the company's growth and thousands of additional jobs have been created in the supply chain. It's a position that, held responsibly, puts JLR in good stead as it continues to grow its product range and take on major competitors in markets around the world – ensuring it has world-class engineering facilities will be crucial to doing this.
"Over the past decade, the Solihull plant has undergone a dramatic transformation and is now a world-class manufacturing facility, producing more vehicles than ever before with a workforce that has doubled," he continues. "As to what the future holds, I can only say more exciting vehicles! I am certain that Solihull will remain at the forefront of premium automotive manufacturing." Trevor echoes the sentiment, concluding: "The expansion of the EMC supports JLR's long-term growth strategy. Its development enables the company to take charge of its own destiny, react more quickly and be fully flexible in its desire to meet customer requirements for high quality engines."
Jaguar Land Rover
Products: The UK's largest automotive manufacturer