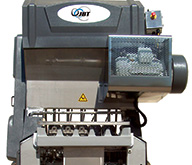 The name of JBT probably isn't one that comes to mind for most people while in their kitchens, but there's a very good chance that JBT has been involved in the preparation of their food. As one of the leading manufacturers of sterilization and processing equipment for the food and beverage industry, the company has a scope that puts it in most of the world's food processing facilities. "About 50 percent of the world's canned goods or packaged foods are sterilized on our equipment," explains Global Marketing Manager Carlos Saavedra.
The company's roots can be traced back to the 1880s, when John Bean invented a continuous spray pump he used to treat his almond orchards, and which he soon began selling to other growers. Over time, the company grew through organic means as well as through acquisition, adding new capabilities and product lines that range from continuous freezers and citrus juicers to airplane de-icing systems and airport baggage carts.
In 2008, JBT Corp. was founded to spin off the operation's food processing and airport equipment divisions under a new, independent structure.
Today, JBT produces one of the widest arrays of food processing equipment in the industry, manufacturing equipment ranging from ovens to freezers to fryers to fillers. Saavedra's business unit provides primary processing equipment as well as in-container and in-flow sterilization for liquid foods, which include fruit and vegetable juices, soups and sauces, and canned foods like pet food and meat products. In recent months, the company has acquired capabilities in sterilizing milk and dairy products, as well as new filling and bottle blow molding capabilities, giving it an even larger share of the market.
Full Expertise
Although JBT runs up against some strong competition, Saavedra says the company's focus on providing customers with more of a one-stop shop for their full liquid foods manufacturing needs is one of the primary reasons for its success. Whereas many of its competitors are extremely focused on specific segments of the process, JBT offers more.
"It is a broad mix of competitors," Saavedra says. "We have some companies that only focus on fillers and closers, or only focus on extractors, where we're trying to provide a more integrated and complete solution across the value chain."
Through its expertise in virtually every aspect of the manufacturing process, JBT can be a partner to its customers in ways other manufacturers can't. "I think the breadth of our product line and our entire process know-how is of value, and some of our competitors, they might know filling and closing or they might know extraction, but they don't know how that flows through the rest of the other processes that are required within the product chain," Saavedra says.
That know-how comes from the strong internal knowledge base that JBT brings to bear on every project. The company has scientists and engineers in-house who know the process from start to finish and can assist customers in determining the right system for their needs.
With offices and facilities in 20 countries, the company serves all of the globe's major markets, and its expertise in serving these markets gives it opportunities for  ongoing innovation.
Future Growth
Saavedra says JBT understands how vital food safety is to the industry, and as such it strives to provide its customers with equipment that creates a safe environment for workers as well as a safe finished product for consumers. JBT is conscious of safety and builds it into every piece of equipment.
"We're making sure that the equipment that we provide is easy to clean and is as hygienic as possible so that food safety concerns are minimized," Saavedra says.
JBT's approach is to continue growing organically while also looking for alliances with other companies and acquisition opportunities that can give it new technologies to incorporate into its product lines.
The company plans to increase its presence in secondary processing and packaging, areas in which the company has a presence but is not a leader. As JBT continues to grow, it may not be a name the average shopper knows first-hand, but the operation will continue to be one of the most important names to serve the food industry.