The natural choice
Known as 'the natural choice', independent family run JC Atkinson is the UK's unrivalled manufacturer of green, environmentally friendly coffins and caskets
Founded in 1936 by John Clifford Atkinson to supply local funeral directors with coffin sets, JC Atkinson began producing ready-made coffins in the 1960s before changing production capabilities so coffins could be made in their entirety on-site. Keen to progress with the times, JC Atkinson gained Forest Stewardship Council certification in the 2000s and implemented a robust environmental strategy to ensure all coffins were certified or that wood used came from a known and ethical source.
During this period, the Newcastle based company set up a new purpose built factory, complete with environmentally friendly features such as rain water storage for its own use, which thus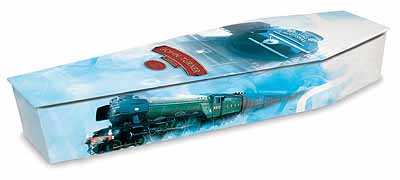 saves over 200,000 litres of drinking water per year; the location also has its own biomass combined heat and power system, which utilises the company's wood waste to heat and help power the factory. This commitment to environmental enhancements resulted in JC Atkinson winning the Sunday Times Best Green Company Award as well as regional and national awards for Environmental Best Practice. Alongside these developments, the company also diversified its product portfolio by offering coffins it doesn't manufacture such as Willow, Seagrass and American caskets; it also began offering the innovative Reflections product range, which at the time was the only picture coffin on the market.
"Approximately ten years ago the idea of themed coffins came to light as it became clear you don't just have to have a wooden box and can instead personalise the coffin. For this service, we take a brief from the family, find out what was special about the person and then come up with a design that matches the brief and celebrates their life," explains Greg Cranfield, Commercial Director at JC Atkinson. "The funeral trend is drastically changing at the moment, with the funeral arranger becoming more like a wedding planner; it is more like a celebration of life than commiserating death."
Today run by Julian Atkinson, the grandson of John Clifford Atkinson, the company has benefited from Julian's forward-thinking approach to business. For example, it was he who purchased the domain name of www.coffins.co.uk during the 1990s, initiated computerisation at the firm and strengthened its ability in catering to the unique needs of each customer. This flexibility has resulted in the company providing clients with anything from gold-plated coffins to cardboard ones, as well as coffins with printed images; regular requests include football club badges and flags, urban and rural views such as the River Thames.
"The younger generation has been more adept to these changes in the funeral market and more aware of what options are possible. JC Atkinson has been at the forefront of leading that supply of innovative, bespoke coffins to customers and meeting their unique requirements," says Greg. "To make this possible, we have our own in-house design team who take a verbal brief from the family; this could be something like a particular sport, which our guys will then source relevant images for. Other customers may want photos of the family, which we can scan and arrange into a collage or image. Once we have the image we will send the draft off and will get feedback before signing off and sending the information over to manufacturing."
Aware that a picture is worth a thousand words, the company's Reflections picture coffins range offers customers a range of themes on its website, including floral tributes, animal kingdom, life in music, abstract, style statements, hobbies and passions, sporting life and transport. However, should customers want a more bespoke design, this is also available, as is the option to print the name instead of having it engraved on a nameplate; this makes the name part of the design and cane be as simple or intricate as the client likes.
In addition to the Reflections picture coffin, the company also offers a superior range of traditional coffins, American and English caskets and Eco Coffins. "We source our fair-trade coffins from locations such as Indonesia and work with fairtrade accredited companies to ensure the coffins are 100 per cent environmentally friendly," says Greg.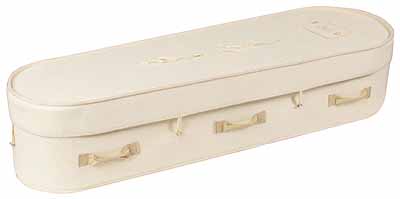 Within the Eco range is grey wicker, water hyacinth, Whitby woodland, Brighton woodland, Seagrass, Chestnut Willow and Limestone Wool. For Limestone Wool the woollen outer layer is carefully hand-fitted around a strong 100 per cent recycled cardboard frame, which is then reinforced with an MDF base; each coffin interior, meanwhile, is generously lined with organic cotton and is edged with jute before it is completed with a soft organic cotton covered pillow. The exterior is then finished with a beautiful blanket stitch detail, jute handles and simple wooden toggle fastenings. Offered through a partnership with Hainsworth coffins, the Natural Legacy Range of wool coffins are made using British wool that is expertly woven in Yorkshire.
While the Eco range provides customers with a less severe and more personalised goodbye thanks to their soft and gentle look and feel, Guardian caskets, available in both wood and metal, offers a distinctive and elegant feel to any funeral arrangement.
Having grown ten-fold over the last 20 years and expanded to more than 100 dedicated workers, the company is certain to continue this trend for success thanks to its ongoing commitment to providing a personal approach to customer requirements. By listening to the needs of clients and expanding in areas such as personalised coffins in line with market demand, the company will be able to build on its achievements without sacrificing the culture of flexibility that it has cultivated over the last 80 years. "Our ability to respond quickly to customer requirements as well as changing trends in the market is a key strength of ours that has ensured we have remained a leader in a competitive market. Over the coming years we will focus on and prepare for further growth through the addition of new product ranges," concludes Greg.
JC Atkinson
Products: Coffins and caskets