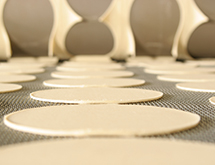 Founded in 1945, J.C. Ford has been there for all the ebbs and flows of the tortilla and tortilla chip industry. Today, it is a leading provider of automated equipment and service to the industry. "The company was a dominant supplier from the 1940s through the 1960s until the death of the founder," President Scott Ruhe says. "We acquired it in 1990, introduced new engineering and products to home in on its strengths and revitalized the company."
J.C. Ford offers state-of-the-art equipment and product knowledge to an industry that is in a growth mode thanks to the increased popularity of flatbreads and tortilla chips. It is providing solutions to companies around the world, helping them solve challenges through expanded automation and product expertise.
"We initially focused on corn tortilla equipment and have expanded over time," Ruhe says. "We have invested heavily in automation, increasing the capacity of lines, efficiency and consistency. This minimizes labor and improves the quality and reliability of the products."
Based out of an 80,000-square-foot manufacturing and design center, J.C. Ford produces equipment and solutions used for the production of corn tortillas, flour tortillas, tortilla chips, tacos/tostadas and corn cooking. Essentially, the company breaks its market down into two segments: tortillas and tortilla chips.
"One is more of a bakery product, and one is more of a snack product," Ruhe says. "On the tortilla side, there is consolidation and competition in the market. Customers are looking for higher capacity and more efficient lines. On the snack side, niche products are popping up, which has created demand for new equipment."
New Solutions
The company looks to expand its capabilities and utilize the latest design software and automated machining centers to improve the reliability of its equipment. As a result, J.C. Ford is able to offer new technology.
"We have improved product capacity and efficiency, and we are providing customers with solutions that give them more feedback from the equipment," Ruhe says. "Our service and parts departments support the equipment. We can give customers the answers they are looking for."
Some of its new solutions include an eight-row tortilla line capable of producing 8,000- to 10,000-dozen corn tortillas per hour. Also, its Sheeter TC-1600 is a high-capacity corn products sheeter that is available in widths up to 65 inches for 16 rows of tortilla chips and eight rows of corn tortillas.
Other new technologies the company has invested in recent years include the J.C. Ford Masa Mixer, which has a capacity of up to 600 pounds of wet masa. In addition, its automatic packaging systems incorporate high-speed counter stacking with smart-stage technology to move product automatically from the counter stacker to bagging. A newer solution is its Counter Stacker CSPS, a tortilla counter stacker for corn and flour tortillas.
J.C. Ford also manufactures material-handling systems for the storage and supply of raw material used in the production of tortillas, tortilla chips and taco/tostada shells. It offers silos for storage, transfer systems, and scaling and control for the management of raw materials. J.C. Ford can provide customers with used equipment options, too.
Welcoming Change
The company tries to stay close to its customers so it can respond to changing consumer tastes. It works alongside customers to develop solutions that can meet consumer needs.
"For organic products, sanitation is a major requirement, which means equipment needs to be easier to clean," Ruhe says. "Handling microingredients for forming is another area of focus. We work with the food producers to adjust equipment as needed."
Ruhe expects continued growth opportunities for J.C. Ford in the coming years. He says the tortilla and tortilla chip markets continue to grow because they are products that are consumed by most ethnic groups. The company plans to invest in new technologies and partnerships that can continue to increase capacity and improve quality.
"We just released our largest corn tortilla line, which can make 120,000 tortillas while it monitors quality automatically," Ruhe says. "With tortilla chips, we are looking at producing more efficient ovens and fryers, as well as higher-volume lines with greater controls."
J.C. Ford is  looking for ways to keep its advantage. "We see the market continuing to grow domestically and internationally," Ruhe explains. "We are fortunate to have key people here who understand this market and this machinery, which will allow us to take care of customers and develop the next generation of equipment."