Building connections
As a major investment programme comes to fruition, JDR is ready to take on new markets and new opportunities across the world's offshore industry
The JDR name first emerged back in the 1990s after the merger of UK-based Jacques Cable Systems and Dutch De Regt Special Cable, but the combined experience in the design and manufacture of subsea umbilicals and power cables spans three-quarters of a century. In 2007, the company was acquired by Vision Capital, Goldman Sachs and Management from Bridgepoint Capital, enabling the commencement of a £30 million investment programme in 2009 to develop a new state-of-the-art facility in Hartlepool. Following the sale of its Marine Cables division in 2011 and the subsequent financial injection, the past five years have been marked by significant growth.
Today, JDR specialises in the design and manufacture of subsea production umbilicals, power cables and IWOCS (Intervention Workover Control Systems) and is making strong progress across the offshore renewables and oil and gas markets around the world. Close collaborative relationships with both its customers and supply chain have marked the company out in the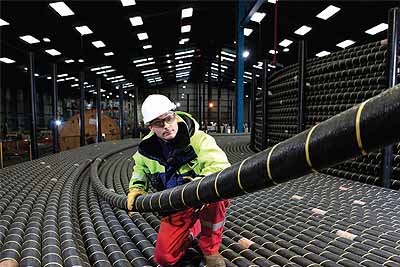 market and have resulted in an unrivalled responsiveness. "We have developed an ability to respond quickly and are very agile to the changing market needs and conditions. Because of this we have seen a number of successes," says Richard Turner, Chief Operating Officer at JDR. "With our focus on technology, our customers are recognising our breadth and depth of knowledge for offshore energy projects."
It is from this sturdy foundation of agility that the company has experienced remarkable levels of growth over recent years. In 2015 alone JDR saw a 30 per cent increase in performance levels and a similar trend is expected in 2016. "Our ability to supply leading products to both the oil and gas and renewable energy markets has been key to this success," Richard continues. "We have seen growing demand for wind farm projects and have secured a large number of projects within Europe. At the same time we continue to lead the market for IWOCS umbilicals and are growing our presence in the umbilical market through expansion into steel tube applications."
A number of important contracts have been central to achieving this level of growth, including two recent framework agreements signed with DONG Energy and Atlantis Resources for offshore renewables projects. "These are both examples of how we are entering into collaborations with customers to help develop technologies, optimise solutions and reduce costs together for the offshore energy industry," notes Richard. The North Sea market has shown particularly positive signs for JDR over recent months as well, with a number of projects delivered to leading energy companies. Richard also highlights the delivery of thermoplastic and steel tube umbilicals to the North Sea and African regions, pointing out a noticeable rise in demand for such systems as customers look to be supported with new technologies. "This has been one of the main drivers of our ongoing investment," he says.
In 2015 the company commenced the second stage of investment, with a programme to build brand new facilities in Hartlepool. The plant is due for completion later in 2016 and will be absolutely key to the future delivery of new technologies and contracts, plus the required capacity growth. "The expansion includes a facility that will house a large capacity Helical Assembly Machine for the manufacture of umbilical cables," Richard continues to outline. "We see the market moving into harsher environments and this investment will enable us to efficiently manufacture long length, high pressure, deep water umbilicals. The machine itself has a capacity of 320Te total functional components, through 16 20-tonne reels. The investment also includes the installation of new large capacity carousels and handling equipment."
Further international expansion has also been high on the agenda of JDR over recent months. In Brazil for example, the company recently became a qualified supplier to Petrobras' oil and gas projects in the region, and in Nigeria it has led the introduction of local development through the training of Nigerian nationals in the manufacture, testing and installation of subsea production umbilicals. "We have a number of service centres around the world providing local solutions to key markets and customers, so the project in Nigeria is key to helping to develop our presence in West Africa," Richard explains. "The advantage of growing this international network is key to closely monitoring and taking advantage of any growth opportunities in the future."
JDR already sees a number of these new opportunities opening up within the offshore market as it looks forward. One amongst these is the market's move towards subsea electrification, for which Richard notes the company is uniquely positioned to provide solutions given its knowledge and experience of subsea cables for both oil and gas and renewable energy power delivery. "We can provide a wide range of products and services for this market and believe that this could be a growth area moving forward," he says.
In terms of the future more generally, gearing up to become fully operational within its new facility will be a strong focus over the coming 12 months. "The next year will be about continuing to deliver our current projects whilst completing the investment programme," Richard concludes. "We have already secured work for our new machine and will be building on this through continued customer collaboration, so the future is looking good."
JDR Cable Systems Ltd
Services: A world-leading supplier of subsea production umbilicals, power cables and IWOCS for global oil, gas and renewable energy markets