Jim Andrie, President of Gartner Refrigeration, talks Covid-19, product development and keeping America's warehouses cool
Art Gartner, the eldest of the seven Gartner brothers, is arguably responsible for Gartner Refrigeration (Gartner), despite never actually being affiliated with the company. It was he who, in the early 1920s, led his brothers by example in attaining a position working for Westerlin Campbell – the era's largest York Refrigeration contractor. Each of the seven followed in his steps and honed their mechanical abilities, during what are now considered to be the formative years of industrial refrigeration.
It was initially Al Gartner who started the business, but after he unfortunately passed away, his two brothers Herb and George relocated to Minneapolis to take the fledgling company by the reins. The two formalized their partnership and officially founded Gartner Refrigeration in 1945. The end of the war had presented entrepreneurs with some less than ordinary opportunities, such as the one that the brothers first ran with. It started out as a company that installed meat locker plants, which also dabbled in hotel air-conditioning – the latter being what led to a temporary specialization in portable, indoor ice-skating rinks.
Simplicity is key
Today, Gartner offers its customers a wide range of refrigeration solutions, in terms of the design and installation of industrial systems with support for the life cycle of the system. Jim Andrie, President, expands further: "The majority of our customer base is centered in food-related industry services, such as storage, transportation and manufacturing plants. I have spent several years refining what I learned from a mentor building entire systems at a remote site. The current 12 modular compressor rooms that Gartner is fabricating will be used for warehouse air-conditioning systems, in which we're employing a relatively new technology and utilizes natural refrigerants. Despite these buildings standing at a million square feet or more, they are successfully cooled by a fabricated standalone compressor room using adiabatic condensing. This technology uses a small amount of water to cool the entering air of the condenser to increase the efficiency and avoids the use of large volumes of water. This eliminates water treatment chemical eliminates sewage treatment and the potential for legionella forming. Adiabatic condensing requires slightly more energy, as opposed to traditional methods, but there are other cost-saving benefits and it's generally a far simpler operation. Its simplicity helps with training as the industry is struggling with seasoned technicians, and we all know what the employment market currently looks like."
Continually growing
To this day, the company's corporate office still resides in Minneapolis, which houses around 45 of its total 145 employees, along with a parts department, a rebuild shop for compressors and a fabrication shop. Gartner also utilizes part of another business' manufacturing facility in Wake Park, Minnesota, in the form of a larger fabrication shop, and has a remote office in Salina, Kansas, which is set up to specifically serve customers in central Kansas. According to Jim, Gartner is always on the lookout for such opportunities and works across all 50 states.
Building on success
Regardless of its number of employees, Jim states that Gartner still strives to maintain a personal approach to managing its people: "We definitely believe in treating people like family, it's hugely important to us. A large part of our workforce is made up of a much younger demographic, there's a lot of young talent within our engineering and CAD teams, who really thrive on the team-based culture that we have created. We also like to apply this to the construction contractors that we work with out in the field. When it comes to the treatment of one another, we employ an entirely flat hierarchy between our field teams and our office staff."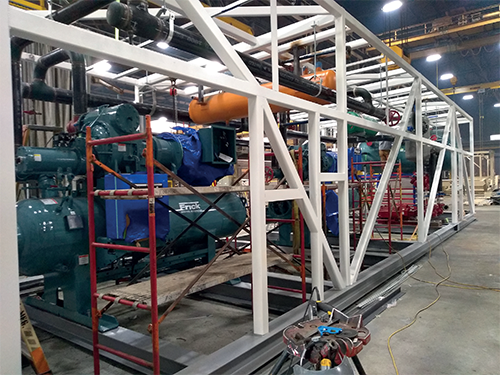 Despite the fears that circulated around at the start of the pandemic, Jim says that Gartner wasn't negatively affected by Covid-19. On account of the business being so centered around the food industry, he was fully aware that, as an essential service, it wasn't going to be closed down. In fact, when things started to lock down, he actually had to send a company-wide letter out to forewarn his teams that the forthcoming year was going to be the busiest that they had ever seen, as he details further: "Everyone was panicking that we weren't going to be able to do anything, with the new social distancing rules and regulations, and that they were going to lose their jobs, but it was quite the opposite." Due to the vast changes that our customers were going to have to implement, I knew that coming out the other side, they were all going to be in very different places to where they had been for the last two to five years.
"The majority of companies had to retrofit some element of alteration to their operations, I personally would say that I travelled more for work, during the pandemic, than I ever have before." He continues: "Some of our regular customers saw their sales increase by up to 30 percent, because people were eating more at home as opposed to out in restaurants, which was obviously great for our industry. We monitored our own Covid-19 policies very closely the entire way through, and although we had to shut down once or twice on account of outbreaks amongst the staff, we bounced back quickly every time.
"A lot of what we do is supported by electrical components, such as breakers and transformers, and although our supply chain obviously took a pretty big hit, it's starting to recover now. Electrical switch gear pre-pandemic were six-to-12-week lead times, currently this period now ranges from 52 to 60 weeks. It requires the necessity for better planning and organization. Ultimately, the past couple of years were an excellent period of growth for us."
Gartner's future growth plan is to continue expansion into new areas and an additional service outlet to cater to its customers located in central and southern US markets. With the predicted necessity in the US for a further one billion square feet of warehousing space, Gartner will continue to pursue opportunities to air-condition its facilities for the well-being of staff and quality finished products.
www.gartner-refrig.com