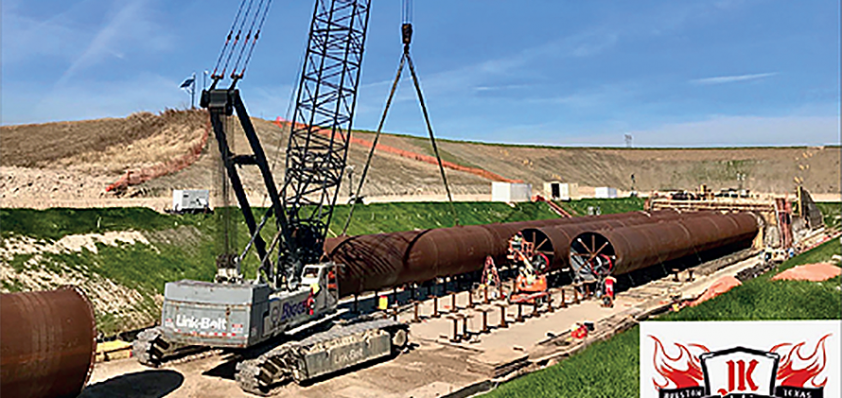 Weld as one
Starting out as just one man and developing into a custom shop that creates magnificent works of art as well as industrial equipment – the evolution of JK Welding is truly that of the American dream. Beginning simply with company JK Welding afounder John King and a single welding rig, the original inspiration behind the business was a combination of John's love of art and welding, and a practical need to increase his family's income. As a self-described 'extreme outdoorsman' John is an active hunter and fisherman, and his desire to go on new adventures meant that he needed an additional revenue stream coming into the domestic reserves. As a result, JK Welding was born. "My passion for welding, fabrication and design and making people's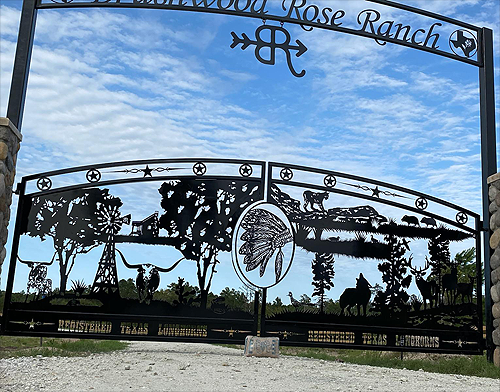 dreams come true, offsets and supports my habit of hunting and fishing, so they go hand in hand and I enjoy both of them," he said.
JK Welding grew gradually from its small origins, adding staff and equipment, and in 2008 the business was awarded what John described as its 'first big job.' "This was rebuilding the Kemah Boardwalk in Kemah, Texas, following its devastation by Hurricane Ike," he explained. JK Welding's work on the entire boardwalk was significant and this contract helped to raise the business's profile and led to further milestone projects, including the rebuilding of the 'Battleship of Texas'; a battleship that is over 100 years old, and its work on the Ringing Singing Tree in Austin, Texas. This giant, 54,000lb creation is one of just three in the world. Made from 3000 feet of six-inch pipe, it is essentially a massive wind chime that produces unique music and sounds as wind passes over the pipes. "We also designed, fabricated and created a pirate ship for a kid's water park, that we built with no drawings or sketches," added John. "This was a unique job that was constructed at JK Welding in Cypress, Texas, shipped to Miami and then transported to a private island for Royal Caribbean in the Bahamas.
"Our most recent project was the creation of a magnificent 50ft tall, hollow cross, which we designed and built for a church in Katy, in Texas," he added.
The vast diversity of the projects undertaken by JK Welding is impressive and goes some way to illustrate not just the company's willingness to think out-of-the-box but also the extraordinary level of design and fabrication skill that is needed to work on such different tasks. John gave two more examples that further highlight this point. "Early on I took a basic yellow school bus, and designed and converted it into a party bus for Texas A&M University, a very large college here in Texas. A unique piece of work, with a dance floor on the roof, it is used by the alumni and football team to travel to all the college football games.
"We have also undertaken a drainage pipe project at the Addicks Reservoir in Houston for the Army Corps of Engineering, and this two-and-a-half year project had over 10,000 inches of weld on the drainage pipes, and it was 100 per cent x-rayed and we didn't have a single fail. So, despite some challenging conditions, the team completed the job without a flaw, and also without one safety incident. It is an amazing achievement."
The Addicks Reservoir project is just one example of the more industrial side to the work of JK Welding, which includes products such as platforms and railings, oil field skids and artificial lift systems for the oil and gas industry. Its high level of in-house skills in stainless steel fabrication, sheet metal fabrication, skid packages, and the areas already mentioned are one of the factors that John identifies as what sets the business apart from the competition, but he also highlighted what else he also considers to be as crucial differentiators. "The fact that all our employees are A team players is important, as is our extremely high quality, and we also add in a fast turnaround capability.JK Welding b
"But really our ability to design, fabricate, coat, machine, deliver and then install our creations, in all three categories of carbon steel, stainless or aluminum, is what really makes us stand out as a one-stop-shop for our customers."
The staff at JK Welding number around 40, and they are a close team, with some of them having been employed since the very earliest days of the business. John is keen to encourage promotion and advancement, and he is personally still hands-on with some of the larger projects that the business undertakes. He believes that being able to add his personal touch to projects is an essential element of the success of JK Welding, and therefore doesn't want to expand the team too much, and risk losing this component.
John is also very happy to share his knowledge and expertise with those rising up the ranks, as the older generation trained him previously. He noted that today's welders benefit from new technology which makes some of the work easier – but while equipment gets younger and more innovative, the older generation with the widest range of welding skills and knowledge are retiring, making recruitment a challenge.
"I feel like welding and fabrication and the art side of it is a dying trade, I really do," John admitted. "There is more to welding than just laying a bead of weld, and there are not as many creative people out there that there used to be."
In order to inspire more of the next generation, John dedicates a lot of his time attending welding events and competitions in Texas high schools. "I help, support, engage and inspire these young guys and girls, that are coming up from High School and want to be welders," he said. "I have positioned myself as a mentor along with many other welders, and the kids who want to
become welders, look up to us, whether they want to be extremely creative and produce art pieces, or just those that want to be very good welders. I donate a lot of my time, equipment and tools to these kids to inspire and get them down the right path."
John's ability to inspire these high school children is something that he also shares with others, through his community speaking work and writing on leadership. When asked what he considers to be an essential trait of a great leader, he cited confidence as of the utmost importance. "Being confident can open up a lot of doors and having the confidence to make quick decisions and trust in your own ability is really key to being successful," he stated. "But I do also believe that you have to furnish your team with the right equipment as well, as for any kind of job success the right leadership is nothing without the correct tools. These two have to work hand-in-hand if you are to pass all the requirements of a job with flying colors."
Thanks to the management approaches and strategies adopted by John, he has created a tight-knit, family-oriented company that champions respect and rewards hard work. John strongly believes that once employees clock out then JK Welding ctheir family time is precious, and any team-building or company events take place during the day in order to reflect that. "I value the time of everyone, so if you get a phone call it after hours then you know it is for something critical – it's important for my staff to know that I respect their time," he added.
As you would expect from his attitude and approach, John has been very keen to ensure his staff were safe during the Covid-19 period – not just in the workplace itself, but safe in the sense of maintaining employment in a situation where welding companies were experiencing a downfall in business. Once again illustrating JK Welding's ability to think imaginatively, the company took 65 ISO tanks that needed internal repairs, set them out inside the shop and created each tank as a safe working environment for an individual welder. "We were able to segregate all our employees into their own tank environment, with each tank having its own entrance/exit and with added air conditioning in the warmer months. This allowed us to have social distancing with each employee inside each tank, keeping them productive and working and filling a gap in our overall workload, too."
The ISO tank project is now part of the extraordinary portfolio of work completed by JK Welding, and while it was more of an industrial contract than an artwork, John truly believes that everything completed by the business is an 'art piece'. "I have always been more favorable to the creative and design side of fabrication, whereas many people think of welding as wrought iron fences or bull bars, I believe that welding is an art, regardless of what it is. I think that is why a lot of the jobs we undertake are unusual – they are most definitely eye-catching, attention getters."
Staying on the theme of welding as an art brings us to a company John purchased a year and a half ago, called Trails West Gate Company. "These guys design and manufacture entrances and gates for big ranches, and a lot of these gates feature big wildlife scenes in them. So, the artwork there is extraordinary and that business is booming right now so we are very blessed."
Having described how his company and ethos works, it is plain that over the past 15 years, John has created not just a thriving business, but also a strategy for continuing success in the future. Keeping the personal touch, prioritizing quality, speed and craftsmanship above all else and providing one build, one invoice, one contact and one number and have combined into a very successful package. "We have little stickers that we hand out at welding events," John concluded at the end of our interview. "It says Weld as One and that is what we believe we do, we Weld as One."
JK Welding
Services: Custom welding and fabrication services
https://jkwelding.net
www.trailswestgateco.com
https://m.facebook.com/jkweldinghtx
https://www.linkedin.com/company/jk-welding-llc/
https://www.instagram.com/jkwelding/