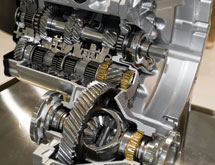 JL French Automotive Castings Inc
From 1968 to now, JL French Automotive Castings Inc. has turned from a garage business into a global entity. The vertically integrated and independently owned leading global supplier of high-pressure aluminum die cast components serves Tier 1 automobile manufacturers such as Ford, Chrysler and General Motors and Tier 2 companies including Magna, Getrag-Ford-Transmission and Nexteer. With six manufacturing facilities – two in its headquarter city, Sheboygan, Wis.; two in Glasgow, Ky.; one in Etxebarria, Spain; and a joint venture in Chongqing, China – the company employs 90 die-cast machines around the world ranging from 400 to 3,500 tons.
In 2011, it logged half-a-billion dollars in revenue and projects $700 million in revenue for 2012 – a stark difference from the $286 million in revenue and $310 million in debt that sacked the company in 2009, the year in which a great product was no longer enough for survival.
"JL French is the classic comeback kid," explains Tom Musgrave, chairman, president and CEO. "We were definitely in crisis. Two of our largest customers, Chrysler and GM, were themselves in bankruptcy and production was at a 20-year low."
The Year of Planning
The company brought together its internal operations, customers and creditors and devised a plan for immediate survival and long-term success. JL French was able to convert $258 million of debt into equity and convert revolving credit into term loans. It took the company's $310 million of debt down to $60 million of debt.
At the same time, the company spoke with its customers and "came up with agreements that they would continue to source business from JL French and how they would give us enough runway to fix the business and help us with new business," Musgrave explains.
The last step was to sit with the company's employee bargaining committee for some difficult discussions on reducing costs. The company went from 2,000 to 1,200 employees and changed work schedules. Every expenditure was scrutinized to slow the flow of cash and stem its losses. It reemerged from bankruptcy within75 days.
The Year of Progress
The company survived 2009, and in 2010, the volume came flooding back in. Sales were up 75 percent from the previous year. Because business ramped up quickly, JL French had to hire back up.
Its vertical integration process helped in quickly turning around quality products. As a process manufacturer, JL French develops the machines and processes that make custom-designed products, such as transmissions, engine blocks, steering systems, chassis and torque transfers, and it does it all in-house at all six of its facilities.
Starting with the raw materials, instead of purchasing finished aluminum, JL French is able to purchase lower-cost raw materials and use its own smelting process to purify and extract the aluminum from scraps to get the proper alloy mixture. After performing high pressure die-casting, JL French also machines and assembles components when needed. The in-house process allows for better communication, more quality control and faster cycle times resulting in a better product.
Years of Prosperity
The company's 2011 nomination as one of Wisconsin's Manufacturers of the Year proved that JL French's quality manufacturing process and operations were in healthy states.
New business continued to roll in. Ford awarded the company with production of the new Ford six-speed front wheel drive transmission case and related converter housing, which will be used in vehicles such as the Escape, Fusion, Edge and Explorer. This year, the company was awarded the same contract in Chongqing. JL French also was recently awarded the contract to produce the I4 engine block for GM and the I4 engine block for Hyundai.
JL French has been able to invest in itself and is working with third parties to improve its lean and continuous improvement projects and using the Six Sigma Stage-Gate approach to launching new products. The company also continues to adhere to its ISO 14001, ISO TS 16949 and ISO 9001 certifications to ensure consistency in product and turnaround time in all of its facilities.
Those investments will continue in the coming years as JL French joins a new family. The company recently announced a new parent company – Nemak S.A de C.V. The $3.6 billion company is a good fit for JL French. Nemak focuses primarily on engine blocks and cylinder heads while JL French is primarily a transmission supplier. Their global footprints are also complementary. JL French operates primarily in the Midwest, western Europe and western China, while Nemak operates in the Northeast and western United States as well as eastern Europe and eastern China.
Musgrave explains that joining Nemak will set the company up for stability if another "2009" should hit. Still, he's impressed with JL French's ability to make it out of the storm.