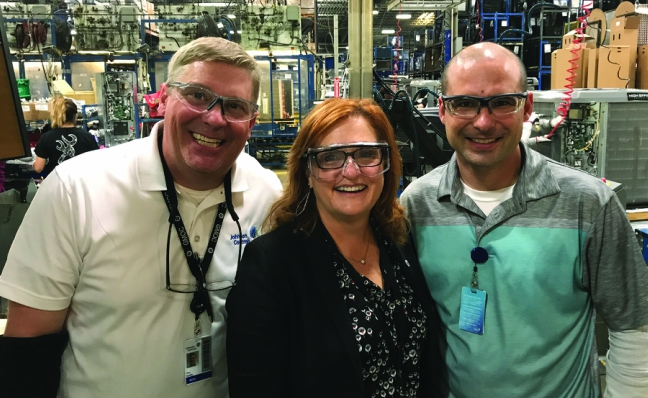 Johnson Controls – Wichita Plant
You don't manage an award-winning plant by resting on your laurels and stagnating. Johnson Controls knows this first hand because its Wichita, Kan., plant has evolved by undergoing a manufacturing journey over the past seven years.
The plant is the home of the company's Unitary Products Group, which specializes in residential and light commercial heating, ventilation and air conditioning (HVAC) products. HVAC products from Johnson Controls include energy-efficient, residential central air conditioners, heat pumps, furnaces and accessories and innovative light commercial, packaged heating and cooling systems. The location's focus has made it the "largest non-aircraft manufacturer in Wichita," declares Liz Haggerty, the vice president and general manager of the Unitary Products Group.
In 2010, the plant began revitalizing its operations. This included new investments in R&D and expansion that gave it more capacity to build and test new products. The process was a monumental undertaking for the company and was accomplished thanks to the hard work of its employees.
Johnson Controls takes great pains to empower its employees, an approach that has led to the creation of high-performance teams, Plant Manager of the Unitary Products Group Mike Richardson says.
The teams meet on a daily basis and employees can discuss business results, as well as how to improve operations. So far, the company has received hundreds of great ideas, including many focused on on reducing waste in the manufacturing process. These have involved scrap reduction, efficiency improvements and machine maintenance.
Far from Finished
Johnson Controls has enjoyed growth at the Wichita plant for the past two years. The location grew its workforce by 37.9 percent, which increased its staff to more than 1,600 workers who design, engineer and manufacture residential heating and cooling products.
The location also completed an expansion that included the addition of a life-testing facility that can simultaneously test up to 24 outdoor systems. This allows the company to simulate a five-year product life in four months with real-life temperatures, weather and voltage conditions.
And the company is not finished. "[We have] still a lot of work to do," Vice President of Manufacturing Operations Kevin Pollard says. This includes making the location more environmentally friendly.
Recently, the plant earned certification in Occupational Health and Safety Assessment Series (OHSAS) 18001:2007. This standard includes requirements for health, safety and the environment. Along with the Johnson Controls Manufacturing System (JCMS), this includes items such as energy reduction, pollution controls, landfill reductions and significant training for our employees. All the objectives are monitored and audited by a third party for both OHSAS 18001:2007 and JCMS.
In addition, the plant aims to increase its status on Johnson Controls' own Manufacturing System Maturity Model. While the location currently sits at a Level 3 status, it wants to increase that number to Level 5.
Manufacturing excellence within the company is defined as achieving and maintaining level 3+ maturity. There are 554 Manufacturing Practices (MPs) that must be successfully met for level 3. In order to increase the plant's maturity to level 5, an additional 307 MPs must be met.
A Driving Force
Wichita Business Journal recently honored the plant with its Manufacturing, Wholesale & Distribution Award for the second year in a row. In 2016, the company won the award in the Research and Development category, and this year it received it in the Job Growth category.
"We are pleased to again be honored as a driving force in south-central Kansas, especially when it comes to creating jobs that support people in the Wichita community," Haggerty said in a statement. "We strongly believe the investments we continue to make in our Wichita plant are investments in the Wichita community, as well.
"It's gratifying to know others recognize our commitment to the people in this area and our ongoing efforts to be a good and responsible neighbor," she added.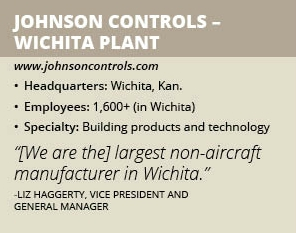 Richardson accepted the award in August with Steve Tice, the vice president of the group. "To be named to this group of honorees for the second year in a row is a real privilege," Tice said.
"And the impact of the work we do doesn't end here in Kansas," he continued. "We've also added new distribution partners with approximately 100 new locations around the country as we continue to grow our business, always with the help of the Wichita community."
Strong Support
Wichita Business Journal also recently announced that winners recognized in its Human Resources awards program included Brandi Richardson, a senior human resources generalist at Johnson Controls. A six-year veteran of the company, she is involved with leadership, communication, consultation and relationship management.
"We are pleased to have Brandi be recognized as an HR professional who helps drive our company to success," Haggerty said. "Brandi consistently demonstrates an ability to drive results in support of organizational objectives while maintaining a focus on the personnel whom she supports."
Johnson Controls also has recognized her talents. When Johnson Controls partnered with the Kansas Leadership Center, it selected her to participate in the first series of training sessions based on her future growth potential.
"Being on a team that helps create jobs that support people in the Wichita community is both rewarding and fulfilling," Richardson added. "I also try to continue my support of the community outside of work through involvement with local charities like the United Methodist Open Door, Habitat for Humanity, and The Health and Wellness Coalition of Wichita."
Sound Advice
The Wichita plant's longtime team members include Mike Richardson, who has 23 years with Johnson Controls. After all these years, he recommends that people who are new to the industry get to know the processes involved. "Understanding the plant processes plays an important part in knowing where you can have a positive impact in your role. I started in the plant and it has been helpful in my career," he says.
Pollard, who has 17 years with Johnson Controls, recommends that new employees be curious. "[They should be] learning everything [and be] interacting with everyone," he says.
Haggerty, who has nearly five with Johnson Controls, also recommends that they be curious and listen. "[They need to] spend time on the line and learn and grow," she says, noting that the daily interactions with other workers can be beneficial.
Going Forward
Members of Johnson Controls' Wichita plant will be appearing at the next AHR Expo in January. The company will be featuring products at the show that it will announce closer to January. The event, which will be held in Chicago, will feature more than 2,000 exhibitors and 65,000 professionals from around the world.
"The show provides a unique forum for the entire HVACR industry to come together and share new products, technologies and ideas," AHR Expo says. "Everyone from major manufacturers to innovative new start-ups will be there, so [attendees] can see everyone and everything all in one place."
Product Partners
Johnson Controls' Wichita, Kan., plant works closely with its location in Norman, Okla. According to the company, both are committed to using North America-produced items, which gives them a competitive advantage.
The Norman plant has been recognized for its work. According to The Norman Transcript, the Norman Chamber of Commerce awarded the location with its Greenovation Award.