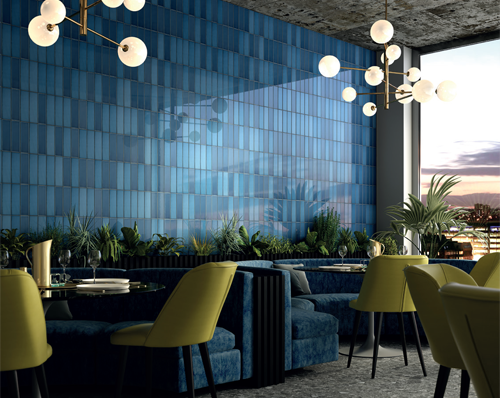 The green tile
By bringing together innovation and sustainability, Johnson Tiles is reinventing the possibilities of climate neutrality in British manufacturing, while continuing to produce chic and contemporary tiles
Johnson Tiles has been part of the ceramic manufacturing industry for 120 years. Its bespoke and intricate tiles are color-centric and cut to bring a fresh element to residential, public and working spaces. With over 100 ranges, the business's portfolio is vast and inspiring. "Minton Hollins is our heritage range. There are some beautiful designs and exceptional colors harking back to the Victorian era," begins Marketing Director, Richard Kelsall. "Jumping forwards to more modern-day designs, we have Savoy and South Bank, which are variable dipped collections. These ranges really bring depth of color to life, as each base tone showcases a range of shades, to demonstrate movement through a mix of light, mid and dark hues. Then we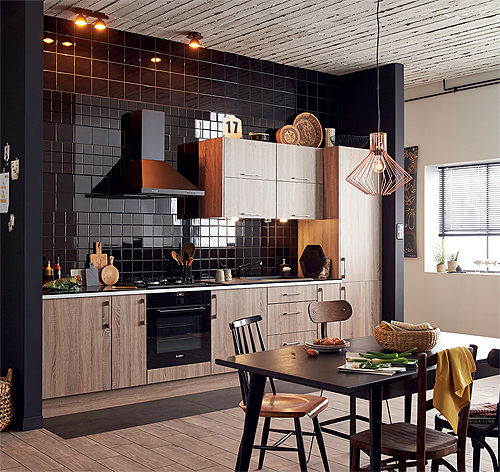 have our flagship range, which is called Prismatics," he says. This particular collection consists of over 60 gloss and satin shades that span across the color spectrum. We speak with Richard about the uniqueness of Johnson Tiles' products and the impressive measures the business has in place to help it achieve its climate neutrality goals.
So well-known is its name, that the company has tiled walls for the likes of the London 2012 Olympics, the London Underground and the Palace of Westminster, but being able to create detailed tiles takes impressive infrastructure that the British company has continually aimed to invest in and develop. According to Richard, the manufacturing process is one that requires sturdy machinery to produce refined tiles with a sleek, modern finish. "In 2001, we relocated to our current state-of-the-art facility, which has the capacity to take all our UK-sourced raw materials, such as clay, sand, and limestone, and manufacture them through to a boxed product, all of which can take place without a human touching the product. We start with carefully adding the raw materials into the hopper and calibrating them according to our special formula. The dust is then pressed into the tile format and sent down the dipping lines for various decorations. After this the tiles travel to the kilns, before going through selection where they are packaged, ready to go to the warehouse."
These successful products are supported with a manufacturing strategy that embraces sustainability, with the business embedding a climate neutrality approach to its operations. Back in 1997, the company was recognized for its pioneering ceramic waste recycling scheme, which continues to prevent over 20,000 tons of ceramic waste from being tipped into local landfills every year. Having been the recipient of the Queen's Award for Environmental Achievement for this strategy, Johnson Tiles is a long-standing leader in tile waste sustainability.
Sustainability goals
Most recently, Richard highlights that the business has become the first tile manufacturer to completely eradicate single-use plastics. Although the manufacturer faced many internal and external obstacles, it utilized these challenges as fuel to achieve its goals. "We had people saying that it could not be done, but that just made us more ambitious to make it happen," Richard shares. Success in this venture is owed greatly to the team who were all equally as excited to jump on board with the company's visions to minimize its impact on the environment. "We approached over 100 different suppliers, persevering until we found a specialist packaging partner who was able to join us in this venture. Our new sustainable alternative to plastic shrink-wrap is made from the waste from sugar cane farms, making use of a byproduct that would otherwise be discarded," he says. "We also addressed our box packaging and by making adjustments to the cardboard, we now have 100 percent recycled and recyclable cardboard boxes that use the same material as our cardboard pallets," he says.
On the issue of environmental friendliness, Richard strongly believes that to achieve the UK's net-zero vision, the country's business sector needs to be dedicated to participating actively, which is why Johnson Tiles is choosing to lead by example and let its actions speak on behalf of its efforts. "Our sustainability goals make use of knowledge not only from our own industry, but from far and wide to achieve real changes in energy, efficiency and carbon reduction. This will build on the many successful achievements already in place and reinforce our position as environmental and sustainability leaders in the UK. We are about to embark on a long-term net-zero carbon consultancy partnership, and we are excited about the potential benefits this will bring to operation stakeholders, and ultimately the environment we all live and work in," he declares, further noting that innovation of this magnitude is what has enabled the business to excel, with Johnson Tiles now the only large-scale tile manufacturer in the K.
"I think it's sad for British manufacturing that there is a heavy dependence on importing, but there's nothing more sustainable than us designing and making in market, rather than bringing in resources from overseas, where products are likely to travel ten times further or more and as such, have a greater negative impact on the environment," Richard says.
To buttress his stance, the business boasts of the fact that all raw materials used to produce its tiles are sourced from the UK. "Of course, we're a proudly British product. Our ball clay comes from Dorset, china clay from Devon, sand from Cheshire and limestone from Derbyshire. Then there's what we call the pitcher, which is our recycled tile contingent. In terms of any tile that we make, up to 20 percent of the actual body recipe is made up of recycled tiles. We utilize the 'no fault forward' approach. For example, instead of wasting resources, say if there's a tainted decoration, or a tile hasn't been pressed correctly, we take the flawed products off the line automatically and send it straight back to the start, grind it down and then push it back in as part of a new mix – it's really cool. We work very closely with suppliers overseas as well to gain innovation for our operations and I believe that we have truly grown in our color and design abilities, which is what has really set us apart from other tile manufacturers. Our ranges are exceptional," explains Richard.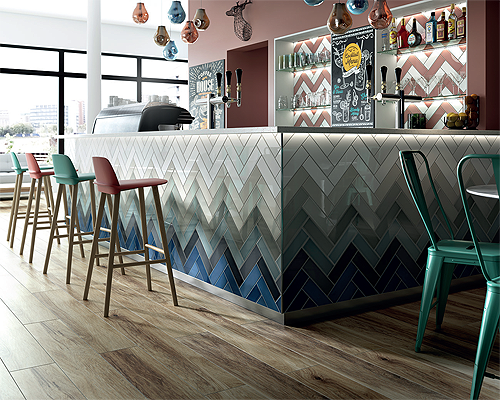 Design trends
Recent developments have allowed its designers to experiment with more refined finishes by using dry powders and applications, adding lustrous effects, and creating handcrafted textures. This is because the company is determined to produce tiles that are visually pleasing and provide unique tactile surfaces. With this in mind, Johnson Tiles is in the process of bringing together a nature-inspired product launch that is set to be released in July, which will target house developers and the residential market. One of the ranges, Haven, consists of a surface profile akin to cross-cut stone. "It reminds me of the way the sea would wear away at the rocks on the shore," says Richard.
"Our designers are thinking first and foremost about the UK market and they incorporate colors that are absolutely superb and really align with market trends and beautiful glazes that are popular in our sector. It's something that we're really passionate about," Richard explains. As a result of the pandemic sending office staff into the confines of their homes, Johnson Tiles has drawn its inspiration from the demand to bring the outside environment into personal living spaces.
Its passion for the natural world and a keen eye for color is what made the business the perfect partner for the 2014 Blood Swept Lands and Seas of Red Installation, which was held at the Tower of London to commemorate the First World War centenary. "We were so honored to be involved in that art project," says Richard. The installation required Johnson Tiles to manufacture hundreds of thousands of red ceramic poppies that were then placed to cascade from the Tower of London onto the surrounding garden. "We worked very closely with the artist Paul Cummings. That was amazing to be part of and we felt very proud indeed," he shares.
Moving forward, Johnson Tiles remains steady on its path to achieving net-zero within its operations and staying innovated to produce tiles that are reflective of the contemporary trends that British citizens love. With a driven team and high class facilities, the business is hoping to continue doing what it does best for another century and more. "There are some incredible competitors in this sector and they keep us on our toes and push us to be better, which I think we are achieving. We have a brilliant team and each member is dedicated to being part of our journey and, above everything, this is what we are most proud of," Richard concludes.
Johnson Tiles
www.johnson-tiles.com
Services: Tile manufacturers