Johnston Sweepers – A Bucher Company
Sweeping up future success
For over 75 years, Johnston Sweepers has been manufacturing road sweepers in Dorking, Surrey. Today, it is a global market leader in its field and, as part of Bucher Industries, is working to shape its future through the incorporation of innovative technologies
Having first joined Johnston Sweepers (Johnston) back in 1981 – initially as a trainee engineer – the business' Engineering Director, Clive Offley, is as well placed as virtually anyone to discuss the considerable changes that this world leading manufacturer of outdoor surface cleansing equipment has undergone over the years. Indeed, one of the most significant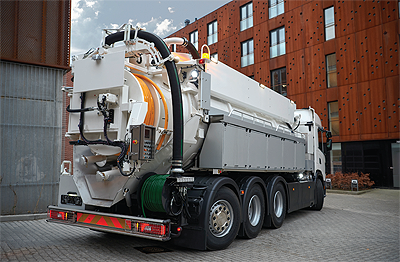 developments to occur in the company's recent history came just a couple of years after Clive took on his present-day role overseeing the engineering of all of the company's products, when it was acquired by Swiss-based Bucher Industries, whose products include road sweepers, winter products and airport cleansing equipment, in March 2005.
Since said purchase, moves have steadily been made to integrate Johnston into Bucher Municipal, the group's second largest division. "In 2014, we took the decision to consolidate all of our activity into our Dorking site," Clive begins. "Then, in 2018, it was announced that the company would be moving to rebrand all of its equipment over a period of several years under a single name, in this case Bucher. This rebranding is currently underway across Europe, America, Australia and the Far East, and our work will lead us into the IFAT 2020 trade fair for environmental technologies in Munich in May of next year, where a single Bucher stand will be presenting the combined group's many different products."
British designed and built, Johnston's road sweepers are today found in more than 80 countries, helping to keep city streets clean in London, Dublin, Paris, New York, Moscow, Melbourne and Bangkok, to name just a few locations. As well as being famous for producing the most comprehensive range of sweepers and sweeping equipment for a diverse range of applications, since its merging with Bucher it has also added a number of other strings to its bow.
"In addition to our sweepers, we are now also selling an impressive range of winter equipment in the UK, which we are also mounting to our existing lines, that originates in Bucher's Italian and German factories," Clive continues. "Furthermore, we are also seeing increasing traction as it relates to the sale of products from another of Bucher's subsidiary businesses, in this case the sewer cleaning tankers produced by Hvidtved Larsen, which we are excited to see being incorporated into Johnston as one legal entity."
For Clive and the rest of Johnston's engineering team, the last few years have also been the backdrop to a number of exciting technological advances, beginning with the introduction of a completely new range of truck mounted sweepers in 2018, designated under the codes VT502, VT652 and VT802. "Prior to the launch of these new sweepers, myself and my team spent an extended period of time working closely with our customers to see how we could improve our already successful truck mounted products," Clive reveals. "This was a particularly useful exercise, and one that allowed us to embark upon an 18-month project that saw us literally go through our entire range of machines and make improvements and upgrades. These have included both internal changes, such as strengthening the inside of the body and installing an RC transmitter to tip the hopper remotely, and cosmetic improvements such as providing USB chargers and even cup holders within the cab."
A separate area of focus that Clive is very keen to discuss has been the work of the company to develop electric vehicles. "As it stands today, it is not possible to purchase an electric truck from any of the major manufacturers, yet we know from our own experience that there is a great deal of interest in their potential, particularly from the various local authorities that we sell to," he says. "With this in mind, we decided that it was necessary to move ahead, to a degree, of the manufacturers and take a lead in examining the possibilities."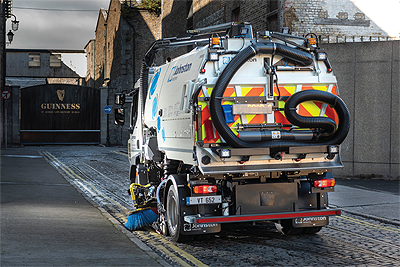 Taking a DAF truck, Clive and his team working in partnership with a specialist company experienced in electric drivetrains stripped out its engine and gear box, converting it into a fully electric drive, before then also removing the diesel engine that drives the company's sweeping equipment. What took its place was a series of high voltage high performance electric motors, powered by a lithium ion phosphate battery-pack that could power both the chassis and bodywork, meaning it had on its hands an electric truck with a mounted sweeper that retains the same dimensions, wheel base and payload, yet is zero emissions at point of use.
The result of Johnston's work in the field of electrification was the creation of its pioneering new VE652 fully-electric truck mounted sweeper, also known as EVIE (Electric Vehicle/Intelligent Electronics). Ideally suited for municipal use, with its clean-air and virtually noise-free operation, the response to EVIE has already been outstanding, with the vehicle helping Johnston to its winning of the 'Bodywork Innovation of the Year' award at the 2018 Commercial Awards, and its shortlisting in the category of 'New Mechanical Product of the Year 2019' at the British Engineering Excellence Awards (BEEA).
"Alongside helping to influence chassis manufacturers, this experience has given us the opportunity to gain a greater understanding of how to electrify our various parts and to become more comfortable with the technology," Clive details. "Now, moving forward, we anticipate a strong level of demand from the market, certainly here in the UK, for vehicles like EVIE, and that has given us the confidence to move into small series production. At present, we are gearing up for the start of production with the first units planned to be completed by the year end."
With the ongoing intake of new product lines from Bucher and its subsidiary businesses, as well as Johnston's own new product development, it is perhaps no surprise that one of the company's main aims for 2020 is to invest heavily in its factory in Dorking in preparation for a higher volume of municipal vehicles. "Back in 2014 – following the purchase of a spare piece of land adjoining our site – we constructed a brand-new building at the cost of approximately £11 million. We will now be adding to this further with a large new building planned for these additional products as well as adding new equipment in the form of laser cutters and various other machinery which will arrive throughout the course of the next 12-24 months," Clive states. "On the product side of things, we clearly have high hopes for our electric vehicle innovations, however we also have a number of new developments taking effect across our core range of sweepers that we are excited about, for instance the addition of full width, rear suction, high pressure washing systems that allows for a road to be brought 'back to black' before tarmac is laid.
"Finally, market wise, we are optimistic that the confidence we have experienced in recent times remains high. The last four or five years in particular have been great for Johnston, and long may that continue!"
Johnston Sweepers – A Bucher Company
Services: Road sweepers and surface cleansing equipment