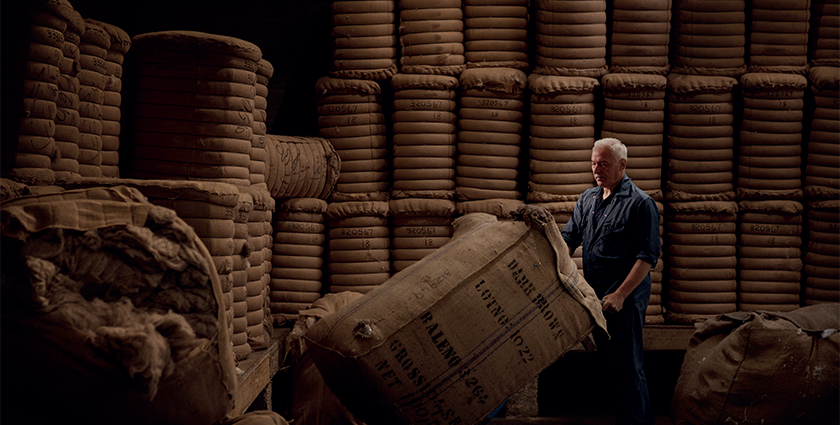 Centuries in the making
Blessed with a more than two-hundred-year heritage, Johnstons of Elgin is looking to cement its name among the top luxury British brands in wool and cashmere
It was in 1797 that Alexander Johnston first established the Elgin mill, nestled majestically amid the Scottish countryside on the banks of the river Lossie. In doing so, he displayed the entrepreneurialism and innovation so characteristic of the early industrial revolution, and launched a legacy of high-quality textile manufacturing that continues more than 200 years later.
Today, Johnstons of Elgin (Johnstons) is a global leader in cashmere and woolens, sourcing only the finest raw fibers available and supplying the world's top luxury brands. It's a business that's profited in recent years, as demand for shorter supply chains and authentic, sustainable manufacturing stories has encouraged brands and consumers away from overseas alternatives, and back to the UK.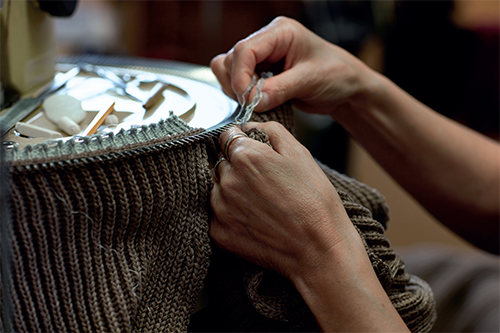 "Perhaps the most distinctive part of our operation is that we are fully vertically integrated," says Chris Gaffney, CEO of Johnstons, when speaking to Manufacturing Today. "We can buy the fiber, cashmere, and wool, and undertake all the processes, from dyeing, through yarn manufacture, weaving, finishing, and sewing, all in our mills in Scotland."
As direct purchasers of the raw fiber, Johnstons is unrivalled when it comes to the quality control of its inputs. "We can also follow that quality through our mill processes and quickly feedback any issues," Chris adds. It's this that allows the company to carefully manage its environmental and social footprint – a valuable asset when appealing to private label customers.
Despite its history, Johnstons is no stranger to innovation. As is typical of luxury fashion manufacturers, approximately half of the company's products are new each year. As a result, Chris says, "there's always something happening," with new blends of fiber, recycled fiber, and new construction techniques consistently brought on board to deliver new and improved textures, or alter hand-feel.
But to push the boundaries demands cutting-edge technology. "Our two mills in Elgin (weaving) and Hawick (knitting) have very close partnerships with key equipment vendors," he tells us. "Our knitting machines, for example, are manufactured by Shima Seiki in Japan. We're very proud to be one of their key partners in Europe.
"We recently opened a new research and development center at our Hawick knitting mill," Chris goes on. "In doing so, we've been able to move our creative and technical teams into the same space, allowing them to work more closely than ever in finding innovative ways to create beautiful knitwear, in the most efficient way. In our Elgin mill, we've also been investing in up-to-date weaving technology, and in lighter weights and jacquards that allow us to do more with pattern and branding."
When it comes to product development, Chris is keen to emphasize the work of the company's expert design team, who collaborate closely with private label customers to deliver luxury results. "It all starts with our designers," he confirms. "Some customers might come with fully formed ideas, but for the most part, it's about marrying our designers' technical and aesthetic skills with the customer's vision for their brand.
"For our own line, we of course have free rein to experiment, and we find that the combination of private label and Johnstons brand generates a multitude of creative ideas," Chris continues. "Of course, these designs have to be converted into commercial pieces, and our creatives work very closely with operations and technical to make sure that we can reproduce the ideas generated in our mills."
Johnstons celebrates its 225th year in 2022. As Chris's comments suggest, it's a milestone that would never have been achieved were it not for the hard work and dedication of the company's employees. "We are a craft business, so everything depends on the skills of our people," he confirms. "As a family business, we also feel a deep responsibility and care for our teams. Training and development are really important, particularly given the historical decline in textile skills within the UK. We therefore award our own apprenticeship qualifications, certified by the Scottish Qualifications Authority (SQA), and we pay the living wage as a minimum.
"At the same time, I think our teams take a lot of intrinsic motivation from seeing the output of their craft, the brands that we sell to, and the quality of our Johnstons products, and they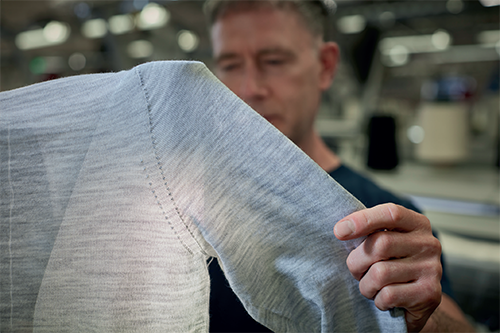 are rightly proud of what we do," Chris insists. "We have a lot of people with long service, and there is a sense of camaraderie in our teams that comes from working with your friends and long-time colleagues, solving problems together, passing on your skills, and making beautiful things."
In 2020, the retail sector was hit hard by the arrival of Covid-19, and Johnstons was no exception. Nevertheless, these same teams responded to the challenge of the pandemic, helping the company to bounce back with an impressive performance in 2021.
"Whether it was enforcing social distance, mask wearing and hand hygiene in our mills, or working from home, our people showed the willingness and resolve to do what was needed," Chris reflects. "Our sales dropped significantly in 2020, but we recovered well, and now have more people and higher sales than pre-pandemic. We've learned that we can work in a different way in some areas, though flexible or home working clearly has its limits in a manufacturing environment."
Business has largely returned to normal post-pandemic, but it's not all plain sailing. As demand for products soared throughout 2021, supply chains stretched to breaking point. To navigate the impending delays and extortionate lead times, Johnstons has relied upon a set of robust supplier relationships.
"Whilst we are vertically integrated, there are times that capacity constraints or bottlenecks mean that we work with other UK or EU mills to support us," Chris admits. "Where we do so, we need to know that the quality and other standards are up to the mark, so we try to build long-term relationships. The UK textile industry is having a bit of a renaissance and we're very proud to work with some great companies that survived the period of contraction. Outside of the textile industry, we also have great relationships with various companies in the nearby area. As a fairly large local employer, we know how important it is to source from our community wherever possible."
With textiles once again on the rise, the hope for Johnstons is that the good times will continue. "We have room to grow, and I'd like to see that growth come alongside creating more quality jobs at our mills in Elgin and Hawick, with high levels of training, and adding real value to our products." Chris concludes. "Our brand is still a bit of a sleeping giant, but we already produce goods for many of the top tier luxury brands. We have everything it takes to become one of them in the years ahead."
Johnstons of Elgin
www.johnstonsofelgin.com
Products: Luxury cashmere and woolen textiles