Jotun Paints (Europe) Ltd
A  areas covered
With a long history as a leader in marine and protective coatings, Jotun Paints (Europe) Ltd sees looking after its people as essential to a bright future
In 1832 Henry Clark and Sons established a small factory in Reading manufacturing marine paint. Over a number of years, steady growth, aided by prestigious accounts with the Royal Navy and Cunard Line, saw the company move premises twice, eventually ending up in Brighton in 1956. Meanwhile, Norwegian paint manufacturing firm, Jotun, saw its opportunity to gain access to the international shipping industry and obtained shares in the company in 1971, completing a merger in 1974 to create the newly named Jotun-Henry Clark Ltd. This move enabled Jotun to develop its range and become one of the largest marine coatings manufacturers in the world. In 1989 the company moved its production facilities to a brand new factory in Flixborough, North-Lincolnshire and a year later had produced ten million litres of paint with 30 employees. Today, the now named Jotun Paints (Europe) Ltd, employs around 220 people across all departments in the UK and is part of the truly global Jotun company, one of the world's leading paint and coatings manufacturers. "In the UK, we are now market leaders in the marine segment and rapidly growing to be a key player in the protective segment," said Marianne Terland Nilsen, MD for UK and Ireland. Whilst the global company has sales offices in 68 countries around the world, the UK division supplies its main markets in the UK, Ireland, Holland, France, Germany, Poland, Russia and Brazil.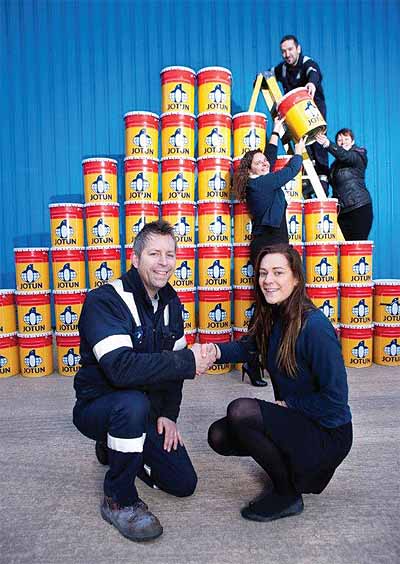 Jotun's vision is 'Jotun protects property', and it achieves this across four sectors: marine, protective, decorative and powder. In marine, its coatings are aimed at protecting vessels against corrosion and fouling in the sea, but its hull performance solutions also aim to increase energy efficiencies. Protective paints are supplied to protect structures such as building, bridges and oil platforms against fire and corrosion, whilst the powder and decorative divisions provide solutions for interior and exterior protection against corrosion and environmental factors. Notable applications of Jotun paints and coatings include the Burj Khalifa, the Eiffel tower, 'Freedom of the Seas' cruise ship and the Queen Mary. Whilst most research and development projects happen in Norway, regional departments are also in place to create a number of solutions. Marianne explains that: " Our colleagues in the R&D department have developed new-state-of-the-art intumescent products. I am very proud and happy to share that these new products are produced and delivered from us in Flixborough. To make this possible we have invested in dedicated production and filling equipment." It is clear then that the UK operations of Jotun make a significant contribution to the organic growth strategy shared across the global company developing innovative products to expand new sectors.
Jotun's strategy is to grow organically to develop new and existing markets, with a global view and a regional focus. In the UK, the company fully embraces this spirit as it continuously invests in and develops its facilities and people to achieve growth. Jotun prides itself on employee care and has created the Jotun Academies scheme, an umbrella of internal training programmes covering aspects of management, sales, finance, marketing and operation within the business. "Our employees are our main asset and we strive to give them the best opportunities for training and development," highlights Marianne. "It is a great experience and opportunity for an employee from the UK to travel to Dubai or Shanghai for training. It also gives us the best opportunity to share knowledge between regions and sites. This is also well aligned with our corporate values: Respect, Care, Loyalty and Boldness."
Aside to this highly focused approach to employee development, the UK division also invests in improving its facilities to the benefit of its people. Marianne tells Manufacturing Today Europe: "In the last year, we have invested in our offices and admin building to make sure our people have a modern and nice working environment. In the upgrade we have tried to reflect our working processes and create a working environment that encourages and improves communication, co-operation and teamwork. It is great to feel how the atmosphere has changed – and to see a lot of happy faces." It has also made investments into new HVAC technology within the production facilities to improve employee comfort. Other areas of investment are aimed at improving the production line. The factory in Flixborough was originally set up as a traditional paint production facility, but as time has gone by, investments in new technology have been made to increase automation. "We are now in the planning phase to start using in-line technology to do the dispersion process more quickly and easily. This will give us great benefits by reducing our cycle times and hence increasing our flexibility to service our customers," explains Marianne.
Over the span of its long history, Jotun has established itself as a leading player in the global paints industry. Today it uses this position to naturally induce organic growth into new and existing markets; by nurturing its employees the company is able to achieve this. Marianne adds: "We are working very hard to grow our top line and sales to develop our business, but even more important, we want to grow our people. We want to provide opportunities to learn new things every day to make sure we develop. By inspiring everybody to take part in problem solving and ensuring that we are making small improvements every day, I believe we have a bright future ahead of us."
Jotun Paints (Europe) Ltd
Products: Manufacturer of paints and coatings
Sites: Global presence
Employees: 220 (UK), 9500 (Worldwide)