Believing in better
A dynamic and reliable operator in the traditional field of sawmilling, JPJ-Wood is this year celebrating 25 years of producing high quality, reliable Finnish sawn and planed timber
A private, family-run sawmill that is located in the municipality of Juupajoki, in the Pirkanmaa region of Finland, JPJ-Wood was founded in 1994 by Kauko Luodelahti. What began as a business possessing a log sorting line and a dimension plant – with logs sawn by a rented saw on wheels – quickly progressed when, three years later, a fixed sawline was completed. Over the next decade, annual sawn timber volumes would increase to a level of 100,000 cubic metres. It was then, in 2008 that the second generation of the family took over control of the business, with Markus Luodelahti inheriting the role of Managing Director, and his brother Manuel Luodelahti taking on the position of Deputy Managing Director. In the wake of the sibling's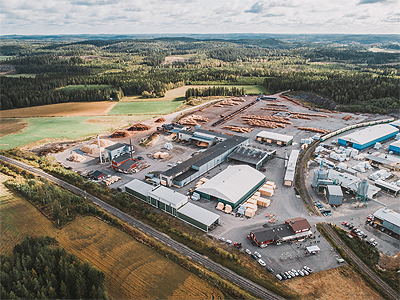 respective appointments, extensive investment and modernisation helped to further boost JPJ-Wood's capacity and yield, most notably the installation of an all new sawline in 2009, which gave the company the ability to handle and saw larger logs with greater efficiency than ever before.
"Today, the company is in a position to deliver an annual output of more than 160,000 cubic metres of sawn timber, with our core products being sawn spruce and pine timber in variable sized, lengths, qualities and moisture content," Manuel explains. "Meanwhile, our superior combination of modern equipment and professional, knowledgeable employees helps us to achieve efficiency at every level of production, from wood acquisition right the way through to sales.
"Over 90 per cent of our products are now exported to between 20 and 25 countries around the world, including the UK, where we have held a stable market position since our early days. Other markets that have long been sources of success for not only ourselves, but other Finnish sawmills, are the Middle Europe, Middle East, Northern Africa and Japan, while the last few years have seen an increase in demand from Asia and Australia, in particular. Wherever our products are found, our customers all tend to be bigger merchants and refiner companies that are looking for good quality timber that they can obtain from a highly reliable source."
2019 marks the 25th birthday of JPJ-Wood, and as one would expect the company has celebrated this with a number of events that have allowed it to come together with key partners, customers, forest owners and local communities to mark the occasion. For
Manuel, reaching this milestone speaks volumes for the strengths of the business. "Our secret is having the courage to invest, even in times of uncertainty and difficulty within the global economy," he says. "We also recognise that without our people we are nothing, and the same goes for our long-term relationships with our wood sourcing and sawn timber customers."
All of the raw material sourced by JPJ-Wood comes from Finnish forests that lay within a 100-kilometre radius of its sawmill, with the purchase of high quality wood making up some 70 per cent of the company's total annual expenses. Thanks to its use of advanced technologies, the utilisation rate of the wood that the company processes is exceptionally high.
"The Finnish timber industry is known not only for the high quality of its products, but also the way raw material is sustainably processed from forest to forest," Manuel declares. "The equipment we use represents the latest technological advancements when it comes to delivering efficiency and greater yields. Our sawing activities are carried out using a HewSaw SL250 (2.2) line, which is able to optimise, curve saw, and edge at high speed. Then, after sawing, we utilise machine vision scanning tools on each piece, followed by a controlled drying process to ensure that all of our timber is of the highest stability of quality when it leaves our sawmill."
In the last few years, more focused investment has led to the introduction of additional tools, processes and capabilities, for instance brand-new x-ray scanning technology and a new packaging line. "The installation of x-ray capabilities has been, arguably, the biggest improvement made to our operations in recent times," Manuel states. "It means that today we are able to carry out more in-depth scanning on our logs, both externally and internally, which allows us to sort more effectively according to quality and wood/bark content, which further improves our yield. Meanwhile, our new packaging line has shown itself to be fast, efficient and smooth. It is partnered with automatic plastic wrap rolling equipment, which not only simplifies our packaging process, but also delivers better looking results.
"Looking ahead, our next investments will include a number of updates to the IT systems that we use in areas of the business such as production, storage and operating our kilns. The goal is to create new advantages in the way we conduct our daily operations, particularly in terms of monitoring and guiding our production processes. We also have a desire to further increase our kiln capacity, as well as our overall annual sawing capacity, which we will look to do when the opportune moment arrives."
JPJ-Wood is a business that is well aware of the rapidly evolving nature of the world around it, yet it is also one that strongly believes that wood – and as a consequence its own products – will continue to be a highly-valued commodity in the years to come, particularly as more countries move towards more sustainable means of building. "It is this confidence that has helped to shape our future strategy," Manuel adds. "It is important to note, however, that even as we grow we plan to remain a family-run business with family values, which is something that we believe will remain appreciated by all of the people, companies and parties that surround us."
JPJ-Wood Oy
Services: Family-owned sawmill