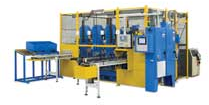 JR Automation Technologies LLC
When getting financial advice, an advisor who is unaffiliated with any particular financial company might be able to offer the most impartial counsel. The same is true when a company is considering factory automation solutions. Like any good advisor, JR Automation's first step with a client is to listen, rather than pushing off-the-shelf solutions on them.
"We start by finding out what our customers' requirements are, even helping them to develop those re­quirements when necessary. The resulting solution can be anything from a simple stand-alone station to full-on automation," Vice President of Operations Scot Lindemann relates. "We don't fit their problem into what we do – we fit our solution to their particular problem."
As an example, he says, companies that make conveyor systems or dial tables might suggest their product as the automation solution – even if another would be more appropriate.
"They try to make every solution fit in their toolbox," Lindemann observes. "Our toolbox is broad – we aren't invested in any one product – so it gives us advantages. Our niche is developing automated solutions that match our customer's needs.
"We have methodologies we bring to the table to solve problems, but we don't have standard products."
Director of Sales Jim Kramer adds that JR Automation's goal is not to "sell a machine – we want to sell a manufacturing solution. One-third of our staff is degreed engineers – we look upstream and downstream of the project to consider workflow, acting as part of the manufacturing engineering team. We are looking at the whole process, not just one portion of it, to ensure that all operations and material flow fit together."
Automation Solutions
Many customers of JR Automation Technologies are seeking manufacturing solutions flexible enough to produce several different products in the same cell. "Instead of large batches of parts, many manufacturers want to run small batches with high flexibility," Kramer says. These solutions often require a combination of robotics and flexible tooling to accomplish a complex task that the customer was not even sure could be automated successfully.
Some flexible solutions use robotic vision systems to identify part type, orientation and position on a feed system, so multiple parts can be sent through the same automation cell and assembled into a product with no changeover. Another solution might enable a robot to set one tool aside and pick up another without operator intervention.
Once a solution is identified, JR Automation then purchases items such as robots, cylinders, control devices and linear bearings, among others, to build a custom system from standard components. "It is our desire to use standard components where possible and invent where required to provide solutions that give our customers a competitive ad­­vantage," Kramer asserts.
One proprietary system in development on JR Automation's shop floor assembles a medical device.
"That line has 19 robots on it – the operator loads the feeders and takes away complete boxes at the end," Kramer notes. The system assembles 15 part components in three seconds. When the system is fully operational and demonstrated as satisfactory for the customer, it will be moved to the customer's factory floor, where it will be fully validated as cGMP compliant.
"We get exposed to different industrial manufacturing processes and adapt them for our own internal processes, be it cGMP, lean, kanban or 3P," Lindemann explains. "We get to see them all, and we take the best ideas and implement them here."
Automation Benefits
Manufacturing in the United States continues to lose jobs to countries with lower labor costs. In this struggle, Lindemann and Kramer consider JR Automation Technologies as a force keeping jobs in the United States by helping with labor costs and increasing efficiency.
"We've had customers tell us that our automation solutions doubled their output, without raising labor costs or requiring additional work space," Kramer reports.
"This allowed them to remain competitive while retaining their current workforce and keeping production in this country. That is the overarching goal – to manufacture here in a low-cost scenario."
In addition to keeping labor costs manageable, automation brings speed and accuracy to repetitive tasks, an efficiency advantage for customers. "With automation in part handling, it is possible to see im­proved part quality, especially with sensitive or hard-to-handle materials," Kramer notes.
"Automation is precise, and re­duces material costs. It can even create consistency from inconsistent part components, and is good for producing to close tolerances."
Lindemann estimates approximately three-quarters of JR Automation Technologies' customers are within an eight-hour drive of the company's headquarters. However, the company has worked on other projects in Canada, Mexico, Europe and Australia. "We'll usually follow customers we do business with wherever they are around the world," he notes.
30th Anniversary
JR Automation Technologies celebrated its 30th anniversary in 2010, and Lindemann attributes the company's longevity to diversification. "When times got slow [in 2008], a lot of companies who were only tied to the auto industry decided to diversify," Lindemann recalls. "We had a five-year jump on that. When things got slow, we already had a pretty broad base that kept us busy through a very difficult 2009."
The auto industry still accounts for the biggest portion of the company's business – from 50 to 60 percent, Lindemann calculates. Other industries JR Automation Technologies serves include the military, construction, consumer products, food processing, pharmaceutical and producers of medical devices.
"When times were tough, we stayed busy," Lindemann points out. "We have a very loyal customer base because we take care of the customer from the beginning through to the end of a project.
"JR Automation employees work as a team with the customer – we know that our success depends on the success of our customer."
Vast Capabilities
JR Automation Technologies provides assembly solutions from standalone, operator-assisted stations to fully automated assembly lines that provide screw driving, riveting, clip driving, sonic welding, adhesive dispensing, MIG and resistance welding, induction heating, vision guided robotics, vision inspection/verification systems, leak testing, force/distance monitoring, press tending, robotic palletizing and case packing.
The company also has automated the assembly of door panel trim, anti-lock brakes, cabinet face frames and hoses. It has the ability to design and build machinery for metal processing, including resistance welding, MIG/TIG welding, impact/orbital riveting, machining/trimming and tube-bending operations.
Machine vision capabilities include flex feeding, part and line tracking, bar code reading, character recognition, part presence confirmation and dimensional inspection.
JR uses Pro/Engineer design software from Creo Elements  for:
Parametric design capabilities;
Automatic propagation of design changes to all of its downstream deliverables;
Automated generation of associated tooling and manufacturing deliverables; and
Fully integrated applications that allow work from concept through manufacturing.