Going the distance
JRI Orthopaedics Ltd is a British manufacturer of orthopaedic implants and surgical instrumentation. World-class manufacturing is based in Sheffield, alongside research, product development, customer services, marketing, warehousing and distribution
The body goes through a great deal in a lifetime, which can cause stress and strain on the bones and muscles within it, and JRI Orthopaedics Ltd provide the means to counter the deterioration. There is an aging population that makes the work JRI does increase in importance, and there is no company better placed to take on this responsibility. The company has the history, the facilities, the skills, the research investment and the products needed to be the best choice supplier for the world's orthopaedic needs.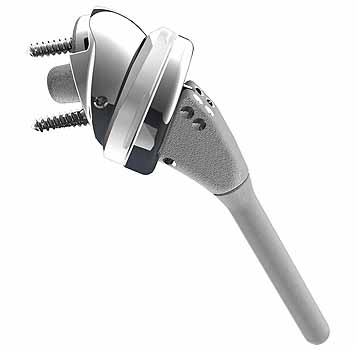 The origin of JRI centres around one man, something which Chief Executive Keith Jackson elaborated on: "The company was formed in 1970 by eminent orthopaedic surgeon Ronald Furlong, in order to import into the UK the best hip replacement at that time for his patients. He then developed new designs, including the Furlong HAC with a ceramic coating of hydroxyapatite – the mineral found in bones. This was a world first and was recognised with a Queen's Award for Technological Achievement. Thirty years on it still has outstanding clinical results. When Ronald Furlong and his wife passed away, the ownership of the company was passed to the Furlong Research Foundation, an orthopaedic charity that he established. The charity is now known as Orthopaedic Research UK and receives the majority of JRI's profits as gift aid to fund independent orthopaedic research and medical education, which will ultimately benefit patients." The company's commitment to innovation and to patients is something that began with Furlong and continues to this day.
Innovation is something that runs to the core of JRI, there is an expanse of research connections and investments going on all the time, and this work was something Keith was keen to emphasis: "JRI is engaged in a long-term programme of collaborative research with academic and supply chain partners. The company has been very successful in recent years at securing research funding to support this important work. Our current focus is on regenerating and repairing joints and the application of additive manufacture techniques." The research also encompasses customer feedback and involvement, this has helped to reinforce the reputation JRI has in the field, as Keith discusses: "We continue to develop pioneering products, which are supported by leading research and customer insight. We ensure that new products are introduced responsibly with robust monitoring to generate clinical evidence, with good customer training and support – our expertise and experience in biocompatible implant coatings is unparalleled. This has resulted in JRI having been recognised with multiple awards for innovation, manufacturing excellence and customer focus." At JRI there is a real impression of every product being designed with the patient in mind, aiming to provide the best, and the pursuit of research to push the industry forward.
All the products that JRI produces are manufactured in a world-class facility in Sheffield that has a highly skilled workforce. The factory contains five axis machines, honing machines, and skilled manual polishing, as well as an advanced vacuum plasma spray system to apply JRI's unique hydroxyapatite ceramic coating. There is a clear focus on achieving a high product standard, and Keith highlighted this as fundamental: "Quality is a given in the medical device arena and JRI precision machines locally sourced forgings, castings, and bar into high specification devices with very exacting tolerances and surface finishes."
There is a wide selection of orthopaedic products that JRI manufactures. In 2010 it entered the shoulder market having developed a new implant system VAIOS that was based upon extensive biomechanical modeling and clinical experience, working with Newcastle University and Nottingham NHS trust. Other products JRI manufactures include Furlong HAC, Furlong Evolution and Aeon hips and JRI distributes the Trekking knee system.
With such a large range of products, and an aging population, JRI will be in high demand, and Keith was clear on how the company aims to meet this: "This increase in demand is stretching health care budgets world-wide, so it is critical that we can offer our high quality products at a price that health care providers can afford."
The growing market for JRI goods is not limited to just the UK either, there are exciting developments elsewhere, and Keith gave an insight into this: "There are many international markets that are investing to improve healthcare and JRI are now producing implants for Brazil and China. We will also introduce a new hip product range and continue to expand our international reach – in five years JRI will be providing a broader, more contemporary product portfolio in many more markets so that more patients can benefit from our leading British technology."
The UK, and the rest of the world will not suddenly stop aging or living longer, and now many people expect a level of health care provision that includes the orthopaedic products of JRI. Therefore, there is no doubt that a demand for the company will grow, and at an increasing pace. This should result in a wealth of opportunities in the future for JRI, and it has everything in place to take advantage of these
JRI Orthopaedics
Products: Design, manufacture and distribute orthopaedic implants and surgical instruments