JS Burgess Engineering Ltd
Dragon's approval
Entrepreneurial spirit and a keen commitment to both supplier and customer relationships means that JS Burgess Engineering is currently on a strong growth trajectory
Stillage manufacturer, JS Burgess Engineering Ltd had been established for about ten years when husband and wife, Jonathan and Thea Patoff purchased the business in 2004. Without any engineering knowledge but with a wealth of commercial experience and success behind them having already grown and sold a number of very profitable businesses, Jonathan immediately recognised the potential in Burgess Engineering. By applying good business practice, focusing on a number of niche industries and working hard to build a dedicated work force, the business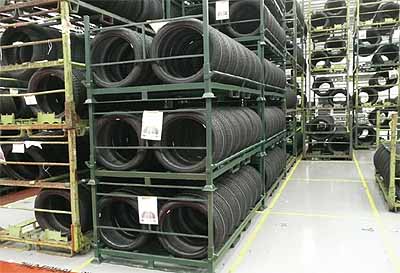 soon began to grow into what is one of the largest stillage manufacturers in the UK today.
Burgess Engineering today supplies over 40,000 stillages per year into a number of key industries including the automotive, and aluminium and plastic profile sectors. Known as a relationship-supplier it has developed a reputation for quality, service and price with a number of large well known blue-chip customers – all of whom return year on year and some actually integrating Burgess into their production processes. Some names include Jaguar-Land Rover, Jewson, Magnox, Network Rail and Toyota.
A recent Customer Satisfaction Survey carried out as part of the ISO9001 annual review showed that Burgess scored consistently above 95 per cent for product quality and range, service and communication.
In 2015 Burgess purchased adjacent factory buildings and also surrounding land from United Utilities, which enabled it to increase production to meet the ever-increasing demand for stillages and also continue the expansion programme Jonathan had planned for the business.
"Much has happened in the last 12 months for Burgess and it's been an exciting year for us," explains Jonathan. "Being well known for the quality of the products we make and the service we provide, our customers have become extremely loyal over the years, which has meant demand for production has increased enormously. We were only too aware of our lengthening lead times and the pressure it was putting on our customers, so when the opportunity presented itself to purchase the factory next door we jumped at it!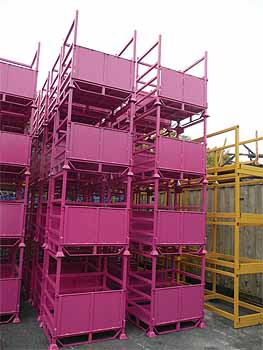 "Purchasing additional land was also a key piece in the jigsaw and it has enabled us to increase our yard and storage space, having a very positive impact on our production capacity. In addition, we have invested heavily in new equipment plant and machinery, including new FLTs, cranes, band-saws and also a new hi-tech spray plant facility."
Continued growth has enabled Burgess to take on extra staff both in the office and welders, painters and labourers on the shop floor. In addition it is looking to employ new, dedicated CAD designers to aid the expediency of order enquiries, processing and fulfilment, key elements to facilitate the company's continued growth.
JS Burgess is one of the few firms with the ability to fund, project-manage, manufacture and deliver such large production runs within this field. The company was even recently commended by Dragons Den's Theo Paphitis in recognition of its commitment to growth and quality.
Burgess is very proud to be a British manufacturer and believes this investment is a clear indication of its commitment to the future prospects for UK companies; supporting UK based suppliers is also testament to this. Part of JS Burgess' success can be attributed to choosing the right supplier as it looks for reliability, service and also quality of products. Be it a steel stockholder, a component or consumable supplier or a transport company, once they prove themselves and meet expectations, Burgess is happy to be a loyal customer and share success with them long into the future.
It is Jonathan and Thea's intention to continue to grow its manufacturing output from its base within the High Peaks for many years still to come.
JS Burgess Engineering Ltd
Products: The UK's largest independent manufacturer of stillages and associate products